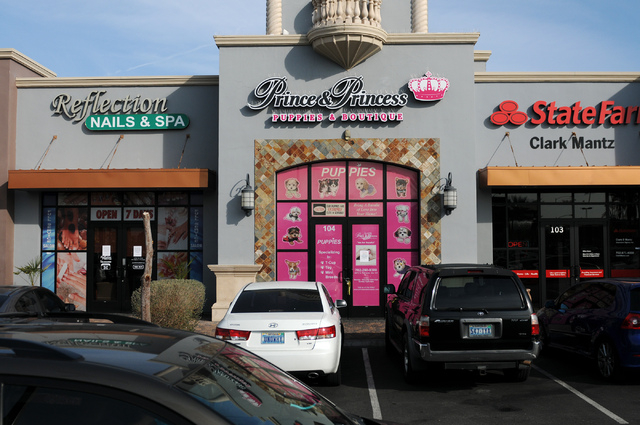 A pet shop owner was indicted by a grand jury on arson charges that she and an accomplice tried to burn down her business with 27 puppies inside, Clark County prosecutors said Friday.
Gloria Lee, 35, faces 31 counts, including 27 counts of attempted animal cruelty, one for each puppy. If Lee is convicted of those 27 counts a judge would then decide if she should be sentenced under felony or gross misdemeanor guidelines. She could face dozens of years in prison if convicted.
And the Review-Journal has learned that Lee's co-defendant Kirk Bills, who faces similar charges, has waived extradition from Indiana, where he was captured by an FBI task force last week. It's unknown when he will be transferred back to Las Vegas.
The two face allegations that on Jan. 27 Bills and Gloria Lee tried to set ablaze her Prince and Princess Pet Boutique at 6870 S. Rainbow Road, south of the Las Vegas Beltway.
Authorities say surveillance video of the incident shows Lee let Bills into the shop, where he tried to start a fire using kerosene splashed onto the puppy cages. The blaze was quickly extinguished by a sprinkler system in the store and the puppies survived unharmed.
The surveillance video and other evidence were not filed as part of the case against Lee, meaning it won't be a part of the public record, due to the need for further investigation, prosecutor Shanon Clowers said.
District Judge Linda Bell ordered that Lee's bail be kept at $310,000. She remained jailed at the Clark County Detention Center.
An arraignment hearing was set for Feb. 24.
A Chicago based FBI violent crimes task force on Feb. 7 captured Bills in Crown Point, Ind., who was on the lam for three days after authorities issued an arrest warrant.
Prosecutors have sought a high bail for Lee saying she is danger to the community considering the property damage done by the fire to her store, the animals that were placed in danger and damage done to a neighboring store which must be closed for a month for repairs
Lee, who was born in Korea, had three prior convictions from California, for escape, larceny from a bank and forgery.
Lee also had a prior run-in with Clark County animal control officers in 2008. She was charged with 37 counts for violating county ordinances in caring for the animals in her pet shop, including failure to vaccinate the animals and improper confinement of the animals. The case was later dismissed after Lee corrected the violations.
Lee also was godmother to a child of ex-welterweight champion Zab Judah. Bills is a boxer for Judah's Super Judah Productions.
Lee also was friends with Luxor headliner Criss Angel, who in January 2013 offered a $5,000 reward for the recovery of four puppies stolen from her pet store. One of puppies was Angel's teacup Yorkshire terrier.
Meanwhile, the puppies remain at the Animal Foundation as county officials determine who they belong to.
Contact reporter Francis McCabe at fmccabe@review journal.com or 702-380-1039.