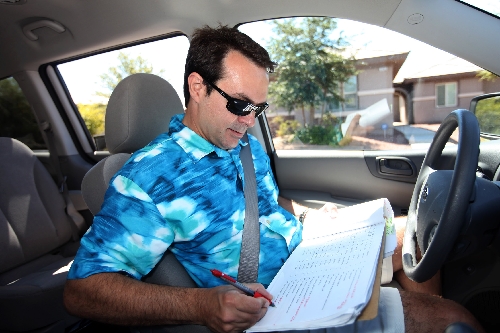 A petition to recall Las Vegas Ward 6 Councilman Steve Ross might not have enough signatures to survive if the results of a partial review of supporting documents hold true for the entire petition.
Clark County Registrar of Voters Larry Lomax said Monday that 93 percent of 500 signatures his office reviewed were valid, meaning that if the error rate of 7 percent holds up, the petition would fall about 10 signatures short of the 1,084 needed to force a recall vote .
Recall supporters and opponents are likely to learn more about whether the petition will survive Thursday, when election officials conduct a review of all 1,156 signatures submitted.
"Of the 500 (signatures) we checked, 93 percent of them were good … so they're just short," Lomax said. "We anticipate we can do a 100 percent check on Thursday."
The check Lomax conducted Monday was merely an initial review. Because the accuracy rate of the initial sample was between 90 percent and 100 percent, elections officials will now review every signature on the petition.
Also on Monday, Las Vegas City Clerk Beverly Bridges said 23 people submitted affidavits to her office seeking to have their names removed from the petition, although recall supporters say several of the people who submitted affidavits never signed the petition .
The outcome of the signature verification process will determine whether Ward 6 voters will be asked to go to the polls later this year to recall Ross, who critics say doesn't deserve to stay in office.
When pressed for reasons why Ross should be ousted early, they cited a laundry list of concerns.
For starters, they contend his failure to secure a zoning waiver for a local car dealer is the reason that business closed Dec. 24, 2010, and put about 30 people out of work.
Recall backers were angered that Ross broke a promise to return money from a City Council pay raise, and they say his vote as a member of the Regional Transportation Commission for a bus contract to a company that didn't deliver the lowest bid is a potential $50 million waste.
The contract hasn't been executed because the RTC is at a stalemate, with four members supporting the low bid by First Transit and Ross and three others supporting a higher bid by current provider Veolia.
Recall supporters also say Ross didn't respond to letters and calls from one of the workers who lost her job at the car dealership, which they say shows he doesn't care about residents.
A pro-recall website mentions Ross' 2009 run-in with the Nevada Commission on Ethics, which ruled the councilman should have disclosed a conflict of interest between his then-job as a union official and his vote in favor of a new city hall building.
Ross supporters say the recall effort reflects a vendetta by Joe Scala, the owner of the shuttered car dealership, and Lisa Mayo-DeRiso, a lobbyist and longtime Ross critic.
Ross spokesman Steve Redlinger said the results of the review of the petition signatures shows recall backers don't have the support .
"This is just one step of the way in confirming that," Redlinger said. He also said Ross supporters have more affidavits from people who want their names taken of the petition that weren't included in the 23 given to the city clerk.
Even if the petition gets tossed, Mayo-DeRiso, vowed to return with another petition.
"There is no way we would stop because we are short 10 signatures," she said. "We didn't hit every door we could have."
Contact reporter Benjamin Spillman at bspillman@reviewjournal.com or 702-229-6435.