Phallic couch among items stolen from 'Crazy Girls'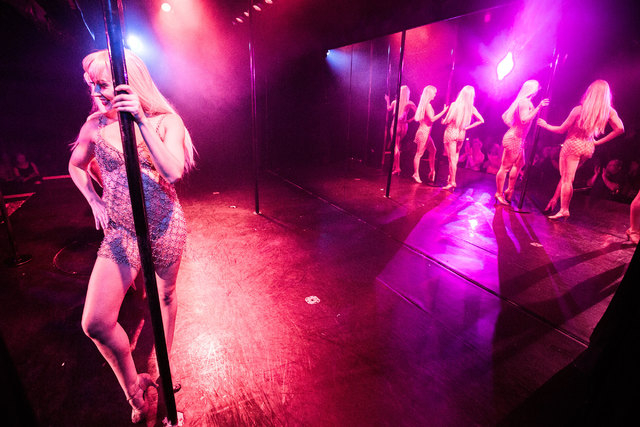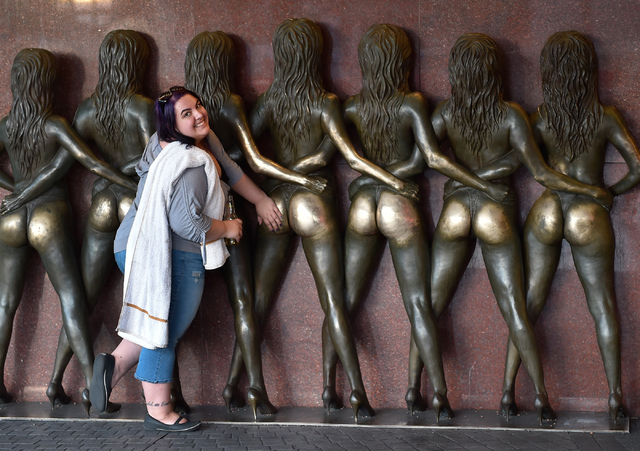 Bet we won't see this conversation piece on an episode of "Pawns Stars."
It won't be easy to pawn a seven-foot-long couch in the shape of male genitalia.
The couch, featured in one of the numbers in the "Crazy Girls" topless show at the Riviera for years, was among the items missing when the stolen moving truck was found Tuesday.
Video showed two thieves stealing the truck early Monday. Only a handful of items were found when truck box was opened. The truck was the last of four used for the move from the Riviera to the Sin City Theater at Planet Hollywood Resort.
The Riviera closed Monday after 60 years.
"Crazy Girls" owner Norbert Aleman said all the costumes for his 10-girl cast were lost. "A bummer," he said, adding the estimated value of the costumes alone would top $100,000. That number included custom, beaded gowns valued at $7,500.
The setback will present some major challenges, he said. The show was to reopen May 20.
"We'll find a way to survive," said Aleman. "The show must go on."
BAD TIMING
Clark County's plan to present singer Chris Brown with a Key to the Strip turned into a classic case of bad timing.
Brown was to receive the key before his appearance at Drai's on Tuesday night, according to publicist Nicole Perna.
That apparently changed after Las Vegas police named Brown as a suspect in the battery of a man who alleged he was punched by Brown at the Palms Hardwood Suite while playing basketball over the weekend.
The unidentified man declined to pursue charges Tuesday, police said.
Why Brown, who has a well-documented history of violence, would be a candidate for a Key to the Strip is a bit of a mystery.
I emailed Erik Pappa, director of communications for the county, to confirm if the ceremony was planned and if it had been canceled.
His five-word response: "No such event is planned."
THE SCENE AND HEARD
Melissa Rivers was clearly having a bad day Tuesday. After promoting her new book on NBC's "Today" show Monday, she agreed to do affiliate interviews Tuesday. During an awkward chat on "Wake Up With the Wagners" (KSNV-TV, Channel 3) she seemed put off by Kim Wagner's harmless line of questioning. In "The Book of Joan: Tales of Mirth, Mischief and Manipulation," she said her mother, Joan Rivers, "couldn't stand celebrities who complained about the 'burden' of fame." …
Crush restaurant's sold-out $1,000 dinner package on fight night was so successful "it was three times what N9ne Steakhouse did in its heyday," restaurant partner John O'Donnell said. The five-course dinner at the MGM Grand restaurant included the closed-circuit broadcast of the fight. O'Donnell was a bartender at N9ne, and his Crush partner Michael Morton was a co-owner of N9ne during the Palms' high-flying days.
SIGHTINGS
Leonardo DiCaprio and Bradley Cooper, hanging out at the Octavius Tower at Caesars Palace over the weekend. … Former Mayor Oscar Goodman, dining at Joe's Stone Crab in the Forum Shops at Caesars Saturday night with political strategist James Carville and political columnist Al Hunt, who were in town for the Floyd Mayweather Jr.-Manny Pacquiao fight. … San Francisco 49ers quarterback Colin Kaepernick, dining at Holstein's Shakes & Buns in The Cosmopolitan on Saturday. … Actor Drew Barrymore, with her husband and friends, toured the Neon Museum on Saturday. … At Beacher's Madhouse in the MGM Grand after the fight: Paris Hilton, Oscar winner Christian Bale, actor Aaron Paul, producer Brett Ratner, Eric Stonestreet of "Modern Family" and Nikolaj Coster-Waldau of "Game of Thrones." They watched a boxing match featuring a mini-Mayweather versus a mini-Pacquiao.
THE PUNCH LINE
"Tom Brady went to the Kentucky Derby in the afternoon and to the fight in Vegas that night. Even Tom Brady and Gisele need a break from time to time. That should make us feel good about ourselves." — Jimmy Kimmel
Norm Clarke's column appears Sunday, Monday, Wednesday and Friday. Reach him at 702-383-0244 or norm@reviewjournal.com. Find more at normclarke.com. Follow @Norm_Clarke on Twitter.