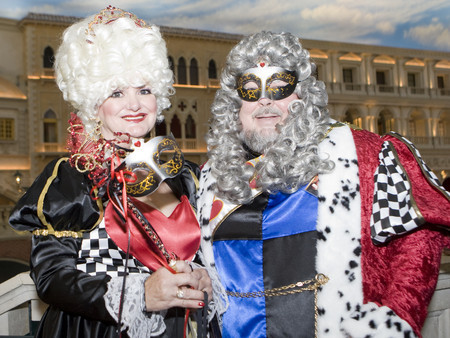 Larry Tetewsky, 50, and his wife, Janice Mergenhagen, 62, made it to Phantom Fan Week in Las Vegas despite a cruel scheduling dilemma. This is also the weekend a pirate convention takes place aboard the Queen Mary in Long Beach, Calif.
"We cursed for a while," Tetewsky said.
The world's first "Phantom of the Opera" convention kicked off Thursday morning at The Venetian's Phantom Theatre, drawing superfans from around the globe to celebrate the long-running Andrew Lloyd Webber musical.
Continuing through Sunday, the convention includes Q&A sessions with cast members from "Phantom: The Las Vegas Spectacular" and demonstrations of costumes, makeup and the show's famous giant chandelier.
"We just said, 'Hey, we got crazy fans; wouldn't it be fun if they came out and had a week of everything Phantom?' " said Gary Leffler, director of marketing for the Vegas production, which opened in 2006.
The original production of the musical debuted in London in 1986, while the Broadway version opened in 1988. Both of those shows still are running.
About 150 fans attended the convention's first event, a Q&A with Anthony Crivello during which the Las Vegas "Phantom" star revealed a closely guarded secret: It's not him hanging from the chandelier at the end of the show. ("I can't be in two places at the same time," Crivello said, explaining that the Phantom Theatre lacks a catwalk system.)
On Thursday morning, Leffler said about 300 fans already had registered and that more were expected as the weekend rolls forward.
Bonita Hammill traveled alone from Melbourne, Australia — where she has seen the show 106 times — specifically for Phantom Fans Week.
"It was something I had to do," said the 37-year-old nurse. "The Phantom's a person you just want to hug because he's an outsider but you want him to be accepted. And I'm a bit of a loner myself as well, and I'd love to be accepted."
Janis Sartin is such a fan, her dog bears the name Phantom.
"Well, it's his middle name," said the 54-year-old grocery clerk from Castaic, Calif. "My husband bought him as a hunting dog, so his first name is Buck, for buckshot."
After they finished cursing, Tetewsky and Mergenhagen said they decided to shelve their pirate hats, because she has seen 125 "Phantom" performances — here and in New York, Atlanta, Los Angeles and Toronto.
"We've been places we never would have gone," Mergenhagen said. "We've met an incredible amount of people who we have become friends with. It's a real community."
Every fan interviewed planned on donning period costumes for Thursday night's masquerade ball, patterned after a pivotal scene from the musical.
Another buzz event is the keynote address by show director Hal Prince at 2 p.m. Saturday. According to Leffler, Prince has not returned to Las Vegas since the premiere — at least not on official "Phantom" business.
Lloyd Webber, who created the 1986 London musical the Las Vegas production abbreviates to 90 minutes, also was asked to speak. But, Leffler said he is "right in the crux" of putting together a "Phantom" sequel, scheduled to launch in London and New York next year.
Another thing Phantom Fans Week does not include is a backstage tour, which is available to 10 to 15 guests as part of a nightly $250 VIP package. ("It's too tight back there," said a show spokeswoman.)
Instead, costumes and makeup will be displayed onstage at the 1,800-seat theater, where today at 10:30 a.m., two randomly chosen fans will receive a "Phantom and Christine" makeover.
Passes still are available for $250 to $475 by calling 414-9000.
Contact reporter Corey Levitan at clevitan@ reviewjournal.com or 702-383-0456.
Video