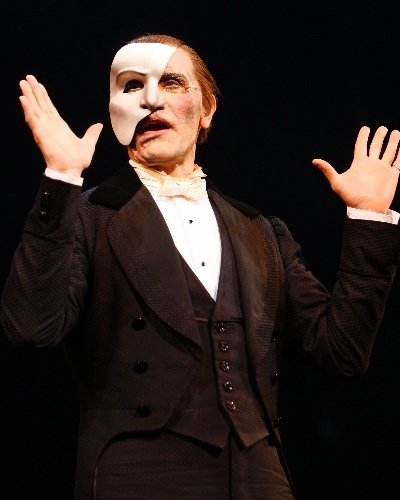 Anthony Crivello's road to leading-man fame in "Phantom: The Las Vegas Spectacular" included an improbable trip to college basketball's Final Four.
Crivello made it to the Big Dance in Atlanta in 1977 as a walk-on, a co-captain, no less, but not as a basketball player.
During his freshman year at Marquette University, where he was on a scholarship as a fine arts major , Crivello and two theater buddies decided to check out the crop of pretty girls auditioning for the basketball cheerleading squad.
The cheerleading coordinator approached Crivello and his friends and said, "Hey, you three, why don't YOU audition?"
It happened to be the first year Marquette and coach Al McGuire decided the squad should include women and men.
Crivello's pals were "cutups … funny, crazy kids who could tumble and do flips," said Crivello, who contributed "a bad somersault and a cartwheel that looked like I had lumbago."
Crivello added a topper for the judges, "a Groucho Marx impersonation to rival Rich Little." To the trio's amazement, the judges selected them for the cheer team, with Crivello eventually named co-captain.
"We had antics like Marquette had NEVER seen in our routines … with myself the lead conspirator," he said.
Marquette's cheerleaders had never been nationally ranked, but "we wound up 13th in the nation that year."
Even better, said Crivello, "being a sports nut, I got to see the games from courtside" when Marquette gave McGuire a rousing last hurrah, a 67-59 victory over North Carolina. The Tar Heels had advanced to the finals with an 84-83 win over UNLV .
"Maybe the phantom should cartwheel into the Paris Opera House … just once for old time sake," Crivello said.
FLASHBACK
A blast from the past surfaced as former members of the Royal Irish Showband played for the St. Patrick's Day crowd at Mandalay Bay's Orchid Lounge.
The band, led by Brendan Bowyer, were big draws in the early 1970s at the Stardust, Aladdin and Barbary Coast, among others. Bowyer, 71, still performs in Ireland before capacity crowds.
The Beatles opened for Bowyer in 1962. Billed as "Ireland's answer to Elvis," he was the first headlining Elvis impersonator. Elvis was a big fan and often caught his shows.
THE SCENE AND HEARD
Who knew Wolfgang Puck was expanding into lingerie? Light bulbs have gone out on the Brasserie Puck sign at Crystals at CityCenter, leaving the illuminated words "Bras Puck." …
No one's riffing on him yet as a "Supernatural" talent, but Carlos Santana is being billed as the Cleveland Indians' top catching prospect.
SIGHTINGS
"High School Musical" stars Vanessa Hudgens, 21, and Zac Efron, 22, at Mystere (Treasure Island) on Wednesday. … "Sex and the City" stars Sarah Jessica Parker, Cynthia Nixon and Kristin Davis, in town for the ShoWest convention, checking in at Wynn Las Vegas on Wednesday. … At Tuesday's opening of Todd English P.U.B. at Crystals (CityCenter): English, with an acoustic guitar, jamming with the house band to "Mustang Sally," Excalibur headliner Louie Anderson, Angelica Bridges and members of the "Fantasy" revue (Luxor), Kevin Burke of "Defending the Caveman"(Excalibur) and Chris Phillips of Zowie Bowie.
THE PUNCH LINE
"Mike Tyson is going to star in a new show on "Animal Planet" about the sport of pigeon racing. So at least we've finally answered the question, 'What planet is Mike Tyson on?'" — Jimmy Fallon
Norm Clarke can be reached at (702) 383-0244 or norm@reviewjournal.com. Find additional sightings and more online at www.normclarke.com.