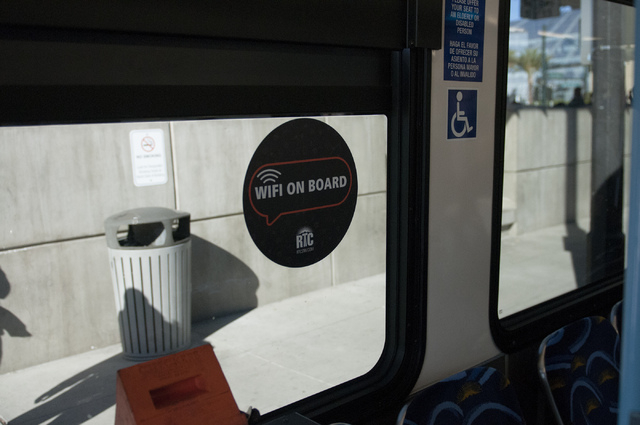 There is a safe way to text, check email and play "Candy Crush" on your way to work: bus Wi-Fi.
The Regional Transportation Commission introduced a pilot program in October that made free, wireless Internet available on buses, and so far, close to 200 people log in every day.
Earlier this year, a survey was conducted to see how many bus riders would use wireless Internet if it was available. Angela Castro, a spokeswoman for the RTC, said about 60 percent of people said they would use it with their smartphones, laptops and tablets.
"Riding transit offers people the perfect opportunity to do work, catch up on their email or surf the Web," said Tina Quigley, RTC general manager.
The pilot program, modeled after programs in other states, is on 12 of the 24 RTC buses on the Centennial Express route.
The route was chosen because it's a commuter route, Castro said. It runs about 22 miles from the Centennial Hills transit center in the northwest valley to the transit center at the University of Nevada, Las Vegas. It's longer and has less stops than most of the RTC's other routes, which gives riders more time to use the Wi-Fi during the 90-day test.
The cost to implement the AT&T service was about $35,000, Castro said.
The Centennial Express route also reaches the program's target audience, the Millennial Generation. It picks up and drops off at UNLV, and several hundred students have purchased the RTC's discounted university bus pass.
Millennials want to be as efficient as possible with their time, Castro said. The RTC wants to cater to their priorities by offering this service.
As far as progress, it's hard to tell.
The RTC can track how many unique users log in to the bus Wi-Fi per day, but it can't see how long those users stay connected. That makes it hard to tell how fast the connection is, if people are able to stay on it or if there are dead spots.
That's why the commission set up an email address, wifi@rtcsnv.com, specifically for feedback.
"We want to know what they think," Castro said.
The RTC is no stranger to technology-based programs.
TransitTap, also a pilot program, allows customers to leave their bus pass or cash at home and use an electronic payment method. Upon boarding the bus, a rider can pay by tapping a PayPass MasterCard or a smartphone equipped with a technology called "near field communication."
Samsung pitched the idea, installed the equipment, tracks its progress and footed the bill.
Ride Tracker, a mobile website, shows a map of bus stops and where the buses are in their route.
And RideRTC, a text program, allows you to send your bus stop number and get the next three bus arrival times in return.
One RTC program even offers incentives. Club Ride, a free program that promotes carpooling, gives away hundreds of prizes each month to people who use the program.
The RTC isn't sure yet if either of the pilot programs will stick, but attracting transit commuters is the goal.
"Enhancing the customer experience and making transit more attractive to commuters was a primary reason for initiating (it)," Quigley said.
Contact reporter Annalise Porter at aporter@reviewjournal.com or 702-383-0264.