Pioneer Saloon in Goodsprings celebrates 100 years of memories
November 7, 2013 - 9:30 am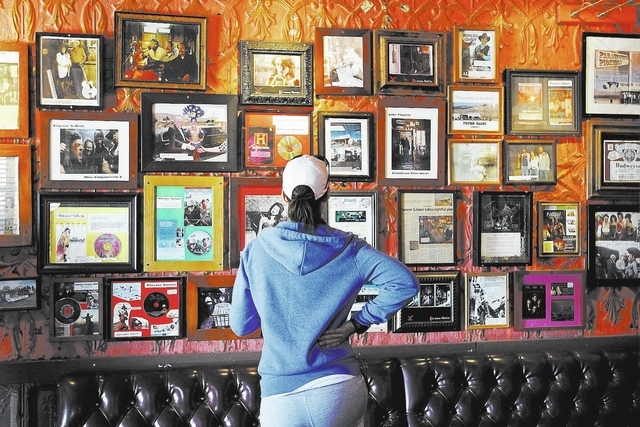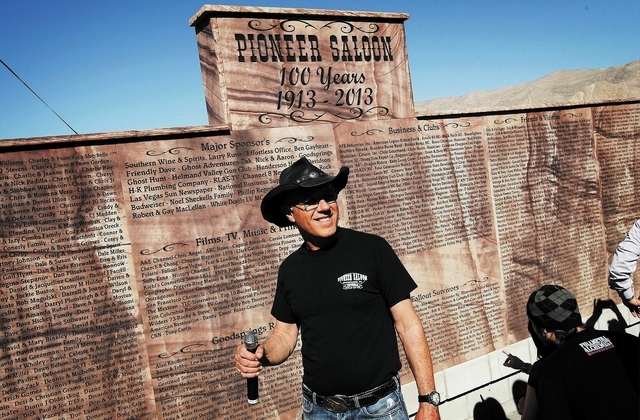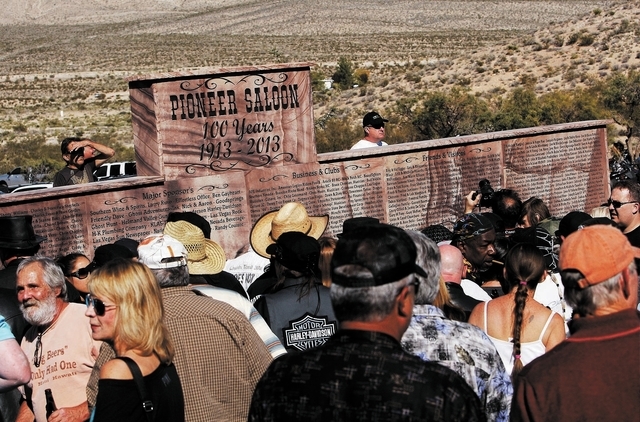 Everything about the bar holds a story, beginning with the words carved deep into the wood planks above the front door.
Pioneer Saloon
Goodsprings Nevada
Est. 1913
The 100-year-old bar, oldest in Clark County, may be 33 miles southwest of Las Vegas in a ghost town isolated by an expanse of desolate desert, but it has seen a lot.
Clark Gable supposedly burned holes in the cherry wood bar back in January 1942 as he waited for a search crew to find a plane that went missing in Southern Nevada. On board, the love of his life, actress Carole Lombard.
The saloon served as base camp for the search crew who found the plane and the dead actress on Mount Potosi outside of town. A piece of the wreckage hangs in the bar.
The bar itself was made in Brunswick, Maine, in 1858. To get here, it was put on a ship that traveled all the way around South America's tip and up the west coast to San Francisco. A mule train then transported it to Rhyolite, where it stayed for a few years before coming to Goodsprings.
Then there's the hard-drinking miner by the name of Paul Coski who was shot to death after he was caught cheating at a card game in 1915. The bullets went through him and tore holes in the tin wall. The holes remain below the original coroner's report.
Owner Noel Sheckells, who bought the saloon seven years ago, has learned all the stories. He has experienced some himself, such as the ghost stories that attracted Travel Channel's "Ghost Adventures" to spend a night here earlier this year. Sheckells, 56, has even moved out to the ghost town from Las Vegas to keep the bar running and to maintain its authenticity, stamped tin walls and all.
"Running a 100-year-old bar, it's something every day," said Sheckells, who's adamant that it must be kept authentic. "In Las Vegas, we blow things up, tear them down. But this is how it was 100 years ago."
Although the saloon remains, the town around it has collapsed from a population of about 800 in the early 1900s to 200 people, according to the U.S. Census Bureau. The town boomed through World War I and II producing mostly zinc and lead. A rail line was built leading into town to take out the ore. Pioneer Saloon was the first of seven bars, Sheckells said. The town also had six cafes, one hotel and four brothels.
But all other businesses have disappeared with only some homes, a school and the Pioneer remaining.
"It has dwindled down to this bar and the general store," he said, noting that everything else has burned down or fallen down. "It's a testimony of time."
But locals like the quiet, said Chris Martinez, who grew up in New York City but moved to Las Vegas in 1980 and then came to Goodsprings 14 years ago for his wife who was already here.
"The sky is black," said the engineer for The Mirage while leaning against a post with a bottle of Bud Light dangling from the fingers of his right hand.
The bar, a favorite among bikers, was unusually hectic as Martinez stood there Oct. 19 during the Saloon's centennial celebration.
Sheckells was shocked at the attention.
"We have people flying in from Australia, Europe, Israel," he said.
On top of that, Sheckells planned to build a memorial on a $5,000 budget by selling commemorative bricks. That soon grew to $50,000. He has sold 1,600 bricks when he expected to only sell a few hundred bricks. Running out of room to put people's name, he upped the price to $100 per brick.
"We sold a zillion of these things," he said.
Brick-holders can put items in a titanium time capsule that will be buried next to the saloon. The capsule is the size of double-door refrigerator and will be sealed with the air sucked out of it, like a Mason jar, he said. In another 100 years, it will be dug up and opened to the descendants of the brick buyers.
"As you can see, I have hope for the future," Sheckells said.
Contact reporter Trevon Milliard at tmilliard@reviewjournal.com or 702-383-0279.

Celebrating the Silver State