Plan may help control feral cat problem through colonies
August 18, 2008 - 9:00 pm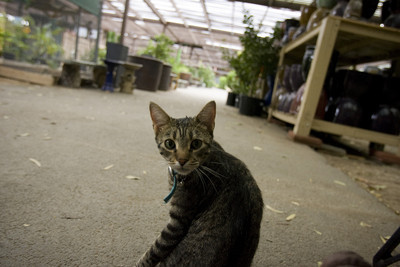 A black feral cat crouches between a shed and a stack of wooden pallets, its yellow eyes radiating fear at the sight of a human.
A second later, the cat darts underneath the pallets not far from where a flock of exotic birds whoop behind Plant World Nursery.
The store's owners spay the feral cats that show up and ensure they are cared for but avoid calling the local animal shelter with questions because they fear the cats will be hauled off and euthanized, said Candice King, the animal curator at the West Charleston nursery.
"If you're an animal lover, it's the last thing you want to do is call if you know it (a cat) is going to get killed," King said.
Some animal welfare activists say Clark County's rules discourage people from taking care of feral felines. The system, they say, is designed more for euthanizing loose cats.
An animal control official argues that most feral cats aren't vaccinated or neutered, which can lead to their carrying diseases and multiplying unchecked. Some euthanizing can't be avoided, he suggests.
But Commissioner Chris Giunchigliani believes there's a different way to approach the problem.
She has introduced an ordinance that would allow caretakers to set up registered feral cat colonies through the animal control division.
The commission is scheduled to discuss her proposal Tuesday.
Caretakers would work with a "sponsor" — a humane society or animal welfare group — to ensure the cats are sterilized, vaccinated and properly fed. Cats in these sanctioned colonies would have the tip of one ear clipped as an identifying mark.
Grant money would pay for the program, rather than local tax dollars. It would be modeled after similar "trap, neuter and return" programs in Chicago, Philadelphia and Boston, Giunchigliani said.
A chief goal would be to spare as many cats' lives as possible. The new code would require shelter workers to notify a program sponsor that a feral cat, especially one with a clipped ear, was brought in and will soon be euthanized if it's not picked up.
The county's current method of rounding up wild cats and killing them has failed, as evidenced by the roughly 200,000 feral cats in the valley, Giunchigliani said. No matter how many cats are put down, some females elude capture and get pregnant.
"It's not an efficient way, it's not a humane way," she said.
If feral cats are sterilized and left alone, the colonies eventually die out because the animals don't procreate, she said.
PREVENTING OR SPREADING DISEASE?
The idea of creating feral cat colonies has one county official concerned about the potential for spreading diseases.
In an internal memo, Joe Boteilho, who oversees animal control, describes how non-vaccinated cats can carry a host of maladies that can infect humans, including rabies, bubonic plague and various viruses, bacteria and parasites.
Even if cats are vaccinated against contagious diseases such as rabies, their offspring would be susceptible, he wrote in the memo, which was obtained by the Review-Journal.
Boteilho cited studies from regions in the country where cat feces contaminated the water. However, some of the research wasn't clear about how much blame to pin on free-roaming cats.
Still, Boteilho wrote that if feral cats are allowed to congregate, their collective feces could be washed into Lake Mead, the area's main supply of drinking water.
Boteilho declined to talk much for this story. He said his research so far was preliminary and that the animal control division has no official stance. He hoped to have a final report and a recommendation for commissioners on Tuesday.
The head of an animal welfare group disagreed with the assertions in Boteilho's memo.
Cats thwart epidemics because they kill rats, which carry 30 deadly diseases, said Shirley Braverman, director of Spay Our Strays.
And cats are better for the environment than rat poisons, Braverman said: "They're nontoxic, self-sustaining, cheap rodent control."
She compiled a report that rebutted Boteilho's claims, citing such sources as the Centers for Disease Control and Prevention.
If a cat eats a tainted carcass, its gastric acids are potent enough to nullify most diseases in the ingested meat, Braverman said. To transmit a disease directly to a human, a cat would have to bite or claw the person, and feral cats tend to run from people, not attack them, she said.
Also, feral cats don't threaten the water supply, Braverman said. Employees at the Henderson reclamation plant constantly test the area's washes and Lake Mead for contaminants, and have found trace amounts of bird and fish droppings in the water, but nothing from cats, she said.
EASING FEARS
Trudy Lawrence, a maintenance engineer, trapped two cats at MGM Grand, then moved them to a horse stable in Henderson, where she gives them a safe haven.
The cats earn their keep by killing rodents in the barn.
"By not having mice, it really cuts down on the nuisances," Lawrence said.
She would like to move two more cats from MGM to the stable. But if the site is on county turf, she would need a special permit.
County codes allow three cats per household. Beyond that, an owner who has a cat fancier's permit can have up to 12 felines.
Under the proposed rule, caretakers could tend a colony as large as they can afford.
Animal control officers now slap fines on people who feed too many wild cats, saying that if the residents feed them, they own them, Braverman said.
This is a big reason why those who keep colonies are afraid of animal control and won't seek help in sterilizing and vaccinating the cats, she said.
They also worry that officers will capture the cats and take them to Lied Animal Shelter, where they're put down after two or three days if found "unadoptable."
Feral cats grew up in the wild and never bonded with humans, she said, so they are never adoptable, guaranteeing a death sentence.
Typically the main assistance given by animal control is to provide callers with traps for capturing the feral cats, which are then taken to the shelter, she said.
So far this year, the shelter has euthanized 11,065 cats and 4,953 dogs, right in line with the 10,385 cats and 5,024 dogs put down in the same period last year.
Jim Seitz, the shelter's acting director, said the proposed code could reduce the animals' deaths because many cats would be turned over to sponsors. A sponsor would have to pick up an animal within the standard holding time of two to three days or the animal would be euthanized, Seitz said.
The shelter would have to hire a couple of workers to notify sponsors, and would need to be reimbursed by the county, Seitz said.
"Anything that's done to get an animal out of here alive we're in favor of, as long as we're compensated for the extra staff," he said.
GROWING NEED
Creating this program is especially important now with the area's high foreclosure rate, Braverman said. Many people who lose their homes will dump their cats to avoid paying deposits on rentals.
These domestic cats often join a bevy of feral comrades and revert to a wilder state, she said.
The new code would put the county in line with 38 states that have "trap, neuter and return" programs, she said. And it would tie into Lied shelter's plans for opening a "low cost" on-campus clinic in the next year to vaccinate and sterilize animals for $50 to $85 each.
King, the animal curator, said the program is much needed.
Walking through the shelter and seeing all the caged cats awaiting death is difficult, she said.
"It breaks your heart," she said. "There are so many cats."
Contact reporter Scott Wyland at swyland@reviewjournal.com or 702-455-4519.