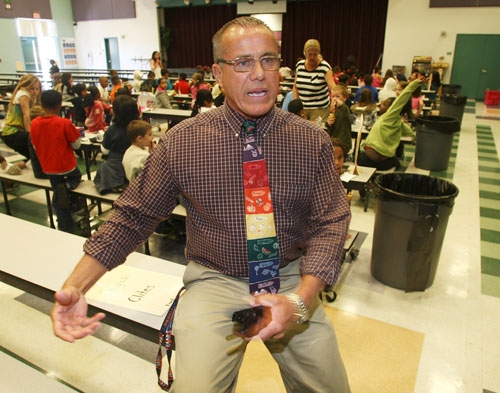 At year-round Bell Elementary School, where a majority of students are limited English speakers who come from low-income families, Principal Tim Adams worries that achievement will suffer if the school is forced back to a nine-month schedule.
Bell has been able to show adequate yearly progress under the federal No Child Left Behind Act for two consecutive years, something Adams believes is in part because of the shorter breaks between sessions that students at year-round schools have.
If the Clark County School District's enrollment policy is changed so that a majority of its 76 year-round schools are nine months, he thinks it might jeopardize the gains his students have made.
"I worry about the needs of my students over the three-month span of summer," Adams said.
On Thursday, the Clark County School Board is expected to reconsider its earlier vote on the district's enrollment policy and look at changes that would allow the majority of year-round schools to revert to nine-month schedules. That would help the district close a budget shortfall of $123 million . The district has estimated it could save $17.4 million if all 76 year-round schools adopted regular schedules.
School Board members will consider inserting the clause "resource limitations" into the policy as a new justification for shifting 12-month schools to nine-month calendars. Because of declining enrollment, 21 year-round elementary schools are already scheduled to make that switch next year.
School Board member Chris Garvey, who is behind the effort to reconsider the policy, said officials would not try to force changes at schools where it would not be practical.
Students on year-round calendars typically go to school for 60 days before taking a three-week break. Adams has been able to take advantage of grants and community donations to extend academic and social services to Bell students even during their time off.
For 10 days of the three-week break, they might come back to school for a special class or a reading lab, Adams said. Three Square Food Bank even provides backpacks of food for needy Bell students to take home on weekends.
Bell, at 2900 Wilmington Way, near Sahara Avenue and Interstate 15, has about 800 students who attend school on five different tracks. If Bell reverted to a nine-month calendar, all of them would be on campus at the same time, increasing the daily attendance by about 130 students.
Bell already uses 13 portable classrooms. Adams estimated the school would need five more if it goes nine months. The school also might need another bus to handle the increased need for transportation.
Because the lunchroom is so small, Adams said lunches would have to be scheduled from 10:45 a.m. to 1 p.m. "When you increase the number of kids into the building all at once, you have to do those types of things," Adams said.
There are schools, such as Hal Smith Elementary School, where the switch to a nine-month schedule will come more easily. Hal Smith is one of the 21 year-round schools that will go nine months next year because of declining enrollment. It now serves 730 students.
Hal Smith Principal Clarence Ehler expects the school will be able to accommodate everyone comfortably next year. The school has a spacious cafeteria. There are only two portables on campus. Classes won't have to share rooms next year.
Ehler said the biggest challenge will be adjusting to changes in the schedule. Students and staff who are used to a three-week break every 60 days won't be getting them anymore, Ehler said.
Outside of Hal Smith Elementary School, on Desert Inn Road east of Nellis Boulevard, parents Tuesday were elated about the schedule change. Paulette Sloss, the grandmother of a third-grader, looks forward to going "to Montana, to go fishing, go hiking and not have to worry about getting home."
Terry Thayer, the father of an 8-year-old student, said the traditional schedule will make his family life less complicated. With the frequent breaks under the year-round schedule, "there's a lot of juggling to make sure somebody's at home."
Contact reporter James Haug at jhaug@reviewjournal.com or 702-374-7917.