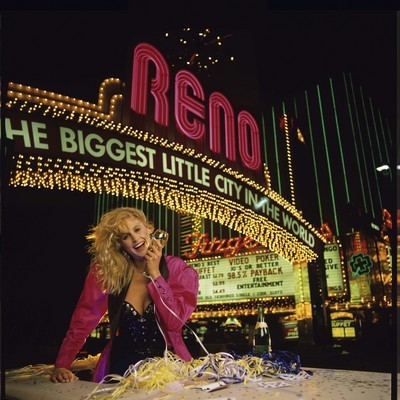 Playboy model Monica Chairez said Thursday that her father, Nevada Supreme Court candidate Don Chairez, was aware that she was posing for the magazine and supported her decision.
The 21-year-old UNLV journalism graduate appears nude in a Playboy.com pictorial titled "Playboy Coed of the Week" for the week of June 26.
Her Playboy photo shoot was April 30, and "my family has always known about this and are 100% supportive of me."
Her father is a former Clark County District Court judge who unsuccessfully ran for state attorney general in 1996. He is one of four candidates seeking the seat of retiring state Supreme Court Justice William Maupin.
As a district judge, Chairez became known as "Maximum Don" after ruling that smut peddlers had no First Amendment protection when they trespassed on private property along Las Vegas Boulevard.
Monica Chairez, in an e-mailed response to an article that appeared here Thursday, said, "My parents raised me with the highest standard of values. Posing in Playboy does not compromise what my morals and beliefs are. It's 2008 and this is Las Vegas. Our own Oscar Goodman shot a Playboy pictorial."
She was referring to the mayor's 2005 stint as a guest photographer for Playboy. He photographed 19-year-old Las Vegas model Destiny Davis, who was Playboy's Miss January that year.
Monica Chairez said her father is her No. 1 fan, "always teaching me that beautiful women can be brilliant." An honor student at Bishop Gorman High School, she completed her UNLV studies in three years.
She said she was angry at Pauly Howard, talk show host at local ESPN affiliate KWWN-AM, 1100, because a blog item by one of his former colleagues was headlined "Talk Show Host Has Sex with Playboy Playmate."
"I've never had sex with him (Howard)," she said. "Our relationship was strictly platonic. And I'm not a Playmate."
THE SCENE AND HEARD
French designer Christian Audigier opens his new nightclub venture tonight, and he told me Thursday that he is "very confident" Michael Jackson will be among the big celebrity turnout. Christian Audigier The Nightclub takes over the former Tangerine space at Treasure Island, and it's likely a lot of major corporate brands will be watching how the brand-expansion venture works out. It's a partnership between Pure Management Group, MGM Mirage and Audigier, a fashion phenom who becomes the first designer to jump into the Las Vegas nightclub industry. He hoped to have a deal in place by today with Jackson to team up on a new clothing line that would draw fashion inspirations from Elvis Presley, Freddie Mercury and other music icons. …
The blogosphere is abuzz over Gov. Jim Gibbons' explanation that he and former Playboy model Leslie Durant are just friends because nothing "takes the romance out of a friendship" like witnessing childbirth. Ada Calhoun, one of AOL's featured bloggers, called it "the most unique defense ever against sexual impropriety." Calhoun wrote: "Try it the next time you get accused of an affair: I couldn't have slept with her! I saw her give birth!"
MAY I RECOMMEND
The $10,000 buy-in main event of the World Series of Poker is under way at the Rio convention center, with an anticipated field of 5,000 whittled down to nine by July 14. The event is open to the public at no charge. The finale will be in November, with a two-day showdown Nov. 9-10.
SIGHTINGS
Bette Midler, receiving a private lesson on how to bake bread Thursday from chefs at Restaurant Guy Savoy. … Actress Shannon Elizabeth, getting spray-tanned by "LA Sunset Tan" star Janelle Perry at the salon's Palms Place location Thursday. On Wednesday, at the World Series of Poker, Elizabeth was spotted getting chatted up by cricket superstar Shane Warne, the Aussie bad boy who has been a fixture in the British tabloids for a decade.
THE PUNCH LINE
"Fireworks form a colorful image of CNN personality Larry King." — From David Letterman's Top Ten Signs You're at a Bad Fireworks Display
Norm Clarke can be reached at (702) 383-0244 or norm@reviewjournal.com. Find additional sightings and more online at www.normclarke.com.