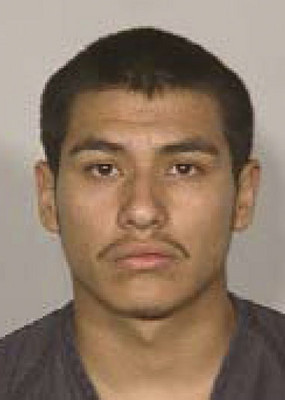 A man, woman and their unborn child survived a stabbing attack by six men earlier this month while they walked near Harmon Avenue and Carmine Street, Las Vegas police said.
According to a police report, Mandana Zaheda and her husband, Parviz Safarri, were approached around 11 p.m. on March 2 by a man with a black bandana over his face. He demanded money before stabbing Safarri.
Three more men joined and attacked Zaheda when she tried to help her husband, who was stabbed 23 times.
The two were taken to Sunrise Medical Center and Hospital for their injuries, according to the police report. They were discharged Tuesday afternoon.
The suspects fled in a white Ford Crown Victoria, and witnesses said a fifth man was inside the car. It is unclear how the sixth suspect was connected to the incident.
Police were able to locate four of the men later that night. Two of the suspects remained at-large until police arrested them Sunday.
Zaheda, 38, who was 16 weeks along in her pregnancy, was stabbed 11 times.
She and her husband, who is 44, were walking in their neighborhood when the attack occurred, Las Vegas police Sgt. Steve Junge said.
"They go for a nightly walk to get exercise. They just happened to be in the wrong place at the wrong time."
The couple suffered stab wounds on their arms, chest, back, face and torso. Police would not say if the unborn child was injured.
According to the report, the men did not take anything from the couple during the attack.
Junge said he has never seen a swarm attack of that nature before.
"We've handled a lot of robberies where people have been shot or robbed or beaten mercilessly, but generally robbers want to get their crime done and get going," he said. "This one kind of stands out."
The adult suspects, Branden Lindus, 21, Jesus Delatorre, 18, and Rigoberto Santivanez, 19, are being held at the Clark County Detention Center without bail. Police are working to attain certification to charge the teenage suspects — whose names were not released — as adults.
All of the men face charges of robbery with a deadly weapon, conspiracy to commit robbery and attempted murder.
Contact reporter Maggie Lillis at mlillis@ reviewjournal.com or 702-383-0279.