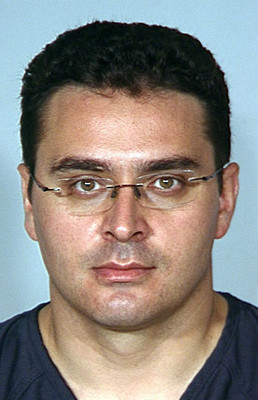 A 33-year-old Las Vegas police employee was fired this week after it was discovered that he fraudulently obtained U.S. citizenship, a requirement to work for the department.
Tzenko Valov Dimitrov was fired Monday, Las Vegas police said.
He was granted U.S. citizenship in 2006, and began working for the Metropolitan Police Department in October of last year.
Police were tipped off that Dimitrov obtained his citizenship illegally based on a fraudulent marriage to a woman who purported to be a U.S. citizen. Police would not say who gave them the tip.
Dimitrov faces one count of forgery and one count of offering a false instrument for record. He was booked Monday into the Clark County Detention Center, where he formerly worked for Las Vegas police as a corrections officer.
Las Vegas police said he was released from the detention center on his own recognizance.
Las Vegas police spokesman Bill Cassell said Dimitrov's arrest and subsequent firing were firsts in the department.
"This is the first time I can recall that any of our officers have been involved in anything like this," Cassell said.
Police accuse Dimitrov and his female accomplice of forging the name of an actual U.S. citizen on their application for a Clark County marriage license.
Police said Dimitrov then submitted the fraudulently obtained marriage certificate to the Immigrations and Customs Enforcement Bureau, or ICE, to support his application for citizenship. A review of Dimitrov's personnel file by Las Vegas police indicated that all documents provided by Dimitrov from ICE were authentic.
Police are still investigating the identity of Dimitrov's accomplice. ICE will determine Dimitrov's citizenship status, police said.
Cassell said police followed typical and correct protocol when hiring Dimitrov.
"He was granted citizenship and he brought to us legitimate citizenship documentation," Cassell said, adding that the employees who did Dimitrov's background investigation did everything as required.
Contact reporter Antonio Planas at aplanas @reviewjournal.com or 702-383-4638.