Police: Father shoots daughter, kills himself in northeast valley
December 17, 2013 - 9:39 pm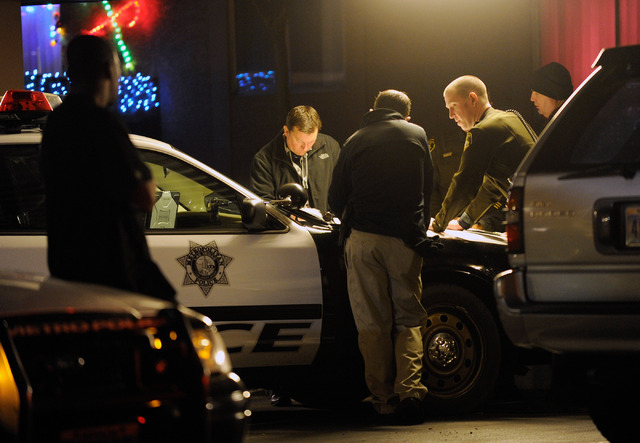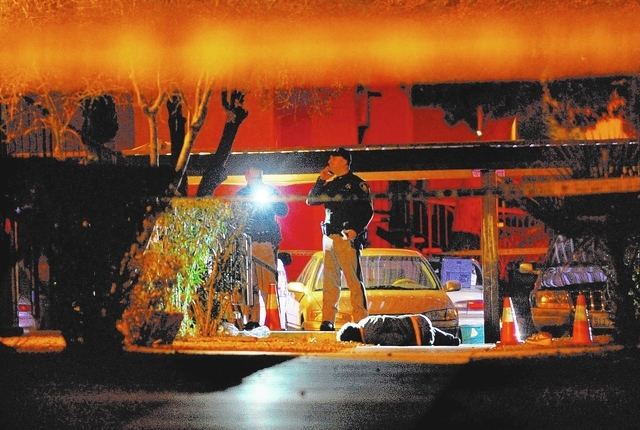 A man shot his daughter and then turned the gun on himself at a northeast valley apartment Tuesday evening, Las Vegas police said.
Police responded to the Regency Heights Apartments, located at 3650 E. Lake Mead Blvd., near Pecos Road, about 6:15 p.m. Tuesday after receiving several reports of gunfire and gunshot victims.
Arriving officers found a 48-year-old man with an apparent self-inflicted gunshot wound to his head with the gun still in his hand and 19-year-old woman with several gunshot wounds to her upper torso area, Lt. Mark Reddon said.
The man was pronounced dead at the scene. The woman was taken to University Medical Center in serious condition, but was considered stable, and was alert and conscious when talking to officers and medical personnel, police said.
"It appears at this point she is going to survive these wounds," Reddon said.
The daughter, who was not identified by police, told officers that she and her father lived together in the apartment.
Her father had been distraught over his divorce last year and had been talking about committing suicide, which the daughter told police sparked the argument before the shooting, Reddon said.
At some point during the argument, the father brandished a gun inside the apartment and shot his daughter, Reddon said.
She ran out of the apartment, but couldn't get away before her father caught up to her.
"He gave chase into the courtyard area where he shot her three or four more times," Reddon said.
The father went to get more ammunition for his gun from his car, then walked back to his daughter and shot himself in the head, according to Reddon.
The daughter was shot a possible eight times by her father, Reddon said.
Apartment complex resident Jose Escalera, a father of six young children, said an incident like this frightens him and makes him question how safe his family is.
"As a parent, you always look for the safest place you can for your kids," Escalera said.
But this shooting makes him "just want to go home and lock the door," he said. "I just hope things get better."
The identity of the father will be released by the Clark County coroner's office.
Contact reporter Colton Lochhead at clochhead@reviewjournal.com or 702-383-4638. Follow @ColtonLochhead on Twitter.