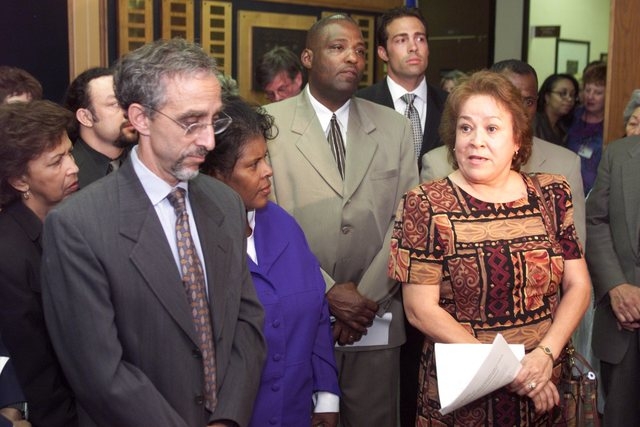 Las Vegas police served search warrants at Clark County School District offices Wednesday in an investigation of the district's Adult English Language Acquisition program for possible misuse of taxpayer money, according to district spokeswoman Melinda Malone.
Las Vegas police wouldn't confirm the search when called Wednesday evening, and district officials wouldn't detail the nature of the suspected misuse of funds or who may be involved.
Malone did confirm that program director Priscilla Rocha was suspended on Wednesday, but did not disclose why.
Active in Nevada politics, Rocha was elected to the Nevada State Board of Education in 1998 and lost her re-election bid in 2002. She is listed as the Nevada state director for LULAC, the League of United Latin American Citizens, on the group's website.
District Chief of Staff Kirsten Searer said school officials received a complaint in December 2013 regarding possible misuse of public funds in the program for adults with limited English skills. School police then conducted a preliminary investigation to gain more information, she said.
"We realized that we required the assistance of the Las Vegas Metropolitan Police Department to assist in the investigation," said Searer, adding that district officials called metro early this year and "have cooperated fully with the investigation ever since."
While misuse of funds has not been confirmed yet in the ongoing investigation, "we will not tolerate the potential misuse of public funds," she said. "We want to be open, transparent and accountable for every dollar entrusted to us by taxpayers."
Las Vegas police would not comment on the investigation on Wednesday.
The program under scrutiny, referred to as AELAS, provides non- and limited-English speaking adults with skills needed to become self-sufficient and productive members of the community, according to the district website. The program offers English classes, family assistance referrals, notary services and referrals for help with immigration, housing and domestic violence.
Contact reporter Trevon Milliard at tmilliard@reviewjournal.com or 702-383-0279.