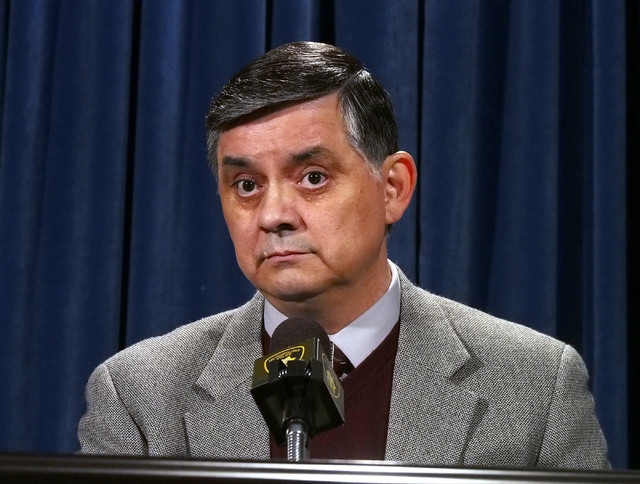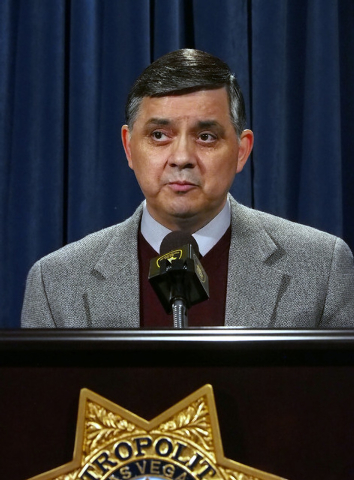 If Justice of the Peace Eric Goodman, 42, was attacked in a bathroom at a busy Summerlin park earlier this month, Las Vegas police haven't proven it.
The judge, who is the son of Mayor Carolyn Goodman and former mayor Oscar Goodman, had been jogging. He was found unconscious. No witnesses have come forward, Goodman wasn't robbed, a forensic search turned up nothing suspicious and there's no video evidence, police said.
And Goodman, who is recovering from a severe head injury, is talking with detectives but apparently can't recall what happened before he was found about 2:30 p.m. on Dec. 15 in the men's restroom at South Tower Park, near Charleston Boulevard and west of the Las Vegas Beltway. He had left his home to exercise at about 11 a.m.
Police held a news conference Monday afternoon to stress that a medical episode or a fall had not been ruled out as the cause of Goodman's injury, which was not made public until Friday.
"Until it comes from our agency that we are looking for an assailant, that we have ruled it as an attack, I please ask the media to be very careful with putting that information out," Deputy Chief Al Salinas said. "We do not want to create hysteria. We want it to be factual."
Salinas said the news conference was in response to several media reports on Friday and Saturday citing anonymous sources. An initial report from KLAS-TV, Channel 8, initially named Ross Goodman, another of Carolyn and Oscar's sons and a Las Vegas lawyer, as the victim of an attack. Reviewjournal.com briefly repeated the error, attributing the information to KLAS.
Police never informed other judges or marshals at the Regional Justice Center about the incident because detectives weren't sure if there was a crime, Salinas said.
"If we had information and evidence proved that this was an actual attack, there's no reason why we wouldn't say it was," he said. "My point is that, yes, we definitely would notify everyone involved (at the courthouse)… We would put it out to the public immediately. Of course, we want everyone to remain safe."
Salinas said there was a report three or four months ago of a man with a gun at an intersection near the park, but no recent reports of violence in or around the park.
Salinas said Goodman met with detectives Monday, although he hadn't yet been briefed on the interview. The family has been very cooperative with police, he said.
"We want to get to the bottom of this as quickly as we can," he said.
In a statement Saturday, Carolyn and Oscar Goodman said, "One of our sons suffered a traumatic injury. He received the best of care at University Medical Center. He is now in a rehabilitation center and doing very well. The family asks that our privacy is respected through his recovery."
Eric Goodman, who is up for re-election next year, was first elected to a six-year judgeship in 2008. He became the first judge in the newly created Department 11 in Las Vegas Justice Court.
He previously worked as a criminal defense lawyer in his father's law firm.
Anyone with information about the incident was urged to call the police violent crimes section at 702-828-5634 or, to remain anonymous, contact Crime Stoppers at 702-385-5555 or www.crime­stoppersofnv.com.
Contact reporter Mike Blasky at mblasky@reviewjournal.com or 702-383-0283. Follow @blasky on Twitter.