Police officer was justified in backyard shooting, jurors determine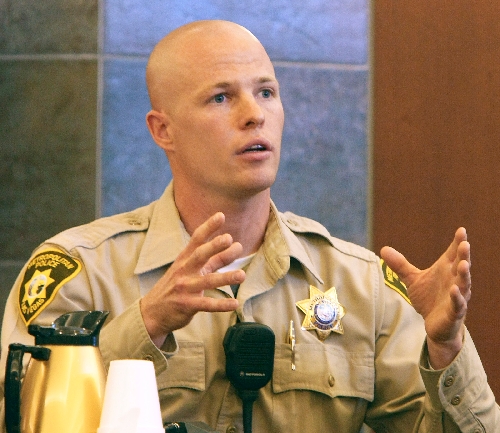 Officer Michael Madland recalled being shot as he chased a robbery suspect over walls and through the backyards of a Las Vegas neighborhood one night in March.
"I felt the first shot go into my right groin area, but I still continued my sprint toward him," said Madland, a Las Vegas police officer who spoke to jurors from a wheelchair on the witness stand. "I didn't want to get into a one-foot gun battle."
Madland toppled into the suspect, 26-year-old Damon Beal, and attempted to wrestle away a .45-caliber handgun, he told jurors.
That's when officer Christopher Le-Blanc, who arrived at the scene moments later, opened fire at Beal. He shot twice, striking Beal in the head each time and killing him, LeBlanc told jurors.
A coroner's inquest jury ruled Friday that LeBlanc was justified in the March 23 shooting death of Beal.
Six of the seven jurors reached that conclusion.
According to testimony from multiple patrol officers, the incident began when police identified a black Mercedes at Charleston Boulevard and Rainbow. Police suspected the vehicle may have been used in an armed robbery the previous day.
When officers tried to pull the car over, the driver did not stop. Police followed the car toward Washington Avenue and Rainbow and executed a maneuver to cause the Mercedes to spin sideways, officers testified.
The driver of the Mercedes, later identified as Beal, leaped onto the vehicle and hurdled over a wall into a backyard on Dolores Drive, officers testified. A second suspect, 45-year-old Marvin Wilson, was immediately taken into custody.
After a brief chase through several yards, Madland and Beal eventually became entangled in a flower bed, where the shootout took place.
LeBlanc told jurors he had to shoot Beal in the head, because that was the largest target area presented to him. Madland, who had been draped across Beal's torso, prevented LeBlanc from shooting at Beal's body. Officers are trained to shoot at a target's center mass, he said.
He told jurors he felt his life and the lives of his fellow officers were in danger.
"I had no other choice but to fire those shots," LeBlanc said.
LeBlanc told jurors he asked another officer to handcuff Beal in the moments after the shooting, despite that he believed he was dead.
Beal's family, several of whom attended the inquest, submitted questions to be read to the jury, questioning why handcuffs would be placed on a dead man.
LeBlanc told jurors the practice is standard in law enforcement training, before a paramedic makes a death ruling.
After Beal "was no longer a threat," Madland, who was bleeding heavily from the wound in his leg, became officers' primary concern, LeBlanc said.
He told jurors he held Madland's head in his lap as officers waited for paramedics to arrive, reminding him of his wife and kids waiting at home.
"He was in some deep trouble, because of the blood loss," he said. "I was telling him about his family that he had. He couldn't die, it wasn't his time."
Jurors took less than 30 minutes to determine a ruling.
In an otherwise open-and-shut inquest without much controversy, testimony from one witness stood out.
In a strange case of what prosecutor Chris Owens called possible witness intimidation, Alvino Farias, resident of the home where Beal died, told jurors he was visited multiple times by sheriff's candidate Tim Deam, and once by district attorney candidate Don Chairez in the days after the shooting.
In Spanish and through an interpreter, Farias told jurors he felt pressured by Deam, who wanted him to say officers executed Beal, he said.
Owens said Farias has given several statements to police, all of them consistent. Farias' account mirrors officers' accounts, he said.
"I've never seen anything quite like this, in this type of setting," Owens said, referring to the inquest.
Owens said he's not sure why Deam is convinced that officers were lying, when the evidence pointed otherwise.
Deam, reached by phone Friday night, said Farias' story "didn't click" with him.
In their first interview, Deam said Farias told him through an interpreter that an officer fired two shots — but the second shot was close-range. Deam said he doesn't believe there was a miscommunication.
When Deam interviewed Farias a second time, this time with Chairez and while wearing a wire, Farias backed off his story, he said.
"He was scared," he said. "He froze up."
Deam stressed that Chairez was not involved in his investigation. He blamed Owens and others in the district attorney's office for pressuring him not to testify and distorting the truth.
Contact reporter Mike Blasky at mblasky@reviewjournal.com or 702-383-0282.