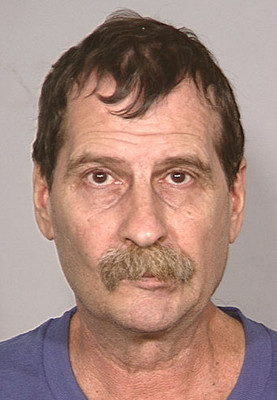 Long-simmering tensions between a man and his girlfriend's mother turned deadly Thursday when the man shot and killed the woman, then tried to kill himself with two shots to the head, according to Las Vegas police.
John Vincent DeLong, 58, had been angry and frustrated with the behavior of 84-year-old Sophie Jozwiak, who had dementia and had been living with the couple for about seven months in an apartment near Tropicana Avenue and Maryland Parkway, according to DeLong's arrest report.
For months DeLong had threatened to shoot Jozwiak and her daughter, Theresa Jozwiak told police.
On Thursday he made good on one of those threats, police said.
Hours before the fatal confrontation at 1401 E. Reno Ave., DeLong and Theresa Jozwiak headed to the nearby Pug's Pub to celebrate her birthday. After drinking about seven beers over several hours, DeLong and his girlfriend went home, the report said.
About an hour later, DeLong and Sophie Jozwiak started arguing. DeLong told his girlfriend he was "losing it," and said Sophie Jozwiak needed to leave, Theresa Jozwiak told police.
Sophie Jozwiak was moving out at the end of the month, her daughter said.
As the argument continued, DeLong pulled a .22-caliber revolver from under the sleeper sofa he used in the living room and leveled it at Sophie Jozwiak, the report said.
Her daughter told him to drop the gun and began hitting him. He punched her in the face and shot Sophie Jozwiak in the chest as her daughter watched, the report said.
DeLong then sat on the bed, put the gun in his mouth and fired. Still conscious, he put the gun under his chin and fired again, this time successfully incapacitating himself.
He was taken to Sunrise Hospital and Medical Center. His condition was unavailable Friday, but police had said he was expected to live.
Detectives booked DeLong in absentia at the Clark County Detention Center on one count of murder with a deadly weapon.
Review-Journal writer Maggie Lillis contributed to this report. Contact reporter Brian Haynes at bhaynes@reviewjournal.com or 702-383-0281.