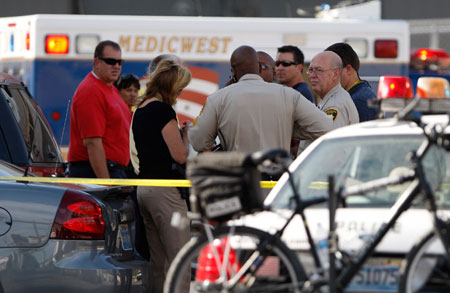 A dead toddler was found Wednesday in a dumpster near the Las Vegas Convention Center, prompting Metropolitan Police Department detectives to fan out through the neighborhood in an effort reminiscent of searches in similarly tragic cases.
The girl, an estimated 18 to 24 months old, was found wearing a diaper and wrapped in a sheet.
The body was found by two homeless men rummaging in the dumpsters.
She was estimated to have been dead for no longer than a day and possibly as little as a few hours, Lt. Lew Roberts said.
In an effort to identify her, investigators released a photograph late Wednesday of the child they have dubbed "Baby Jane Vista Doe."
"It's tragic," Roberts said. "We've had these before. Why would you throw a baby in a dumpster?"
There weren't any apparent signs of trauma on the body, Roberts said.
A medical examiner with the Clark County coroner's office will perform an autopsy to determine how she died.
The girl's discovery prompted immediate references to a similar case, the 2006 discovery of a 3-year-old girl in a dumpster in a southeast valley apartment complex.
Police called her "Jane Cordova Doe," for the Villa Cordova Apartments where she was found. They also released a photo of her in an effort to learn her identity. With the public's help, police discovered weeks later that the girl's real name was Crystal Figueroa.
"Baby Jane Vista Doe" was found Wednesday behind the La Mesa Apartments at 560 Sierra Vista Drive, near Swenson Street and Desert Inn Road. The apartments are a few hundred yards from a police department area command center.
Roberts said two men discovered her while searching through one of about a half-dozen dumpsters behind the complex. They found what they believed to be human remains, and one of them ran in front of the complex to flag down a passing officer, Roberts said.
"They were afraid," Roberts said of the two men. "They were in the country illegally. But they did the right thing by contacting us. They directed us to the body, and that was the right thing to do."
Police questioned the two men and determined they weren't suspects in the crime.
The dumpsters behind the complex are shared by residents in neighboring apartment complexes.
"Oh my goodness, that's just terrible," said 53-year-old Carlos Orozco, who lives in one of the neighboring apartment complexes. "I hope they catch the mother or father or whoever did this."
A woman who lives in the La Mesa Apartments and who wouldn't give her name said she threw trash away in one of the dumpsters Wednesday morning.
"I use that dumpster over there," she said, gesturing to a green unit filled with cardboard boxes. "I just want to look over into them to see what's in there each time. I don't know, it's just that kind of neighborhood, I guess."
Detectives went unit-by-unit talking to neighbors in the complex and planned to start distributing fliers and talking to neighbors in each of the neighboring complexes today , Roberts said.
They will also review surveillance footage taken in the area.
Police have no suspects and no indication who left the baby in the dumpster.
"We're hoping they're individuals that live in the area, not individuals who traveled to the area and dumped the body," Roberts said.
After detectives identified Figueroa, the girl's mother and boyfriend were arrested. Both received life sentences last year.
In 2006, a second dead baby girl was found in the trash processing area of The Mirage. Investigators determined the mother was a 16-year-old girl who concealed her pregnancy and panicked and discarded the body of the stillborn infant.
Contact reporter Lawrence Mower at lmower@reviewjournal.com or 702-383-0440.