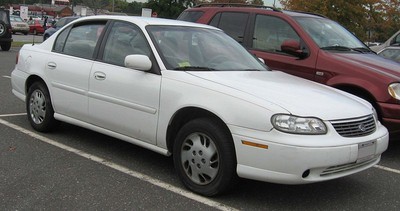 A getaway car spotted at the scene of a slaying in morning traffic last week was stolen, Las Vegas police said Monday.
Michael McDaniels, 48, of Las Vegas was fatally shot in broad daylight Dec. 16 while waiting to turn at the busy intersection of Martin Luther King Boulevard and Owens Avenue.
Witnesses described seeing a man who exited a four-door, 2000 Chevrolet Malibu and fired multiple shots at the driver. After the shooting, the man calmly walked back to the Malibu, made a U-turn and fled east on Owens.
Police spokesman Jacinto Rivera said tracking down the car could lead to solving the slaying.
"We suspect the vehicle is in town. Someone should have spotted the vehicle by now," Rivera said
The white Malibu with a black bra has a Nevada license plate of LV22G6. Police could only describe the suspect as a black or Hispanic male.
Police think the suspect should be considered armed and dangerous.
Rivera said McDaniels was an upstanding man with two daughters. "The guy didn't have it coming," Rivera said. "He is a true victim."
Rivera said anyone can contact police anonymously and be eligible for a cash reward if the tip leads to an arrest.
Anyone with information is encouraged to call the Las Vegas police homicide section at 828-3521, or Crime Stoppers at 385-5555.