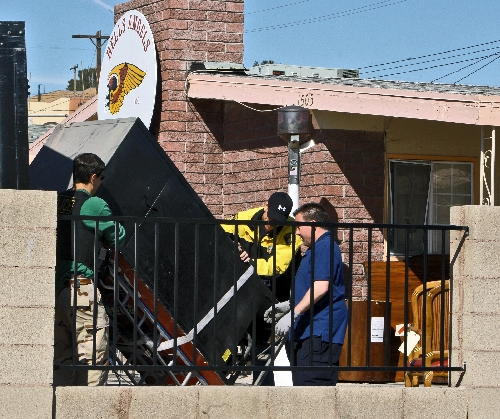 Las Vegas police served search warrants at a Hells Angels clubhouse Wednesday morning as part of an investigation into items stolen from the Salvation Army, according to a police spokesman.
Officer Bill Cassell said an unspecified number of donated items, including firearms and vehicles, were reported missing from Salvation Army records after an internal audit last year.
Two unnamed Hells Angels motorcycle gang members are suspected in the case, police said.
Cassell said the investigation indicated embezzlement and theft, and possible burglary charges. No one was arrested and the investigation is ongoing, he said. The Salvation Army is not suspected of wrongdoing.
"The Salvation Army was victimized from people in position to embezzle donated items," Cassell said.
Major Robert Lloyd, Clark County coordinator for the Salvation Army, said he hasn't seen the warrant and has no knowledge of the suspects.
He said about 100 clients, most of whom are recovering drug, alcohol and gambling addicts, live at the organization's adult rehabilitation processing center where donated items are sorted.
Many of those clients supported their addictions with criminal activity, he said, and it's possible some clients, who work in the facility, were responsible for the theft.
"It's not unusual for some of those folks to take advantage of you," Lloyd said. "That's why we have frequent internal and external audits to catch it as early as possible."
The Hells Angels clubhouse on Bonanza Road and 15th Street was also served warrants in December when documents related to the investigation were taken, he said.
On Wednesday, SWAT officers removed items suspected of being stolen from the Salvation Army and loaded them into moving vans. Furniture, a commercial grill and a vending machine were some of the items confiscated.
"We're taking all kinds of stuff," Cassell said.
The Salvation Army accepts guns as donations but does not sell them in its thrift stores, Lloyd said.
Six locations affiliated with the Hells Angels were raided in November, when police said they searched for "documents, and images, which tend to show the organization, membership, and structure of the Hells Angels Motorcycle Club, and records, documents, letters, and images, which document Hells Angels meetings, events or functions."
A warrant from that investigation said that police were searching for items that show the Hells Angels have an ongoing dispute with a rival gang, the Mongols.
Two Mongols were stabbed at a downtown wedding chapel, possibly by members of the Hells Angels, in November 2008.
Lt. Dave Logue of the Metropolitan Police Department's Intelligence Section said the raids in November had nothing to do with Wednesday's search warrant.
The Hells Angels are not being targeted by police, he said.
"It just so happens they've committed crimes and we have to respond to them," Logue said. "They're not being monitored any more than any other motorcycle gang."
No members of the gang were at the clubhouse Wednesday morning, although several members arrived later. The members were cooperative with officers, Logue said.
"We're probably a few months out on this specific investigation," he said.
Contact reporter Mike Blasky at mblasky@reviewjournal.com or 702-383-0283.