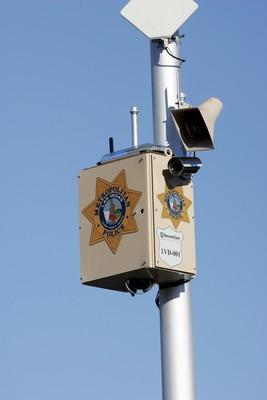 The Metropolitan Police Department is watching you.
At least if you are at the corner of Fremont and 15th streets.
The corner has a 7-Eleven convenience store, several hotels that offer hourly rates and inexpensive apartments.
The intersection has been vilified by community activists and police as a magnet for drug dealers and prostitutes and those who wish to purchase those services.
Now it has a camera on a traffic light pole that's meant to help police identify criminal activity and maybe prevent it.
The Police Department had an official unveiling of the equipment Tuesday night. It was accompanied by a National Night Out event — a nationwide gathering meant to foster good relations between neighbors and police to help prevent crime — outside the Fremont Mini-Mart at the coroner of Fremont and 14th Street.
The cameras are part of a three-month pilot project as a way to crack down on drug dealing, assaults and robberies in a high-crime area.
If successful, police may expand surveillance to other valley neighborhoods.
Neighborhood associations have voiced their support, but there are critics. The American Civil Liberties Union of Nevada believes the cameras will invade privacy and only move crime to other areas.
The cameras are placed in a bullet resistant box with a strobe light on top to alert people to their presence. The cameras are able to pan, tilt and zoom.
Police are expected to keep recordings of images for three to seven days.
In the past 60 days, police have been called 357 times to the quarter mile area surrounding Fremont and 15th streets for a myriad of crime reports.
Of those calls, 174 were for unspecified calls classified as an "other disturbance." But assaults and batteries and drug-related crimes are high on the list of calls police are handling there.
Though most people at the National Night Out event endorsed the camera idea, not everyone agreed.
Ashley Boyer, 18, doesn't have much use for the cameras. "They are an invasion of privacy," she said after removing a child's pacifier from her mouth.
For that matter, she doesn't have much use for police after they took her 9-month old daughter and put her in Child Haven, the shelter for abused and neglected children.
Boyer said somebody had called the police alleging she had beaten her child. But Boyer explained that's not what happened; her child fell trying to walk. Police took her daughter, despite what she said.
Mose Rise, 29, a security guard at an apartment complex, believes the cameras will work. He's seen it before, back in Chicago.
"You can't do much in the open," he said. "People are going to test it. They are going to try the camera and see if the police are watching."
After that, they will move out of the camera's sight, he said.
Rise said he already has seen fewer people loitering around the corner since the cameras were put up a week ago. And police officers have been actively pursuing prostitutes who stroll on Fremont, he said.
Roland August, 51, who has owned the Fremont Mini-Mart with his folks for the past 22 years, said he's thankful for the cameras. "I wish they were here years ago," August said.
August already has cameras on the outside of his business, and he lets police look at the video whenever they want.
The mini-mart is very successful, August said. His customers mostly buy beer, cigarettes and fast food.
At the National Night Out event, Target employees handed out gift bags to children along with hot dogs and soda for everyone. A woman recited poetry about her 14 years in prison, and another woman told children the cameras would help protect them from "abuse and neglect."
The strobe lights on the cameras twirled and shined as dusk settled over the valley.