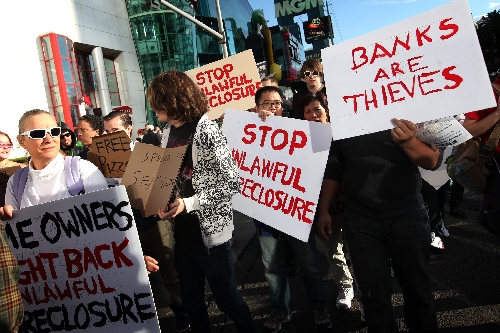 Sen. Harry Reid, D-Nev., scoffs at the idea that a U.S. crackdown on China's manipulation of its currency could incite a trade war that might backfire on Nevada.
During an interview Friday on KNPR, Nevada's public radio station, Reid was asked if the Chinese could strike back against gaming companies operating resorts in the administrative region of Macau.
"I'm not concerned at all," Reid said. "I have been there. China benefits from what is going on in Macau, and they are very, very good at protecting themselves. That's why we need to do this legislation."
Likewise, Reid said plans by ENN Group, the privately held Chinese company that wants to build a 1,700-worker solar panel manufacturing plant in Laughlin, would remain untouched by further rancor between the United States and the Chinese government.
Reid described ENN as "the largest private entity in China. This is not a government-sponsored entity that we are talking about in Laughlin. They are there to make money."
Reid has called a final vote for Tuesday on a bill that would encourage the Obama administration to levy tariffs on imports from China and other countries believed to be keeping their currencies artificially low. The strategy makes their goods cheaper to buy in the United States and U.S. goods more expensive overseas.
While President Barack Obama has been lukewarm on the bill, it is supported by a bipartisan Senate majority. Some Republicans, including U.S. Sen. Dean Heller, R-Nev., and a few Democrats have expressed concern about unintended consequences.
Reid and other Democratic leaders have advertised the bill as a part of their jobs agenda, pointing to a study by the Economic Policy Institute, a liberal think tank, that says the U.S.-China trade imbalance has displaced 2.8 million workers over 10 years.
U.S. Rep. Shelley Berkley, D-Nev., who is running for the U.S. Senate, also has spoken out loudly in favor of the bill. In a memo that became public last week, she was advised by her polling firm that being seen as defending U.S. jobs against the Chinese is a winning issue.
"It's like playing a soccer game on a field that is only 50 feet long and only one team gets the ball," Reid said on the radio. "Listen everybody, this is a trade war we are in now. It's a one-sided trade war because they are the ones doing anything to create this uneven playing field. They started the war, not us."
— Steve Tetreault
AMERICAN LEGION CHANGES
The Senate last week passed a bill to allow members of the American Legion to pay their dues online, a measure sponsored by Sens. Dean Heller, R-Nev., and Jon Tester, D-Mont.
The noncontroversial bill passed unanimously on Thursday. It was Heller's first bill passed since he was appointed senator in May.
The bill also seeks to codify court rulings that national and state offices of the organization can't be pulled into lawsuits against local posts, according to legion officials. Both changes were requested by the veterans body.
The American Legion, whose 2.4 million members make it the largest veterans service organization, was chartered by Congress in 1919. Any changes to its charter — like this one that brings the legion into the 21st century — must be approved by lawmakers.
— Steve Tetreault
OCCUPY LAS VEGAS MARCH
The Occupy Las Vegas protesters who marched on the Strip last Thursday night took pains to explain they were not liberal Democrats, socialists or anti-capitalism anarchists.
Only one of the scores of signs carried an anti-Republican sentiment, "Where the Heller the jobs," a shot at Sen. Dean Heller. Not one of them held a sign supporting a Democrat.
Still, the marchers, while diverse, clearly lean to the left. Certainly, they are not members of the GOP, but some of them admit they took their cue from the conservative Tea Party movement.
"We respect what they did," said Jonathan Williams, an unemployed union worker from Henderson. "They managed to get the nation's attention, and they did it peacefully; but I resent people who think they (people who identify with the Tea Party) are real Americans and we're not."
"We are both saying the same thing if you think about it," said protester Amber Manningham, a retired clothing retailer, from Las Vegas. "We want Congress to represent we the people, not their corporate owners."
— Doug McMurdo
BUSHES DROP IN
On the same day former Florida Gov. Jeb Bush was making appearances in Las Vegas with Gov. Brian Sandoval, his brother, President George W. Bush, also was visiting the city.
Jeb Bush was supporting Sandoval's education initiatives with appearances at the Andre Agassi College Preparatory Academy and in a meeting with the Las Vegas Review-Journal editorial board. He also was the guest of honor at a big-money political fundraiser for Sandoval and Nevada Republicans.
Meanwhile, the former president participated Tuesday in a private corporate speaking engagement, but then took some time to stop by The Venetian to visit with Las Vegas Sands Corp. Chairman Sheldon Adelson. No word on what President Bush and Adelson discussed.
In case you're wondering, no, the former president did not stop by the Global Gaming Expo, which was taking place in the Sands Expo and Convention Center, attached to The Venetian.
Adelson was one of the largest contributors to Bush's presidential campaigns. But their relationship is also personal. Adelson's corporate office has several photos of him and his wife with Bush, including pictures at the former president's ranch in Texas.
— Howard Stutz
Contact Stephens Washington Bureau Chief Steve Tetreault at stetreault@stephens­ media.com or 202-783-1760. Contact Doug McMurdo at dmcmurdo@reviewjournal.com or 702-224-5512. Contact Howard Stutz at hstutz@reviewjournal.com or 702-477-3871.