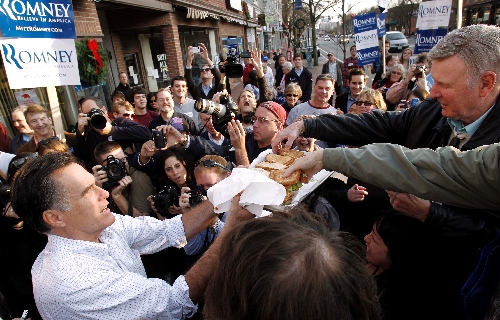 Las Vegas' loquacious former Mayor Oscar Goodman may have left City Hall, but members of the City Council seem to be working to fill the void when it comes to one-liners.
And, like the former mob lawyer who famously regaled local schoolchildren with boozy anecdotes, they're not afraid to work blue.
Puns were the medium of choice on Wednesday, when the City Council recommending committee discussed two ordinances aimed at cracking down on massage parlors and reflexology clinics critics say are often fronts for illegal prostitution.
The ordinances sought to make it harder for operators to hide illegal prostitution by restricting the use of locks on massage rooms and prohibiting tinted and mirrored glass, among other limitations.
Ward 4 Councilman and Mayor Pro Tem Stavros Anthony, who proposed the ordinances, described the process of tweaking the language to make sure they wouldn't hurt legitimate businesses.
"That was really important as far as massaging this particular ordinance," Anthony said.
To which committee member and Ward 5 Councilman Ricki Barlow quipped: "I do believe that, if nothing else, both of these ordinances will have a happy ending," in reference to slang for sexual favors sold in massage parlors.
The attempts at edgy humor continued Wednesday during the City Council meeting; this time the subject was eating disorders.
It came during a work card review for an employee at Heart Attack Grill, a Fremont Street restaurant with specialties like the "double bypass burger" and other belt busters.
After the council voted in favor of awarding the work card, Ward 2 Councilman Steve Wolfson asked Heart Attack owner Jon Basso to plug his restaurant.
"Las Vegas like any other community has its own challenges; we're here to fight the horrible disease of anorexia," Basso quipped, drawing laughter from the dais.
— Benjamin Spillman
HELLER BACKS OFF ON 'MARCH MADNESS'
There has been a quick change in the fundraiser that Sen. Dean Heller is planning during the NCAA basketball tournament next spring.
His campaign was billing it as a March Madness Weekend at the Palazzo.
But the American Bridge PAC, a Democratic research group, noticed and spread the word to a Politico blogger that Heller was heading to a trademark problem with the NCAA over use of the "March Madness" slogan.
"We just were aware the NCAA is pretty strict about letting people use that," American Bridge spokesman Chris Harris said Friday. "We knew it would eventually get shut down."
In 2009, Republican Bob McDonnell, during his campaign for Virginia governor, changed the name of a "March Madness" contest after the NCAA learned about it from the newspaper in Bristol, Va. (McDonnell won anyway.)
The NCAA's nonprofit tax status could be jeopardized if it allowed politicians to use the slogan for political purposes, the organization said.
Heller campaign adviser Mike Slanker said Friday the name of the Palazzo event has been changed, but he did not say to what.
In an email, Slanker said he "had not heard from the NCAA," but from other sources about the problem.
— Steve Tetreault
EIGHT STATE SENATORS ENDORSE ROMNEY
Eight of the 10 Republican state senators in Nevada have endorsed the presidential candidacy of Mitt Romney, Romney's campaign said Wednesday.
The only Republican state senators who have not endorsed Romney are Don Gustavson, R-Sparks, and James Settelmeyer, R-Minden.
Sen. Michael Roberson, the presumptive Republican state Senate leader at the next legislative session, praised Romney's candidacy though seven other Republicans still are seeking the presidency.
"Mitt Romney has the private-sector background, along with his experience as governor of Massachusetts, to balance the budget, create jobs, and provide the stability in Washington that will guarantee American exceptionalism," Roberson said in a statement.
On the other hand, Settelmeyer said it is too early for Republican legislators to make a choice.
"It is up to the people to decide," added Settelmeyer, noting the party caucuses are months away. "I am not saying Romney is a bad choice. But I am also looking at other Republicans."
Romney's campaign released a statement praising the state senators and other Nevada politicians for their support.
"I am honored to have the support of these dedicated public servants in Nevada," Romney said. "Nevada has been hit particularly hard by the national policies of the last three years. We will work together to reverse those failed policies and bring jobs back to Nevada and the rest of the country."
Lt. Gov. Brian Krolicki, another Romney supporter, said: "With his deep understanding of how the economy works, Mitt Romney is the best candidate to reverse Prsident Obama's failed policies."
Romney's Nevada supporters also include Reps. Joe Heck and Mark Amodei, both R-Nev., with Republican Assembly members Ed Goedhart, Scott Hammond, Cresent Hardy, Pat Hickey, Kelly Kite, Pete Livermore, Mark Sherwood, Lynn Stewart and Melissa Woodbury.
Also supporting Romney are Republican state Sens. Greg Brower, Barbara Cegavske, Elizabeth Halseth, Joe Hardy, Ben Kieckhefer, Mike McGinness and Dean Rhoads.
— Ed Vogel
PARDON ME?
Brian Sandoval's face turned bright red in embarrassment Wednesday when a man whose civil rights were taken away 15 years ago said he voted for the governor in last year's election.
Other members of the Pardons Board laughed when Lyon County resident Edward Silsby III said he always voted in elections, though he lost that right when he was convicted of possession of a controlled substance for the purpose of sale in 1996.
"I didn't know I wasn't supposed to vote," Silsby said. "I voted for Mr. Sandoval. I love politics."
Silsby appeared before the Pardons Board — consisting of the governor, attorney general and Supreme Court–to request a pardon from his drug conviction.
He said it had "been years" since he used drugs. But Attorney General Catherine Cortez Masto pointed out he had a medical marijuana card in 2009-10. Silsby, however, said he applied for the card because of migraine headaches but had not been granted one.
Because of the confusion, Pardons Board members requested Silsby return to their next meeting, probably in six months, and in the meantime, the Parole and Probation Division will drug test him and clarify information.
"Don't be voting," quipped Supreme Court Justice James Hardesty.
"Continue to watch politics," Sandoval said.
— Ed Vogel
Contact Benjamin Spillman at bspillman@reviewjournal.com or 702-229-6435. Contact Stephens Washington Bureau Chief Steve Tetreault at stetreault@stephensmedia.com or 202-783-1760. Contact Capital Bureau Chief Ed Vogel at evogel@reviewjournal.com or 775-687-3900.