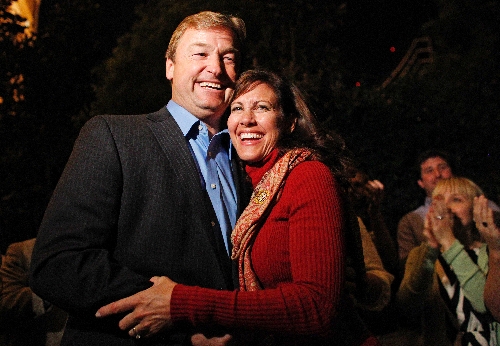 Let the record show, pollster Mark Mellman was right on the money again in predicting the outcome of a U.S. Senate race in Nevada.
Rep. Shelley Berkley's campaign didn't make Mellman's internal polling public heading into last Tuesday's election, but Mellman said his nightly tracking surveys for several weeks showed her losing to U.S. Sen. Dean Heller by 1 or 2 percentage points.
And that's exactly what happened.
To be specific, the Republican Heller won 45.91 percent of the vote and the Democrat Berkley got 44.69 percent, a 1.22 percentage point GOP victory.
The race was a nail-biter, ending well past midnight and ending Berkley's political career.
Before the election, public polls showed Heller leading Berkley, including those commissioned by the Las Vegas Review-Journal. Two SurveyUSA polls had the race at 46-40 for Heller.
In October, to counter the impression that Berkley might lose, her campaign released a Mellman poll that showed her edging Heller 41-38. But that survey was taken nearly one month before Election Day and before the race began to shift toward Heller, Mellman said.
"The truth is our polling was dead on accurate, even more so than the RJ's," Mellman wrote in an email Thursday.
"It is true that a poll we did October 8 to 10, about one month before the election, had Shelley up 3 points. You will also note that we never released any further information, even though we continued tracking each night. That's because we fell behind.
"Indeed, we were consistently 1-2 points behind for the last couple of weeks, and our final track was exactly where we ended up – a bit more than one point down," he added.
Mellman didn't release his final exact numbers on the race and would only discuss the margin. He said there were still 1 to 2 percent undecided voters right up until Election Day. He had "none of these candidates" and a third-party contender getting about 4 percent each, also on target.
In a telephone interview, Mellman said the Berkley loss was tough to take.
"Shelley's not only a client, but a dear friend of mine of long standing," Mellman said. "I really take this very hard and very personally. I will forever be upset about it. I couldn't be sorrier."
Two years ago, Mellman was the only pollster who accurately predicted Democratic leader U.S. Sen. Harry Reid's re-election victory over Republican Sharron Angle.
Reid won by 6 percentage points, while most public polls showed him going into Election Day 4 points down, including one commissioned by the Review-Journal.
This year, Mellman also hit the target on the presidential race in Nevada. He said his polling showed President Barack Obama winning the Silver State by 6 percentage points over GOP challenger Mitt Romney. In the end, the Nevada vote was 52-46 for Obama, a 6-point victory.
– Laura Myers
WHAT THEY SPENT
President Barack Obama's campaign spent the most per Nevada voter: $43.18, according to campaign reports by the Federal Election Commission and advertising figures compiled by the National Journal.
His GOP challenger Mitt Romney, who lost the Silver State, spent $28.69 per voter.
Those presidential campaign figures include money spent to run commercials on TV and radio plus campaign expenses in the state, which were minimal compared to the millions and millions spent on ads.
In the four House races, the victors also spent more per voter than their opponents, according to FEC figures.
In the 4th Congressional District race:
■ Winner state Sen. Steven Horsford, D-Las Vegas, spent $11.33.
■ Republican Danny Tarkanian spent $8.65.
In the 3rd Congressional District race:
■ Winner U.S. Rep. Joe Heck, R-Nev., spent $12.91.
■ Assemblyman John Oceguera, D-Las Vegas, spent $10.11.
In the 2nd Congressional District race:
■ Winner U.S. Rep. Mark Amodei, R-Nev., spent $6.44.
■ Democrat Samuel Koepnick reported no expenses.
In the 1st Congressional District race:
■ Winner and former U.S. Rep. Dina Titus, D-Nev., spent $8.86.
■ Navy veteran Chris Edwards, a Republican, spent $1.47.
Spending more money doesn't always lead to victory, however.
In the U.S. Senate race, the loser, Rep. Shelley Berkley, D-Nev., spent more per voter ($23.06) than the winner, U.S. Sen. Dean Heller, R-Nev., ($16.61), according to campaign spending reported to the FEC.
– Brian Haynes
BEHIND HELLER'S WIN
A closer look at the numbers from Tuesday's election for U.S. Senate in Nevada offer more clues as to why Republican Dean Heller won and Democrat Shelley Berkley lost.
Berkley fell 12,127 votes short of Heller even as President Barack Obama prevailed over Republican challenger Mitt Romney by 66,398. Why the 78,525-vote swing?
It appears most Romney voters also supported Heller, but a significant number of Obama voters abandoned Berkley.
Obama received 529,005 votes in Nevada, but Berkley got only 444,513, a difference of 84,492. There was little appreciable dropoff between Romney, who received 462,607 votes, and Heller, who got 456,640 votes.
If they did not vote for Berkley, where did those Obama supporters go? Most likely they chose third-party candidate David Lory Vanderbeek or "none of these candidates." Also, 4,762 voters simply skipped voting for the Senate.
Minor party candidates and the "none of these candidates" option got 19,895 votes in the presidential race. But a whopping 105,592 voters chose someone other than Berkley or Heller for U.S. Senate, a difference of 85,697.
Look a little closer and it appears that Berkley underperformed in Clark County as well. She received 50 percent of the vote in her home base compared to Heller's 41 percent. At the same time, Obama got 56 percent of the county vote to Romney's 42 percent.
Obama received 388,182 votes in Clark County while Berkley got 337,420 votes – a difference of 50,762. Romney got 288,408 votes in the Southern Nevada county while Heller got 276,820 votes – a difference of 11,588.
Exit polls also provide some insights into which groups of Obama voters were less supportive of Berkley.
Berkley did about as well as Obama among Hispanics. Obama won 71 percent of the Hispanic vote, Berkley 66 percent.
But, she did not do as well with blacks and Asians. Obama took 92 percent of the black vote, Berkley 71 percent. Obama won 53 percent of the Asian vote, Berkley just 28 percent.
The Asian vote may be small in Nevada – accounting for about 5 percent of the tally – but is substantial enough to make a difference in a close race. The falloff from Obama to Berkley was roughly 13,000 votes.
– Peter Urban
Contact Laura Myers at lmyers@reviewjournal.com or 702-387-2919. Follow @lmyerslvrj on Twitter. Contact reporter Brian Haynes at bhaynes@reviewjournal.com or 702-383-0281. Contact Stephens Washington Bureau reporter Peter Urban at purban@stephensmedia.com or 202-783-1760.
Political Eye Blog