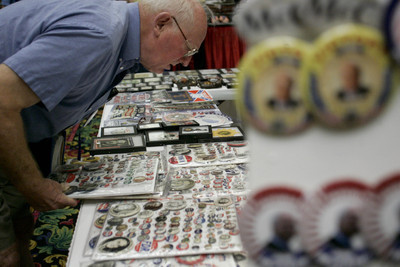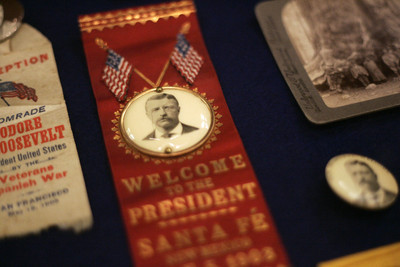 Looking at the yellow ribbon, you can almost imagine her: A woman who hailed from outside Philadelphia, voting for the first time in her life. And she didn't care who knew it, even if some still thought a woman's place was not at the ballot box.
"Under the 19th Amendment, I Cast My First Vote," the ribbon says. "Nov. 2, 1920. Harding-Coolidge, The Straight Republican Ticket. Lancaster, Pa."
Cathy Hosner, who was selling the ribbon for $565, speculated, "She was probably met with derision and scorn. But she was strong."
From a single political artifact, a whole life unfolds, telling the story of its time. What is political history, after all, but the story of individuals — Americans — who must be persuaded en masse every four years to set the course of the nation?
The ribbon and thousands more pieces of history are in Las Vegas this week at the American Political Items Collectors' national convention, which started Tuesday at the Riviera. The convention continues through Thursday.
Hosner, 60, and her husband came to the convention from Kalamazoo, Mich., with suitcases full of memorabilia to sell.
A button featuring musicians Carole King, Barbara Streisand and James Taylor for 1972 Democratic presidential nominee George McGovern holds personal memories: "That was the first campaign we worked on."
Now it's selling for $425.
"Most collectors are frustrated historians," said James Rogan. "We want to make sure this stuff doesn't end up in the trash cans."
Rogan has firsthand experience rescuing history from the dustbin. A former Republican member of the House of Representatives, he served as a prosecutor in the House's 1998 impeachment trial of President Clinton.
After the impeachment vote, he recalled, he went up to the young clerk of the House who had recorded the roll call and asked what would become of that piece of paper. The clerk said the results would be entered in a computer, then probably thrown away.
"I said, 'Why don't you sign and date those roll sheets instead and give them to me?' " Rogan recalled. "They were destined for the scrap bin; now they're in the Smithsonian, between George Washington's uniform and Lincoln's top hat."
Largely because of his involvement in the impeachment, Rogan, now a judge, lost re-election in his heavily Democratic California district in 2000. He's still a collector of political paraphernalia whose prized pieces include a press badge for the reception of President Kennedy at Dallas' Love Field, less than an hour before his assassination.
Tomorrow's fetish items are today's throwaways. Buttons for the current candidates, Republican John McCain and Democrat Barack Obama, will be handed out like candy over the next few months.
But in a few years, one of them will be remembered, if at all, as his party's failed nominee; the other will be in the pantheon of American presidents. Among button collectors, neither will be forgotten.
You may not remember Charles Evans Hughes, but 15-year-old Will Giles, possibly the youngest attendee at the collectors' convention Tuesday, does.
Hughes, the Republicans' candidate in 1916, lost to Woodrow Wilson. Giles showed off a speckling of tiny buttons featuring his bearded visage and reels off trivia about him: "He was on the Supreme Court, but then he resigned to be the presidential nominee," Giles said. "After he lost, he joined the court again."
Giles is from Avery, a town of 400 in northeast Texas, and said he likes Hughes because he was distinguished, but relatively obscure. At home, his collecting hobby puts him in touch with other history buffs as he scans eBay for new Hughes finds.
A pile of contemporary also-rans was on a table selling for $1 apiece. Former UNLV president Pat Goodall was looking through it, picking up past 2008 presidential candidates such as Hillary Clinton and Sam Brownback.
A recent button caught Goodall's eye: "Our Next President, Wesley Clark." For $1, he added the Democratic former military commander, who will not be anybody's next president, to his haul.
Jeff Markell, a mortgage broker from Southern California, inherited a button collection from his grandfather. For years, it sat in the garage, but on Tuesday, it had its public debut, as the 51-year-old brought a few choice pieces to auction off.
Collectors gathered around to ooh and aah at Markell's stuff, which included a Christmas-themed Nixon button, a couple of tiny "Votes for Women" from before 1920 and a "Youth for Kennedy" in a seldom-seen size.
A 1904 Parker-Davis campaign button from Markell's collection went for $500. That's Alton Parker, the Democratic nominee, and his running mate Henry Davis, who lost in a landslide to Theodore Roosevelt.
Roosevelt is among the most popular presidents to collect. Most collectors specialize in one or two presidents, and some narrow their focus still more, like Adam Gottlieb.
Gottlieb has spent years assembling artifacts related to a tour of the West that Roosevelt took in 1903, from a ribbon for a California "Fiesta de Las Flores" to a metal badge welcoming the president to Seattle. The 66-day excursion across 23 states took Roosevelt 14,000 miles across the country he governed. For Gottlieb, who idolizes Roosevelt, the trip encapsulates what made him great: his wide-ranging engagement with the populace and the landscape.
"Whose lapel might this have been on?" wondered Gottlieb, 44, a government worker in Sacramento, of the items he's exhibiting but not selling at the convention. "Who might have touched it?"
The rise of eBay and other auction sites in recent years has made conventions like this one less essential. But Los Angeles resident Don Rosen said he comes for the camaraderie.
A former newspaper reporter, Rosen, 44, collects press passes. He'd just scored a distinctive almond-shaped "Nixon Press Party" button for $75 at auction, and earlier in the day paid $55 for a ribbon proclaiming "Welcome Press and Radio" to an event with President Truman in Davenport, Iowa, in 1952.
Rosen has a not-so-politically-correct affection for Truman. "My dad was a Marine stationed off the coast of Japan, getting ready to invade, in 1945," he said. 'If Truman hadn't dropped the bomb, I wouldn't be here, as awful as that sounds."
In addition to collectibles, Rosen was planning to buy a couple of Obama buttons, "not for my collection, just to wear," he said.
"It's an election year," he said. "You'll see this stuff in the street. Come next year, it'll disappear — except for here."
Contact reporter Molly Ball at mball@reviewjournal.com or 702-387-2919.
ON THE WEB Audio slideshow