Sisolak signs Nevada gun background checks bill into law
Updated February 15, 2019 - 6:57 pm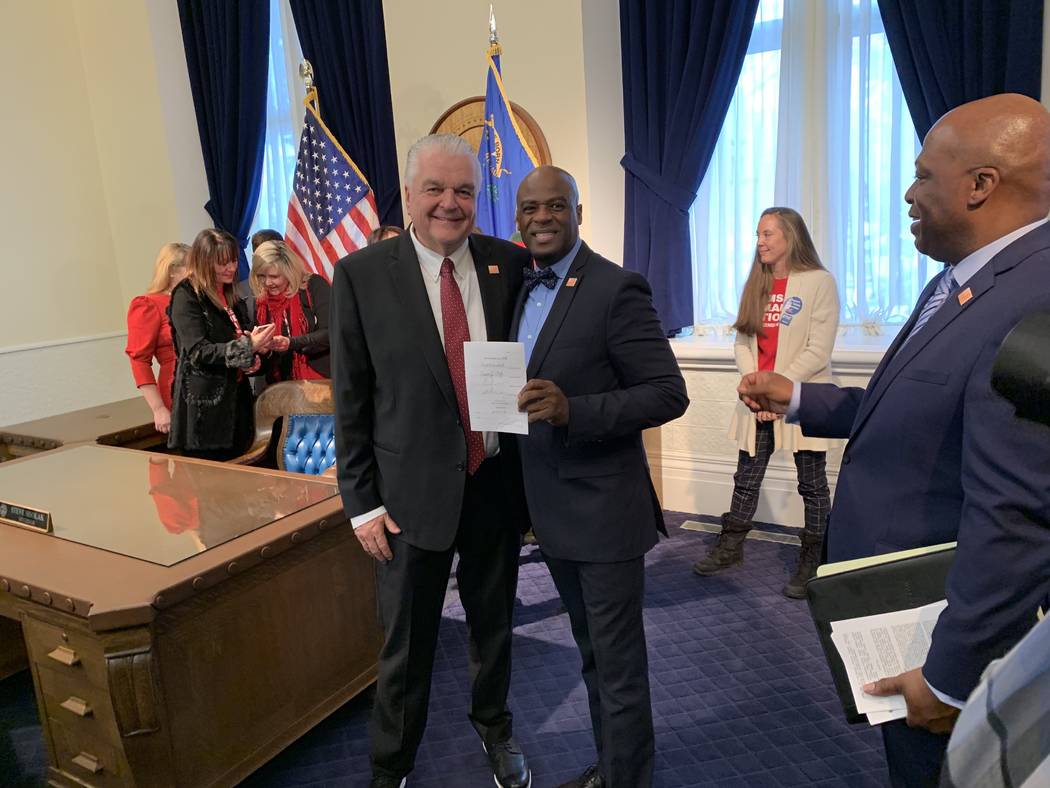 CARSON CITY — A law requiring background checks on private gun sales in Nevada won final passage in the Legislature Friday and was promptly signed by the governor, fulfilling the intent of a 2016 voter initiative that proved unenforceable.
Friday's 28-13 vote in the Assembly after brief debate, and Gov. Steve Sisolak's immediate signing afterward, capped a week of hearings and votes scheduled to coincide with Thursday's anniversary of the Parkland, Fla., school shooting last year that killed 17 people.
A focused Democratic legislative majority moved the bill from introduction to the governor's desk in five days, including a daylong hearing on Tuesday attended by hundreds, amid objections from Republicans and other opponents over a rushed process.
.@GovSisolak signs #SB143 #nvleg pic.twitter.com/7ZnEQ3ESbi

— Bill Dentzer (@DentzerNews) February 15, 2019
Democratic lawmakers, as well as @AaronDFordNV and @JustinJonesNV, gather around @GovSisolak for the signing of #SB143, the expanded background check bill #nvleg pic.twitter.com/vvQ8DRjlGu

— Colton Lochhead (@ColtonLochhead) February 15, 2019
"With this bill, we are taking an important step to address the nationwide public health crisis that is gun violence," Sisolak said in signing the bill.
With unwavering supportive majorities in both houses, the outcome was never really in question on the measure, which effectively replaces the 2016 initiative voters narrowly approved. The bill repeals the initiative's provision that sought federal background checks on private sales and instead sets up a state-driven process. It will go into effect in 2020.
The week of discussion and debate served primarily as a proxy opportunity for opposing sides to address larger issues of gun safety, gun violence and gun rights. In forums throughout the week, opponents decried what they called unenforceable, burdensome and ill-defined provisions of the bill.
Supporters cited commonsense bill language, easy compliance and existing experience and practice in other states that require checks on private sales.
They also consistently stressed that the bill only implements what Nevada voters had already approved.
Throughout the week's debate came references to mass shootings such as Parkland and, closer to home, the the 2017 Route 91 Harvest festival shooting Las Vegas shooting where 58 died in the worst mass shooting in modern U.S. history.
"We are all in support of measures that would mitigate these tragedies," said Assembly Minority Leader Jim Wheeler, R-Gardnerville, speaking in opposition to the bill on the Assembly floor Friday. "However we all know this bill will not do anything to stop them. Instead, I believe this bill seems like Nevada following a political agenda instead of what Nevada usually does: We lead the way."
For supporters, it was the culmination of an effort that began in Nevada with legislation in 2013 — finally enacted, as the governor noted, 829 days after voters approved it.
"Sometimes certain things are hard to put into words. Today is one of those," said Senate Majority Leader Kelvin Atkinson, D-North Las Vegas, the prime sponsor of the bill. "When you think about the emotion, political capital, what our citizens voted for and have been expecting for quite some time, it felt good to finally close the door on this issue and make our state a safer place."
Contact Bill Dentzer at bdentzer@reviewjournal.com or 775-461-0661. Follow @DentzerNews on Twitter.