4 prosecutors resign after DOJ decision on Roger Stone prison time
February 11, 2020 - 2:00 pm
Updated February 11, 2020 - 6:49 pm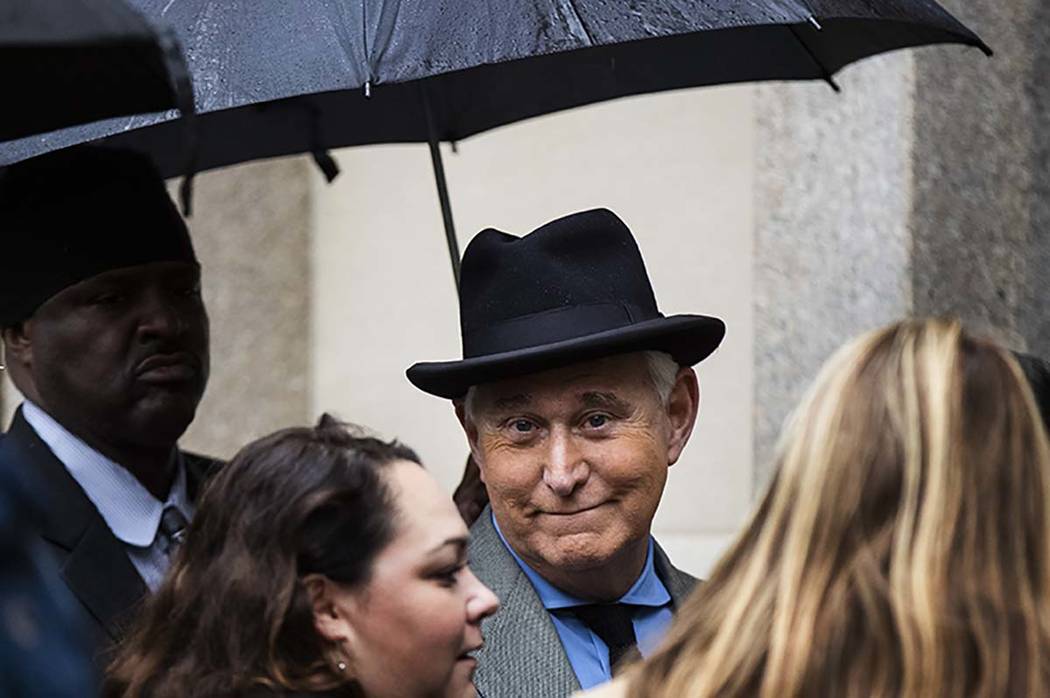 Four federal prosecutors resigned from the Roger Stone prosecution Tuesday after the Department of Justice called for a lesser sentence than the seven- to nine-year term they had recommend as punishment for Stone's November conviction.
Stone was convicted of lying to Congress, tampering with a witness and obstructing a House investigation into Russian meddling in the 2016 election. The sentencing guidelines for those offenses recommend four to five years.
The revised Justice Department recommendation — which spurred the resignations — argued that a sentence of three to four years would be "more in line with typical sentences imposed in obstruction cases."
It is rare for Justice Department leaders to reverse the decision of its own prosecutors on a sentencing recommendation, particularly after that recommendation has been submitted to the court. U.S. attorneys have wide latitude to recommend sentences on cases that they prosecuted.
Stone's defense attorneys had argued that, parsed correctly, the sentencing guidelines would recommend a sentence of 15 to 21 months.
Stone's age, 67, lack of criminal record and poor health made a strong case for a non-prison alternative, "probation or probation with a special condition of home detention," his attorneys argued.
"Despite his decades in the public eye and his often brash behavior, his prior conformity with the law reflects the near certainty that he will never again find himself the subject of criminal prosecution," attorneys Grant Smith, Bruce Rogow and Robert Buschel argued.
But the four prosecutors – Jonathan Kravis, Aaron Zelinsky, Adam Jed and Mike Merendo – maintained that Stone's repeated threats against associate Randy Credico and other behavior demanded an enhanced sentence.
A Department of Justice official told Politico that department brass felt blindsided by the outlier sentence and decided to revise the recommendation Monday night – before President Donald Trump went on Twitter to protest the recommended term as "horrible and very unfair."
The revised memorandum suggested that a more reasonable sentence would include incarceration, but that to avoid unwarranted sentencing disparities, it should be closer to the sentences imposed in other cases of witness tampering, false statements and obstruction of justice that were not committed in the service of a violent criminal organization. Among those mentioned were former aide to Vice President Dick Cheney, Lewis Libby, who was sentenced to thirty months, but whose sentence was partially commuted by President George W. Bush.
Trump issued a full pardon for Libby in 2018.
Zelinsky, who worked as part of special counsel Robert Mueller's team, resigned from the case and withdrew from his assignment in the U.S. attorney's office but did not withdraw from his Justice Department position in Baltimore. Jed, another Mueller alumnus, and Merendo resigned from the case. Kravis resigned from the case and as a U.S. attorney.
U.S. District Court Judge Amy Berman Jackson is scheduled to sentence Stone on Feb. 20.
During a bill-signing Tuesday, Trump told reporters that he did not ask for a recommendation for a lesser sentence, although he had "the absolute right to do it." Trump considered the recommendation and prosecution "ridiculous."
Trump's framing of the stiff sentence recommended for Stone as a "miscarriage of justice" fueled speculation that Trump might decide to pardon Stone or commute his sentence.
Tom Fitton of the conservative watchdog group Judicial Watch was one of many Trump supporters calling for a pardon. "The stench of corruption with the Roger Stone prosecution, @realDonaldTrump should pardon Mr. Stone," he tweeted.
Rep. Adam Schiff, the lead Trump impeachment manager, said on Twitter that Attorney General Bill "Barr overruling career prosecutors at Trump's urging is a disgraceful attack on the rule of law. Has DOJ no independence left?"
Contact Debra J. Saunders at DSaunders@reviewjournal.com or 202-662-7391. Follow @DebraJSaunders on Twitter. The Associated Press contributed to this story.