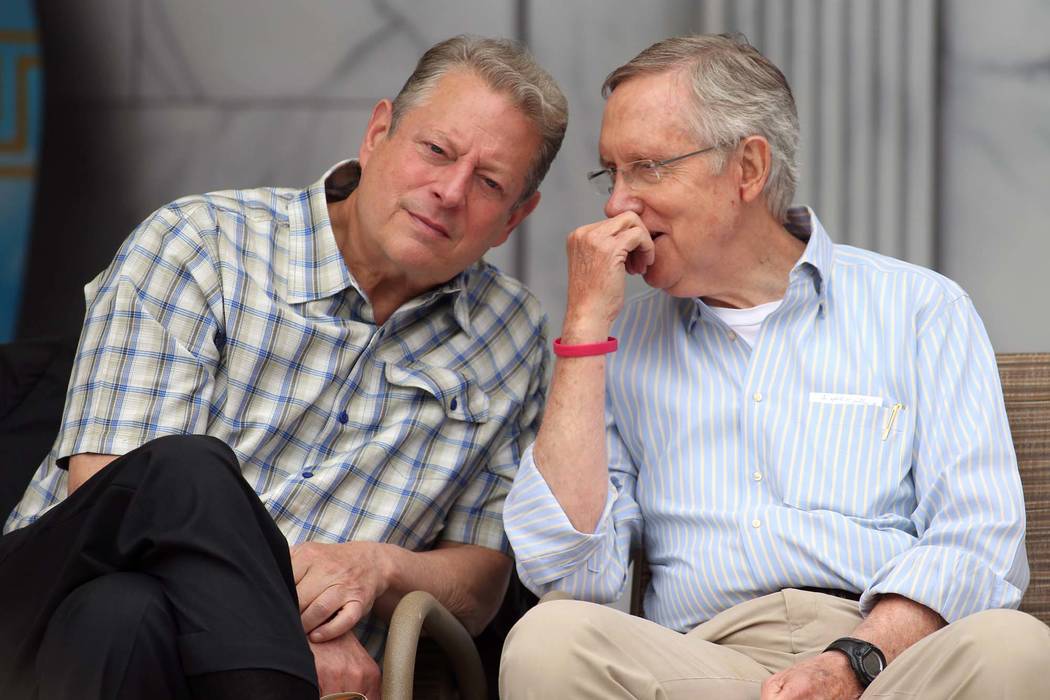 Former Vice President Al Gore will be the keynote speaker at a national clean energy summit in Las Vegas on Oct. 13.
Gore will talk about fighting climate change at National Clean Energy Summit 9.0: Integrating Innovation. Former Sen. Harry Reid and Nevada Gov. Brian Sandoval will co-host the one-day summit at Bellagio.
"Al Gore and I have been friends since we served together in the House of Representatives 35 years ago," Reid said in a statement on Thursday. "Vice President Gore is the most prominent environmental activist in the world today, and I am pleased my friend is coming to Nevada for the National Clean Energy Summit. He has dedicated his post-political career to solving the climate crisis, and I look forward to welcoming him to Nevada to continue the clean energy conversation."
Gore spoke at the second National Clean Energy Summit in 2009. The summit was founded by Reid in 2008, and this will be the first time Sandoval has been a co-host. Past summit speakers include former presidents Bill Clinton and Barack Obama, former Secretary of State Hillary Clinton, former Vice President Joe Biden and Tesla Motors CEO Elon Musk.
"Mr. Gore has played a key role in our nation's clean energy conversation and I'm pleased that he'll be a part of this year's Summit," Sandoval said in a statement. "He has stressed the importance of state and local governments taking action to create clean energy solutions, and I'm looking forward to convening a panel of state leaders from across the nation who have pioneered paths to integrating energy actions that are improving their state's infrastructures, economies and communities."
For more information, visit cleanenergysummit.org.
Contact Ben Botkin at bbotkin@reviewjournal.com or 775-461-0661. Follow @BenBotkin1 on Twitter.