Analysis: Health plan's failure leaves Trump, GOP conservatives wondering what could have been
Updated March 28, 2017 - 11:27 pm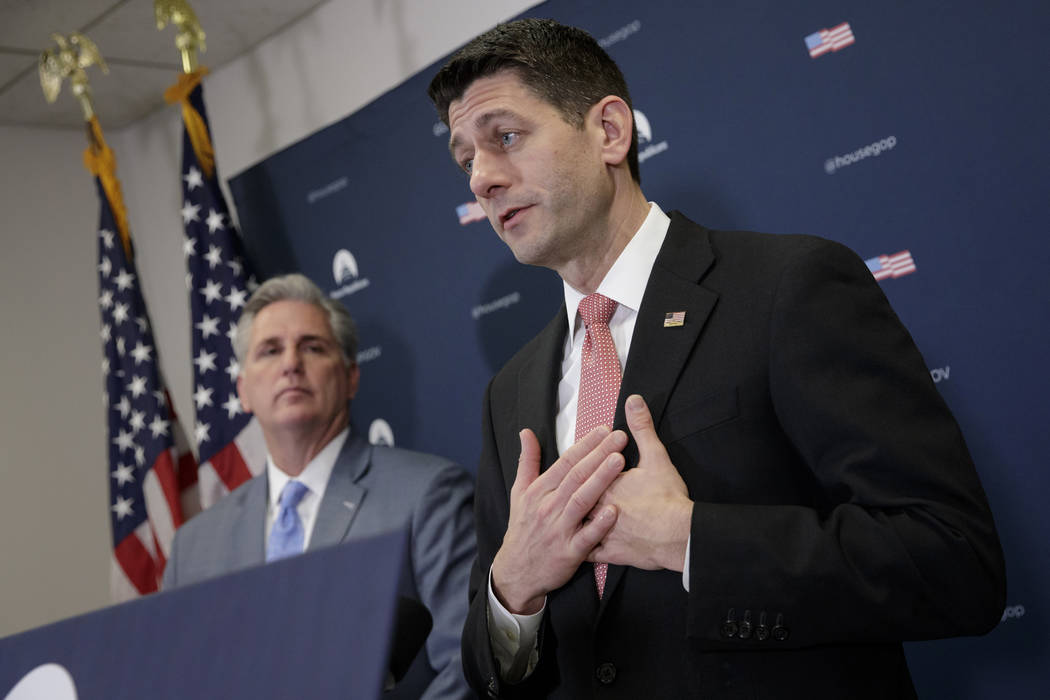 WASHINGTON — Sometimes the best way to reach a deal is to walk away from a deal. That doesn't mean President Donald Trump, House Republicans and perhaps even a handful of Democrats will pass a health care bill after the GOP American Health Care Act sank so unceremoniously Friday. But it does mean that many of the players in the health care bill saga are looking back at last week and wondering what could have been.
To recap, on Friday when Republicans pulled the bill, Trump blamed Democrats for refusing to support the GOP package. Then over the weekend, Trump turned his wrath toward far-right elements in the GOP. On Twitter, Trump wrote, "Democrats are smiling in D.C. that the Freedom Caucus, with the help of Club For Growth and Heritage, have saved Planned Parenthood & Ocare!"
The next day, Trump predicted he would make a deal with Democrats "as soon as Obamacare folds." White House Press Secretary Sean Spicer mused that the administration didn't "need the entire Democratic caucus" just "some responsible Democrats who want to sit down."
The House Freedom Caucus is a rump of very conservative House Republicans whose membership, and hence the exact number of its members, is not public. On Monday, Trump was back to kicking the group on Twitter: "The Republican House Freedom Caucus was able to snatch defeat from the jaws of victory." By then Rep. Ted Poe, R-Texas, had announced he was leaving the group. Poe tweeted, "Some only want to be the party of 'no' & would've voted against the 10 commandments."
Poe followed in the footsteps of Rep. Tom McClintock, R-California, who left the Freedom Caucus in 2015. "A common theme through each of these incidents is a willingness — indeed, an eagerness — to strip the House majority of its ability to set the House agenda," he said then. McClintock warned that the GOP caucus had become a "tactical ally" of House Minority Leader Nancy Pelosi.
ANSWERING TO CONSTITUENTS
It was one thing for the Freedom Caucus to push to shut down the government in a doomed effort to defund the Affordable Care Act when President Barack Obama was in the White House. This time, however, Freedom Caucus Republicans have to answer to constituents who want the president to succeed in repealing and replacing Obamacare.
Some of these voters may have tuned in to Fox News on Monday night to watch Bill O'Reilly outline how he thinks the bill's failure hurt the GOP and Trump. O'Reilly said that he wasn't sure whether the House bill as written would reduce costs, but that he would have voted for it anyway to get the process started. If the final package was a bad bill, then Republicans could vote against it in good conscience.
That taste of being out in the cold may have changed things for the hard-liners. If they had expected the White House to spend the weekend begging and offering huge concessions, they learned they were wrong. When it comes to saying no, Trump can beat them at that game.
On Tuesday, House Speaker Paul Ryan emerged from a closed-door meeting of the Republican conference with the intent to pass a measure. "We all have to reflect on what we could have done better," Ryan said as he talked about the difficult transition "from being an opposition party to a proposition party." He said Republicans remain committed to getting a health care bill done right. "I won't give you the timeline because we want to get it right."
Last week, the GOP bill had 205 to 207 votes, Spicer figured, maybe 210 — all shy of the 216 votes needed for passage. Last week, Spicer noted, there were things members wanted that were not added because the new ideas would push additional people away. The administration is not going to make concessions that chase away yes votes or damage the package.
NOT BACKING DOWN
GOP political strategist Rick Grenell said he thought "the plan all along was to show the Freedom Caucus that the White House wasn't going to back down." Grenell sees last week's decision to pull the bill as an example of smart negotiating.
It's a matter of math, Grenell added. If the Freedom Caucus wants to have a heavier footprint on legislation, it first has to find more members.
Democratic strategist Maria Cardona is skeptical. Cardona doesn't think any Democrats will negotiate with the Trump White House on a measure to repeal and replace Obamacare, but they should talk if the idea is make the Affordable Care Act stronger.
Cardona thinks that uniting the moderate and conservative GOP factions could be even harder than uniting Democrats and Republicans.
Will the Freedom Caucus look at renegotiations as a life lesson about not getting everything they want? Cardona thinks the group just as easily could see the fact that the White House is talking again as a sign that "they're now back talking to us" because Trump needs the Freedom Caucus.
Grenell can't see the administration cutting a deal with Democrats. "We don't need them," he said. "We have the House. We have the Senate. We have the White House. It's easier to work with Republicans" just as a matter of vote-counting.
And that's the optimistic take.
Contact Debra Saunders at dsaunders@reviewjournal.com. Follow @debrajsaunders on Twitter.