Analysis: Trump pushing to restart Yucca Mountain but hasn't said why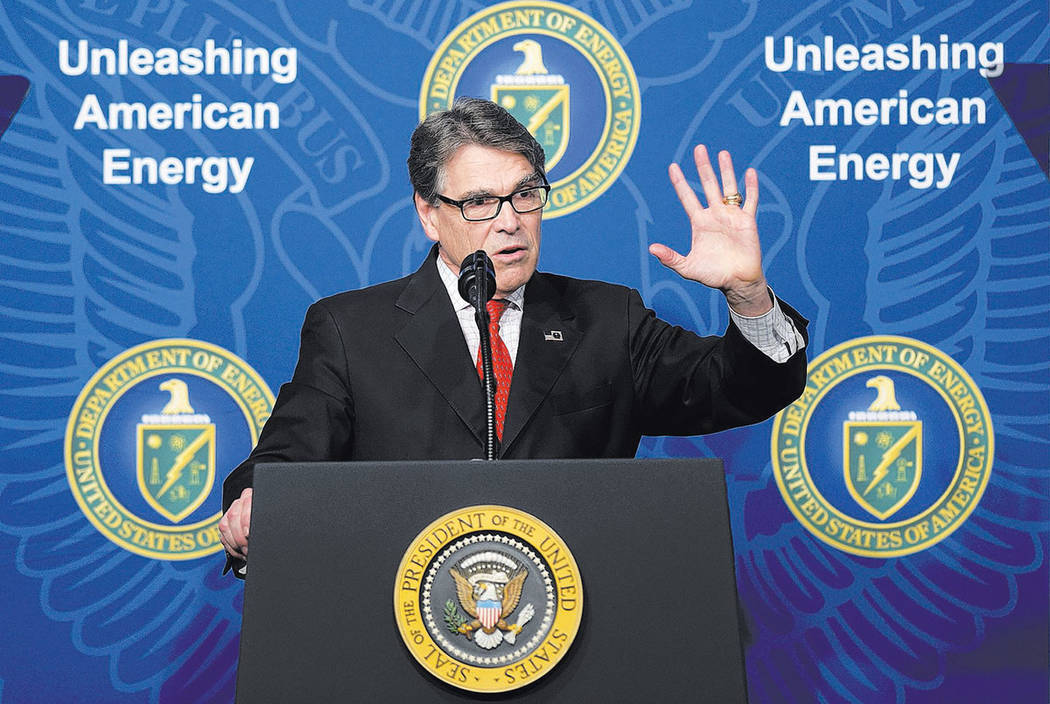 WASHINGTON — In October 2016, candidate Donald Trump came to Las Vegas to face the question all presidential hopefuls who think they can win Nevada must face: Did he support building a nuclear waste repository at Yucca Mountain?
"I'm very friendly with this area," Trump responded. "I have a hotel here. I will tell you I'm going to take a look at it because so many people here are talking about it. I'll take a look at it, and the next time you interview me, I'll have an answer."
Contrary to his campaign rhetoric, Trump did not issue an opinion on Yucca Mountain before Nevadans went to the polls. Democratic nominee Hillary Clinton, who said she opposed the Yucca Mountain repository, carried the state.
Since Trump won the Electoral College, however, he has begun to focus on Yucca Mountain as a nuclear waste site. In March, his administration released a spending plan that reserved $120 million to jump-start the Yucca Mountain facility and initiate interim nuclear waste storage.
The Review-Journal has asked the White House press office repeatedly which factors prompted the president to go forward with Yucca Mountain. What research did he consult? Whose opinion did he seek before supporting the project? When did he decide he supported the repository? The administration's answers provide more confusion than insight.
Asked about the president's thinking on Yucca Mountain at a June 19 briefing, press secretary Sean Spicer responded, "That's a great question. I probably need to do some following up on that." He said he would consult the policy side for an answer.
The administration then forwarded two different quotes given on background that were supposed to answer the question. One quote does not mention Yucca Mountain, the other suggests that the Trump administration has not decided on a project for which it has budgeted $120 million.
— "The president believes the country should be energy independent and that includes support for nuclear energy which, in addition to other energy programs, is critical to enhancing the economic and national security goals of our country."
— "We've been reviewing Yucca Mountain very closely and before any final licensing decision is made, we'll be consulting with all relevant stakeholders to ensure the safety of the American people. Ultimately, it will be a recommendation from the Department of Energy."
Perry's position
Asked about Yucca Mountain at a briefing last week, Energy Secretary Rick Perry said, "Well, you know, we've made no decisions at DOE, nor has this administration, from the standpoint of where we're going to look. Obviously, those are all options but there's been no decision made about where it will be going."
It was an odd response given that the Department of Energy's 2018 budget is slated for a 5.6 percent cut, and still the president's budget provided "$120 million to restart licensing activities for the Yucca Mountain nuclear waste repository and to initiate a robust interim storage program."
On Wednesday afternoon, the White House sent another background-only statement on Yucca Mountain. "The President's budget recognizes the need to develop every kind of American energy. Funding for interim storage was requested to find a near term solution to continue domestic nuclear energy production and responsibly deal with nuclear waste storage while licensing and construction of Yucca is pending."
Nevada Gov. Brian Sandoval's office said Trump never reached out to the Republican governor about Yucca Mountain, though Sandoval "has talked with Secretary Perry about Yucca Mountain on at least two different occasions and reiterated his staunch and unwavering opposition to the ill-conceived, dangerous project."
Nevada's U.S. senators, Dean Heller, a Republican, and Catherine Cortez Masto, a Democrat, also said the Trump team did not consult them before budgeting for the Yucca project.
"No one in the administration or transition team reached out to our office to inform us about plans to go forward with Yucca Mountain," Cortez Masto's office said. "Secretary Perry told us about his plans to visit Yucca Mountain, but we were not given any other information."
Reasons aplenty
There are respectable reasons to support or oppose the Yucca Mountain repository.
On the plus side, it's the law as directed when President Ronald Reagan signed the Nuclear Waste Policy Act of 1987. Nuclear power ratepayers spent billions laying the groundwork for the project through scientific studies and by boring a 5-mile exploratory tunnel more than a decade before President Barack Obama scuttled the project in what was seen as a favor to Senate Minority Leader Harry Reid.
It's been touted by scientists as the most-studied geological site ever, which is why many Nye County officials support it.
Opponents see the decision to dump nuclear waste in one low-population state as a political decision designed not for maximum public safety, but as a way to spare politicians in the other 49 states. They say the site is flawed because of hazards posed by earthquake faults and volcanoes in the region. They also cite risks with transporting highly radioactive waste across the nation's highways and rail lines and argue that Nevadans shouldn't have to house nuclear waste when there isn't a single nuclear power plant in the state.
The administration's failure to answer questions suggests there's a possibility the White House is having second thoughts. Or maybe the administration wants to move this forward without the inconvenience of having to explain itself to the public. For all his talk about states' rights, Trump has yet to give Nevadans what he promised as a candidate — a clear position and an explanation.
"Moving forward with the plan will not help Trump win Nevada," noted UNLV political science chairman John Tuman, "but as we have seen, the president has a path to re-election that does not include Nevada."
Contact Debra J. Saunders at dsaunders@reviewjournal.com or at 202-662-7391. Follow @DebraJSaunders on Twitter.
At a glance
— President Donald Trump's budget blueprint for fiscal year 2018 includes $110 million to restart the licensing process to build Yucca Mountain, and $10 million for interim storage.
— Yucca Mountain, nearly 90 miles northwest of Las Vegas, was designated by Congress in 1987 as the site for permanent nuclear waste disposal.
— Since then, the U.S. Department of Energy has spent $15 billion to develop and study the site.
— The Energy Department filed its license application on Yucca Mountain with the Nuclear Regulatory Commission in 2008. The DOE tried to withdraw the application in 2010 and President Barack Obama defunded the program in 2012.
SOURCE: Las Vegas Review-Journal