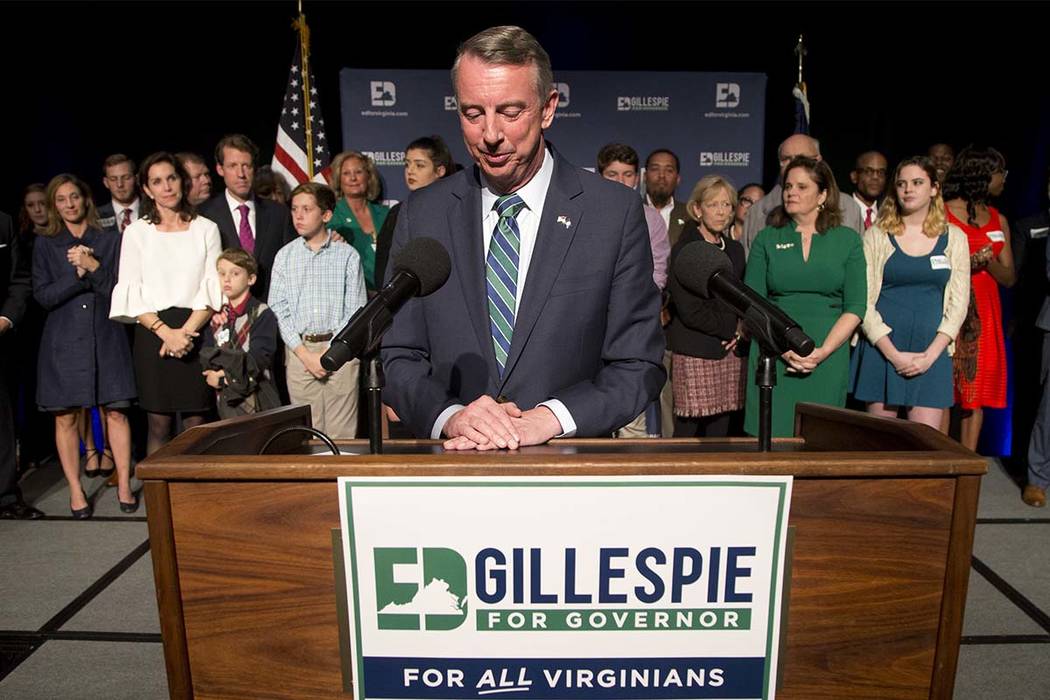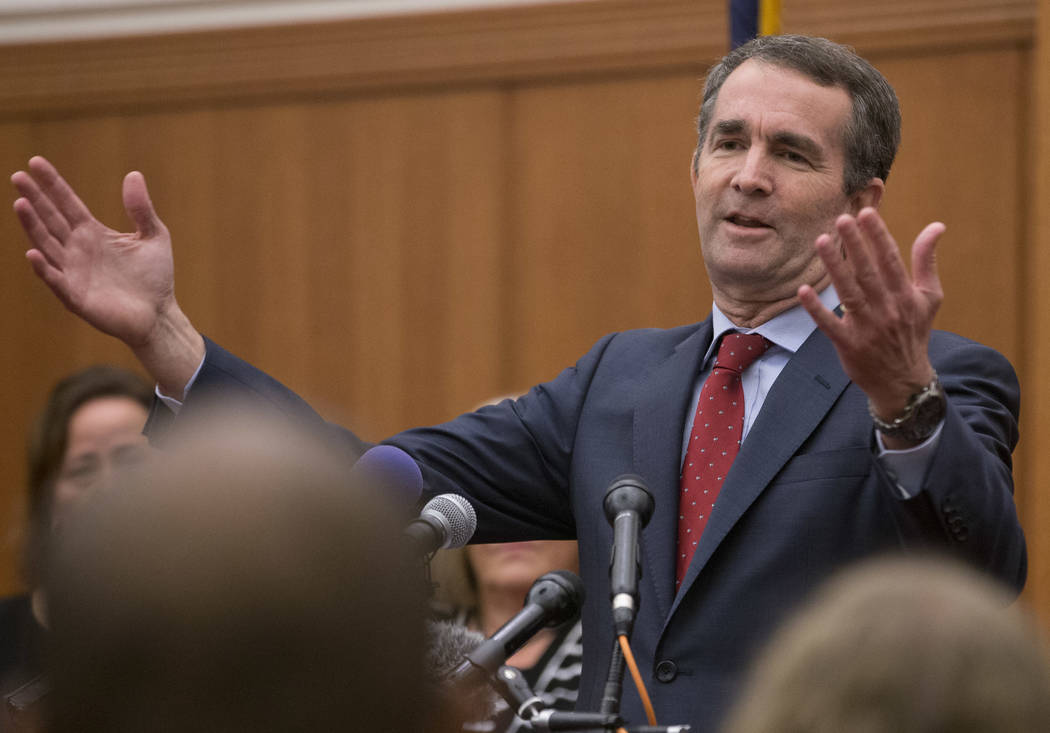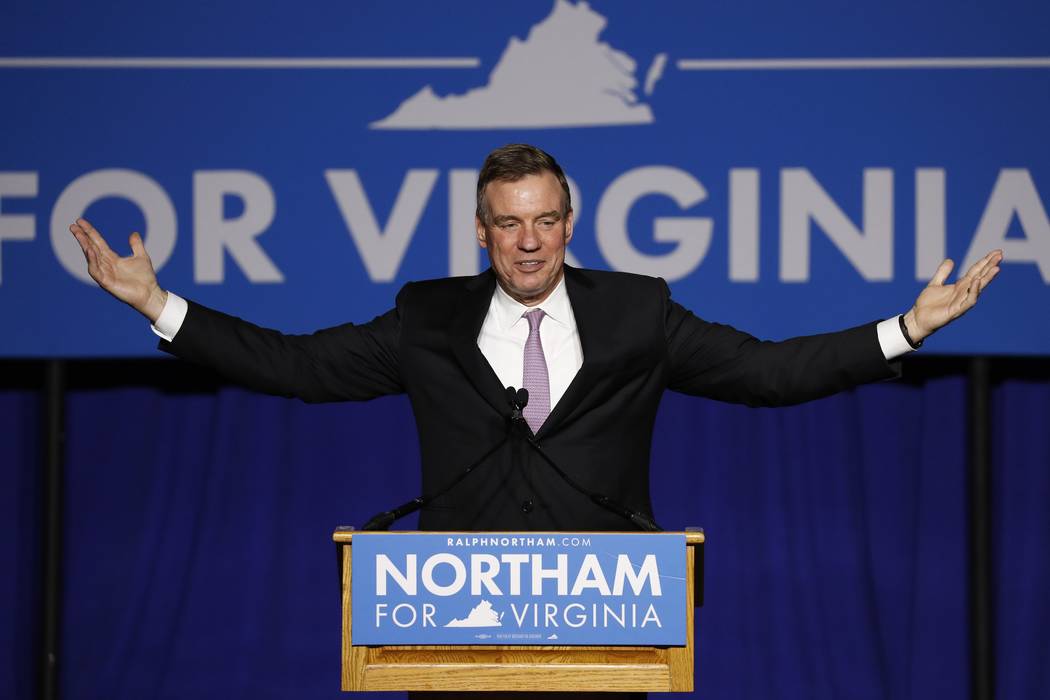 WASHINGTON — Trailing in the polls, Republican candidate Ed Gillespie chanced an unusual tactic in his bid to win the Virginia governor's race.
Dubbed "Trumpism without Trump," the idea was to position Gillespie close enough to President Donald Trump to ride the victories enjoyed by other GOP hopefuls throughout 2017, but not so close that he would risk alienating Northern Virginia moderates.
Tuesday's result: Democrat Lt. Gov. Ralph Northam trounced Gillespie by an unexpectedly large margin.
From South Korea, Trump blasted Gillespie for ending the GOP's 2017 winning streak of four House races.
"Ed Gillespie worked hard but did not embrace me or what I stand for. Don't forget, Republicans won 4 out of 4 House seats, and with the economy doing record numbers, we will continue to win, even bigger than before!" Trump tweeted.
An energized House Minority Leader Nancy Pelosi, D-Calif., declared that the Democrats' much-awaited win "opens the door" for the 2018 midterm races.
"We get the fresh recruits, and they get the retirements," she said.
Gillespie never was the favorite to win Virginia. Trump himself lost the state to Hillary Clinton by a five-point margin one year ago.
Northam's nine-point win, however, was more dramatic than insiders had expected. The RealClearPolitics polling average reported a 3.3 percentage point lead for Northam and had ranked the race a toss-up. Political operatives are left to noodle over whether Northam's lead widened because of Trump or Trumpism without Trump.
Northam fingered Trump. "Virginia has told us to end the divisiveness, that we will not condone hatred and bigotry," he said during his victory remarks.
Unknown territory
Both candidates maneuvered warily through unknown territory. Northam, a pediatrician, won the Democratic primary with ads in which he called Trump a "narcissistic maniac." When the race appeared to tighten, Northam changed his tone and ran spots in which he pledged, "If Donald Trump is helping Virginia, I'll work with him."
Gillespie also straddled a fine line during the campaign. A former George W. Bush aide, Republican National Committee chairman and powerhouse lobbyist, Gillespie narrowly beat a Trump hard-liner in the Republican primary, only to adopt Trump positions on immigration and Civil War monuments in his bid to prevail in November.
As to Trump himself, Gillespie kept his distance. When the president endorsed Gillespie on Twitter, Gillespie didn't bother to retweet the message.
Lanhee J. Chen, a research fellow at Stanford's Hoover Institution who advised GOP nominee Mitt Romney in 2012, sees the Virginia verdict as preservation of the status quo. Just as the four House elections in red districts that Trump cited predictably elected Republicans, Northam prevailed in blue Virginia.
Chen doesn't see a "progressive wave," but he does think that "going into the midterms next year, this whole debate over tax reform is more critical. The Republicans really have to get things done."
Would the outcome have been different if Gillespie had invited Trump to campaign for him? Probably not, Chen mused, but Gillespie's big loss does suggest arm's-length Trumpism isn't "making the Trump supporters happy, and that's where the energy is."
Elsewhere on Tuesday, in the New Jersey gubernatorial contest, Democrat Phil Murphy, U.S. ambassador to Germany under President Barack Obama and a former Goldman Sachs executive, handily beat GOP Lt. Gov. Kim Guadagno. No surprise there. Guadagno never managed to separate herself from the unpopular incumbent, Chris Christie, and last year Clinton beat Trump by 11 points in New Jersey.
Maine and Medicaid
The most ominous election outcome for the GOP-controlled Congress came from Maine. For the first time, state voters overwhelmingly approved a ballot measure to expand Medicaid under Obamacare.
Expect Maine's decision to ripple through Washington. Now, Chen noted, "there's no way in heck that (Maine GOP Sen.) Susan Collins will vote for anything that rolls back Obamacare."
It may be a mistake to read too much into Tuesday's results. "Classic political theory" says that, after a candidate wins the White House, there's a "surge and decline" as the incumbent's party's "voters don't turn out two years later," Democratic pollster Paul Maslin observed.
Then Maslin offered up that Trump is "toxic" on the campaign trail. Exit polls show that 57 percent of Virginia voters disapproved of Trump. Maslin believes Gillespie would have lost by a much closer margin if there had been no Trump factor in the governor's race.
Maslin sees Republican members of the House juggling what they have to do to win a GOP primary with what they have to do to win a general election. Only the rare Republican would want to alienate the GOP base by opposing Trump during the primary.
Once Republicans know they won't have to face a primary challenge, Maslin said, "They'll start compromising with Democrats. They'll start calling (Trump) out. They'll start doing a whole lot of things they weren't doing before."
Chen is skeptical that Trumpism without Trump can work in 2018. "It's going to be very difficult for Republicans to embrace the president without embracing the president," he said.
Contact Debra J. Saunders at dsaunders@reviewjournal.com. Follow @DebraJSaunders on Twitter.
Democratic gains in Virginia
For beltway watchers, the big Tuesday surprise involved the Virginia House of Delegates, where Republicans had enjoyed a 32-seat advantage. On election day, Democrats took at least 13 seats from Republicans and won three open seats; other races likely will be determined by recounts.
"You can't get away from this being a very clear reaction to Trump," Minority Leader David J. Toscano told the Richmond Times-Dispatch.