Award-winning journalists to staff Review-Journal's Washington, D.C. bureau
December 18, 2016 - 12:20 pm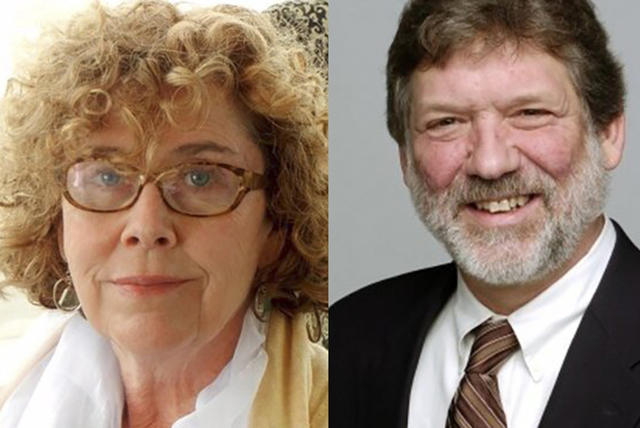 Two veteran journalists will staff the Las Vegas Review-Journal's recently expanded Washington, D.C., bureau.
Debra J. Saunders joins the Review-Journal later this month as the company's White House correspondent. She will team with recently hired reporter Gary Martin, who will focus on Congress, in the nation's capital.
"Creation of our expanded Washington bureau is another big step in our plan to become a true regional media company in the western United States while keeping Nevadans fully abreast of all that our members of Congress are accomplishing — or not — in D.C.," Review-Journal Editor-in-Chief Keith Moyer said. "Our commitment to covering the White House and the history-bending Trump administration is an exciting leap to the next tier for the Review-Journal. Debra and Gary are nationally prominent, talented correspondents who will give our readers the best Washington coverage in Nevada, online and in print."
Saunders previously covered California and national politics for the San Francisco Chronicle, where she wrote a conservative-leaning column for the newspaper three times per week since 1992. Saunders wrote extensively on San Francisco's homeless issues, crime and the city's choice to be an open sanctuary city.
Her column was syndicated and appeared regularly in the Review-Journal and outlets such as RealClearPolitics, Town Hall and the American Spectator.
Before working for the Chronicle, Saunders was a columnist for the Los Angeles Daily News.
"I love that the RJ wants to give readers an inside look at the Trump White House. It won't be dull," Saunders said Friday. "While I've written columns and editorials for 30 years, I have never worked as a straight news reporter. I expect to be the oldest cub reporter in the White House press corps."
Martin, who joined the Review-Journal in November, is an award-winning political editor and national correspondent with more than two decades of experience covering politics in Washington, including the White House, Congress, the Supreme Court and U.S.-Mexico relations.
Before joining the Review-Journal, Martin led the team of journalists who broke the national story about the death of Supreme Court Justice Antonin Scalia in Texas.
Martin previously worked at the San Antonio Express-News and the Seguin Gazette-Enterprise in Texas and the Nogales International in Arizona.
"It's an exciting time to join such a talented staff," Martin said Friday. "Washington will see a new administration, and Nevada will have a new senator and new congressional delegation. I look forward to covering the changes in the shifting political landscape. "