Big bucks! Local government managers pull down serious coin
Updated April 20, 2023 - 10:03 am
Elected officials are the public faces of the institutions they represent.
Yet often, behind-the-scenes appointed government employees — like city and county managers — are tasked with administrating the departments that make the wheels of day-to-day operations turn, and overseeing the thousands of employees the municipalities employ.
They are also among the best paid public servants in the Las Vegas region.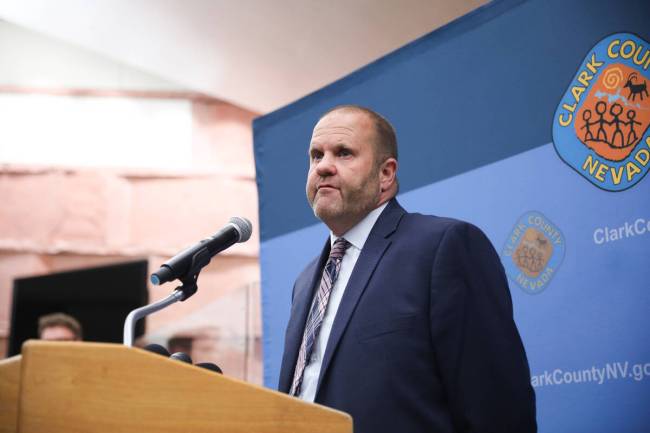 Kevin Schiller, Clark County
Clark County Manager Kevin Schiller was appointed to the post in November with a base salary of $297,000.
The county, the 11th largest in the U.S., serves 2.3 million residents and more than 45 million yearly visitors. It operates Harry Reid International Airport and University Medical Center and services roads, public works, parks, and operates a fire department.
His contract expires in 2025.
Jorge Cervantes, Las Vegas
Las Vegas City Manager Jorge Cervantes was offered the top post in the fall of 2020 with a base salary of $250,000. In November, after a previous raise, the City Council approved a 6 percent increase and a $20,000 bonus that increased his salary to roughly $295,000.
With 649,790 residents, Las Vegas is the largest city in Nevada. Part of the tourist corridor — downtown Las Vegas — falls within the city's jurisdiction.
The city operates its own fire department.
But unlike cities like North Las Vegas and Henderson, which operate their own police departments, Clark County and Las Vegas jointly fund the Metropolitan Police Department.
Cervantes' $275,o00 base salary falls under those earned by the top executives in North Las Vegas and Henderson, city officials said.
Cervantes' contract expires this November and he has hinted at retiring afterward.
Ryann Juden, North Las Vegas
North Las Vegas Manager Ryann Juden, who joined the city in 2013 as a chief of staff, climbed the ranks to assistant city manager, and then the top post five years ago.
His current contract was ratified in December with a base salary of $300,126, the city said Wednesday.
Juden has created new departments including the community services and engagement department, and the grants department and parking services division, according to the city.
The city's population hovers around 275,000.
Juden was part of the team that rid the city of a $151 million deficit and balancing the budget without layoffs or service reductions, the city said.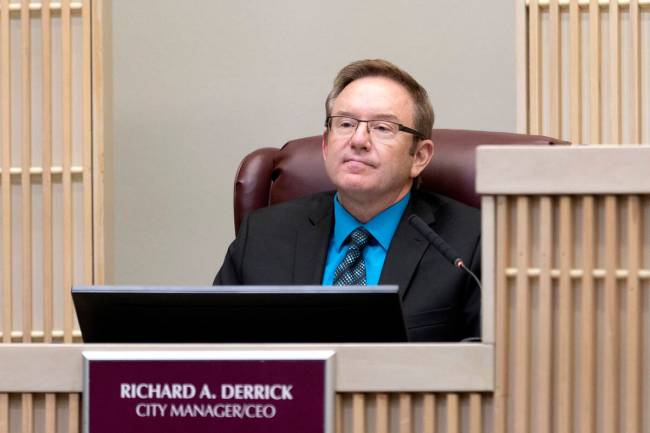 Richard Derrick, Henderson
City Manager Richard Derrick joined the city of Henderson in 1999 as finance director, before being appointed top executive in 2018.
Henderson has a population of 322,178, according to most recent census figures. The city said he is key in implementing the City Council's "short and long-term strategies to accomplish the City's mission and vision."
Henderson, like North Las Vegas, operates its own police department.
According to to a city of Las Vegas presentation on local government pay, Derrick's base salary was increased to roughly $292,000 last year.
Taylour Tedder, Boulder City
Boulder City Manager Taylour Tedder received a pay boost during a special meeting this month, which brought his yearly base salary to $187,044.
The city, which had a population of 14,879 in 2021, appointed Tedder in August of that year with about $145,000 yearly pay.
Increases are necessary because of the competitive market, Councilwoman Cokie Booth said during the meeting.
"My thought is, you should pay somebody at the top of the scale when they're doing a good job because we don't want them going onto Henderson, Las Vegas, or to another area when the opportunity comes up," she said. "I think it's easier to keep them in this position if we're paying them what they should be paid, and what they deserve."
Other top earners
— Clark County School District Superintendent Jesus Jara started the position in 2018 with a $320,000 yearly salary. He got a $75,000 boost last year when his contract was extended until the summer of 2016.
— John Entsminger is the general manager of the Southern Nevada Water Authority, which oversees countywide water policy, serving 2 million residents and 40 yearly million visitors.
Entsminger earned a base salary of $335,449 in 2019, the last available figure from the Transparent Nevada website.
— The last reported salary for MJ Maynard, CEO of the Regional Transportation Commission of Southern Nevada, was $221,478.
— Rosemary Vassiliadis, the Clark County director of aviation, earned $270,805 in 2021, according to Transparent Nevada.
Contact Ricardo Torres-Cortez at rtorres@reviewjournal.com. Follow @rickytwrites on Twitter.