Bill Clinton, DJ Aoki hold get-out-the-vote event at UNLV
November 3, 2016 - 8:28 pm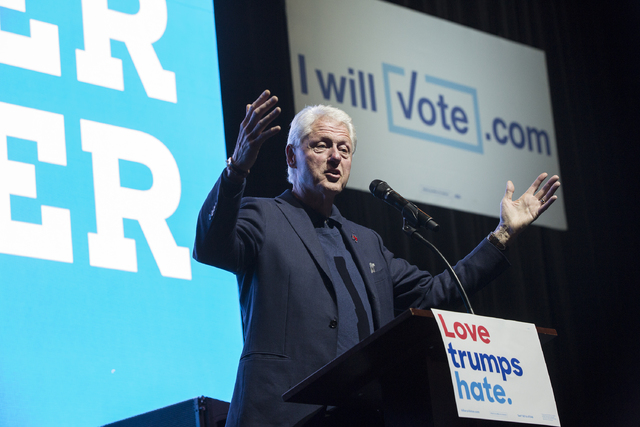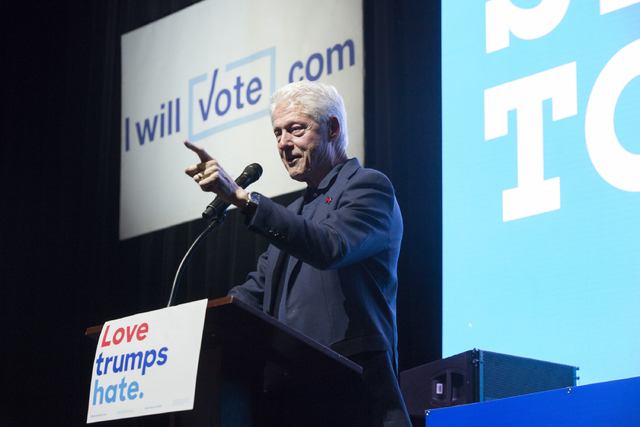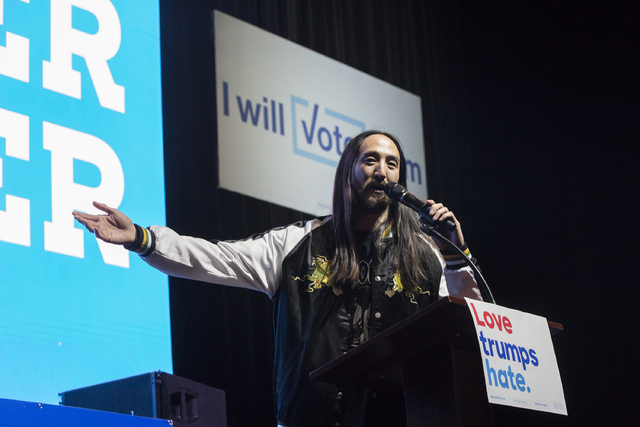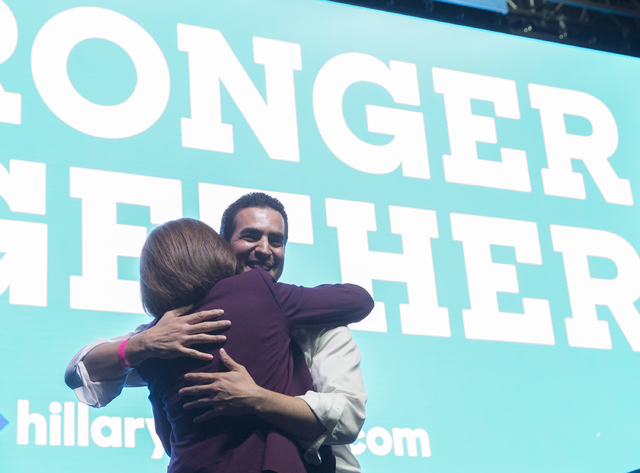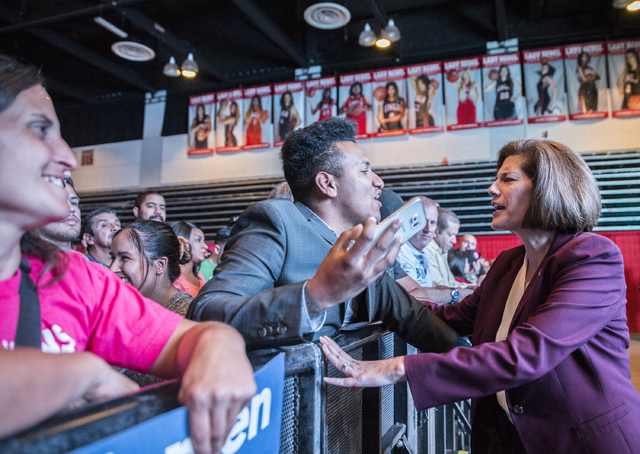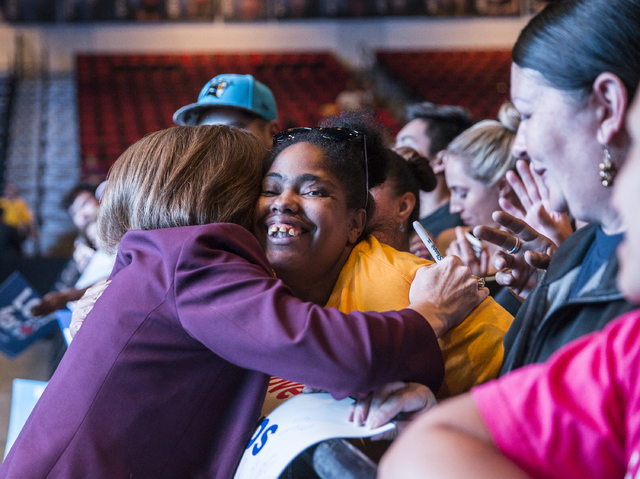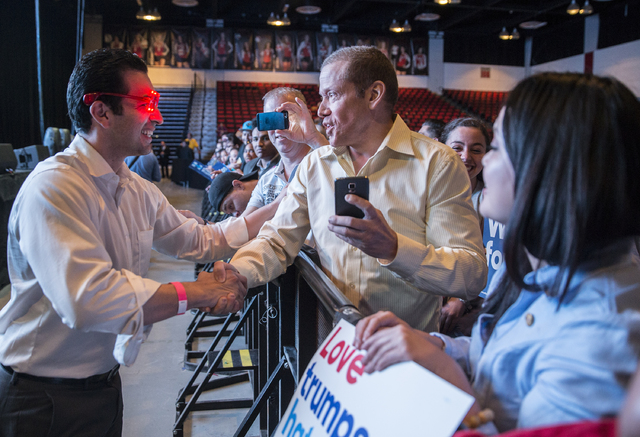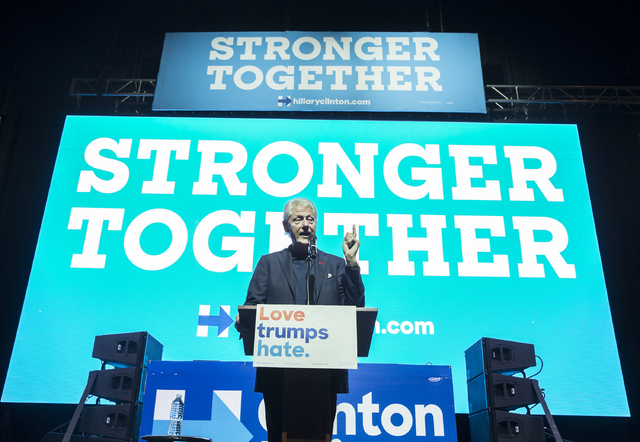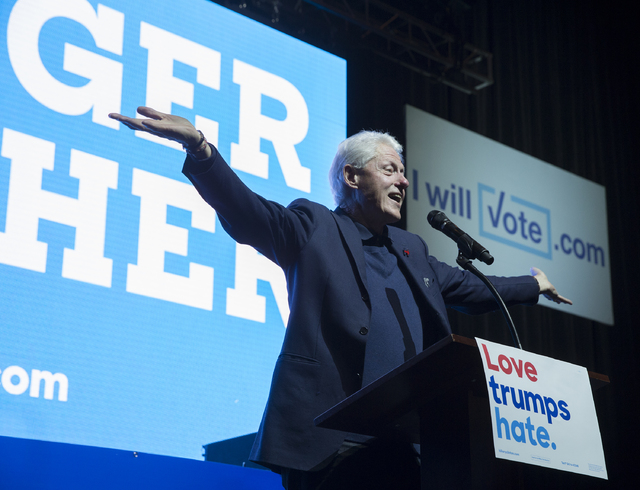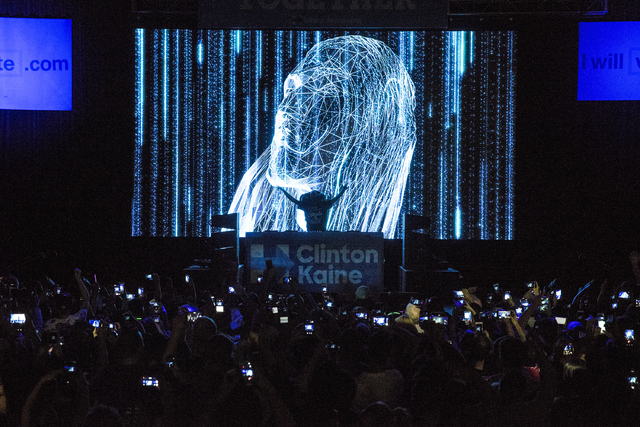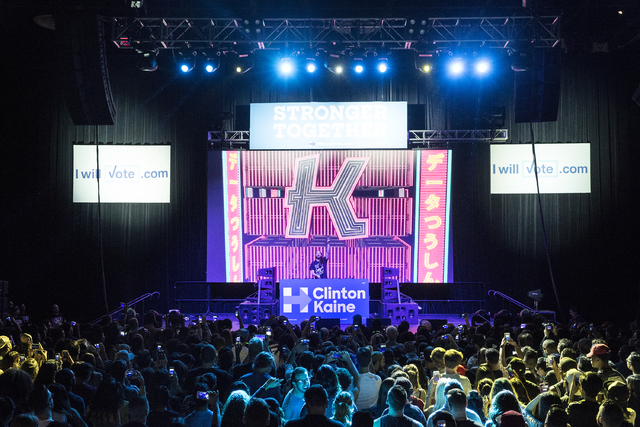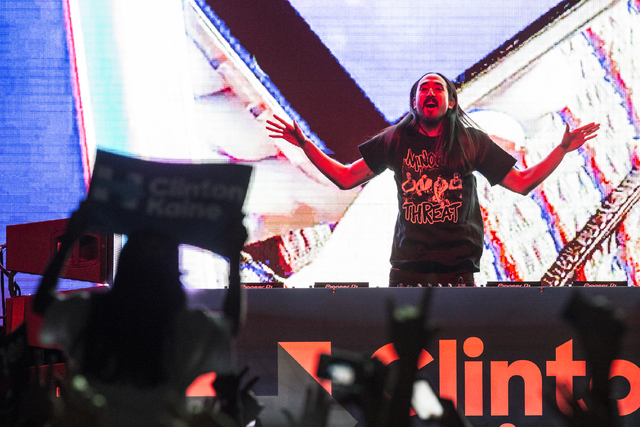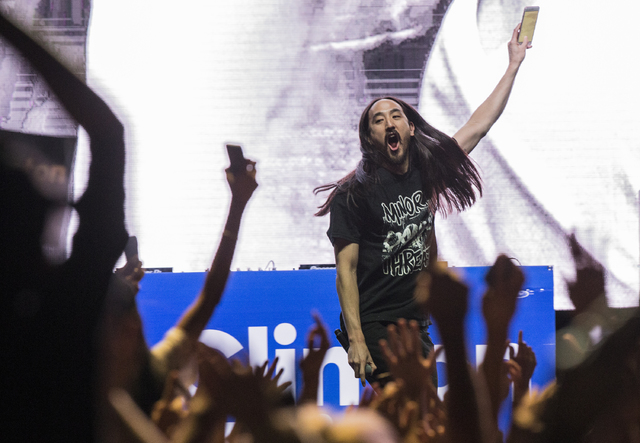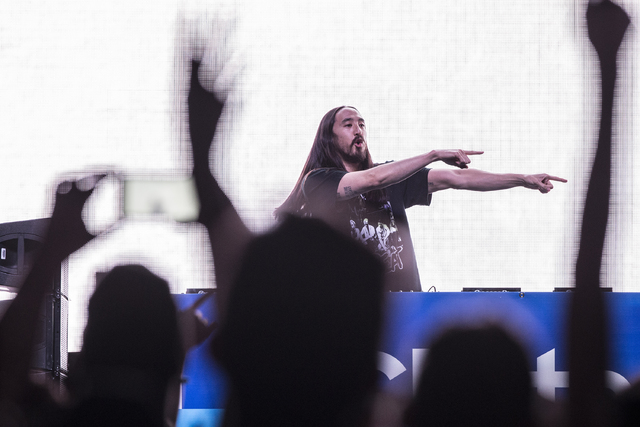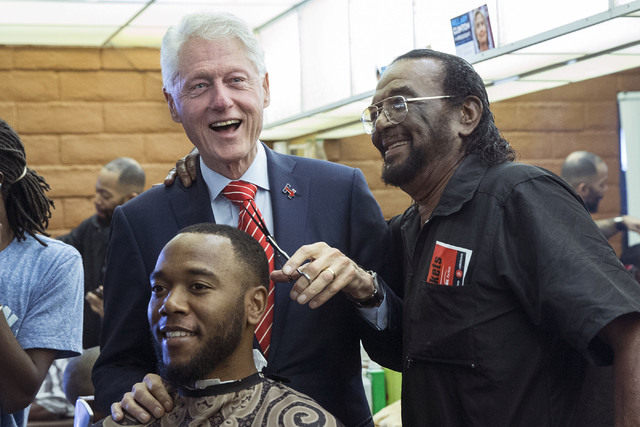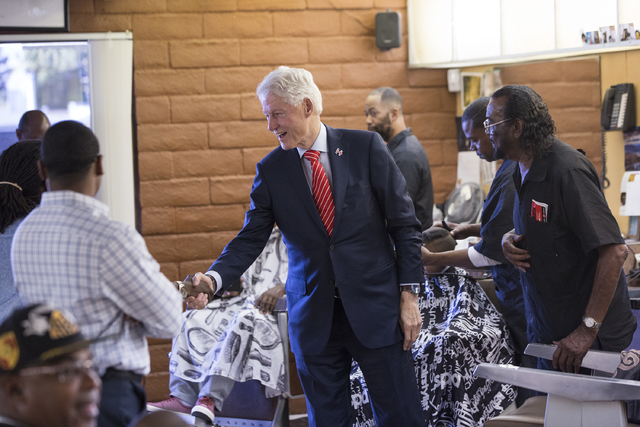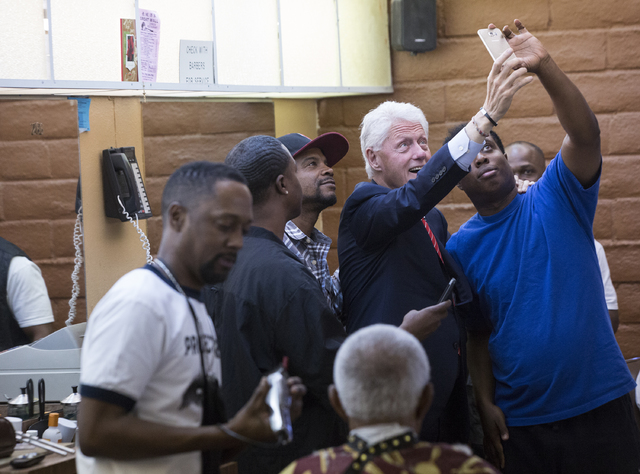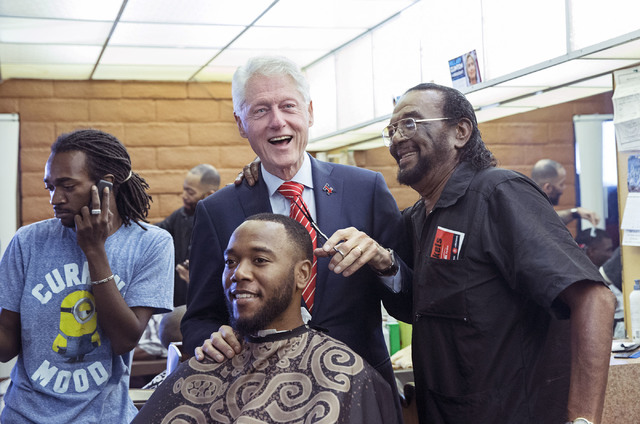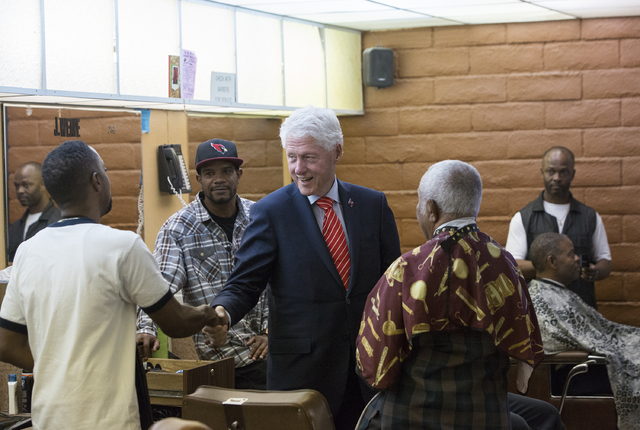 Former President Bill Clinton and Democratic congressional candidates Thursday pumped up a crowd of about 400 people at UNLV's Cox Pavilion to vote for Hillary Clinton before DJ Steve Aoki spun a ground-shaking set of electro-house music.
The get-out-the-vote rally was part of Hillary for America's "Love Trumps Hate" nationwide concert series.
It was a bass-heavy concert — which included new music from Aoki, and familiar remixes, including a sing-along rework of Nirvana's '90s hit "Smells Like Teen Spirit" and a couple of blink-182 songs — and served as a battle cry for young voters to get to the polls on Friday for the state's last day of early voting or on Tuesday, Election Day.
Aoki stopped the music midset to send the event's message home about voting.
"All your friends are not voting. That's the truth," he told the crowd. "So you need to get your friends together and go vote."
'This really is a choice if you believes love trumps hate," Bill Clinton told the crowd. "For a year-and-a-half Americans have had acid poured down their throat" by Republican presidential nominee Donald Trump.
Clinton said that his wife's campaign was about "building bridges not walls" and that "her answers are better than the anger (Trump) throws."
The 42nd U.S. president painted a bright vision of the coming years to his young audience .
"You are America's future. … We are rising, and the future is bright because of you," he said. "I think you're going to live in the most prosperous … time of discovery and advancement we've ever seen."
Before Clinton and Aoki took the stage, Nevada state Sen. Ruben Kihuen, also a candidate for the U.S. House of Representatives, and Democratic U.S. Senate candidate Catherine Cortez Masto fired up the concert's first arrivals, telling them Hillary Clinton was a champion of the American dream.
"This is the country we're fighting for," said Kihuen, a UNLV alumnus. "So we need you to show up (to vote); we need you to go out in record numbers; we need you to make history."
Cortez Masto told the crowd there was a "clear choice" between which candidate was fighting for their interests and which candidate was fighting for corporate interests.
She touched on climate change and college debt during her remarks, while chastising the Koch brothers. The mention of Donald Trump's name drew a cloud chorus of "boos" from the crowd.
"How many of you believe we should be free to love and live and work with anyone and anywhere without discrimination?" she asked. "And that's what Hillary is fighting for. … They may have all the money, but we have the masses. So if we show up and turn out, we win. "
Attendees expressed excitement about casting their ballots.
UNLV junior Mariano Alonzo, 21, said he appreciated that it only took him about five minutes to vote Thursday afternoon.
"As a student you have less time for yourself, so it's important it doesn't take long at all," the hospitality major said.
Another UNLV student, Tavius Strickland, a junior majoring in stage and screen acting, said his time had been consumed with classes, clubs and working as a resident adviser, but he planned to vote Friday.
"I feel like if you don't vote, you're basically voting for Trump, and I'm for Hillary," said Strickland, 21. "I think everyone should have a stance on what they believe in, and voting symbolizes that."
Nicole Grace, 21, said Hillary Clinton wasn't her first choice for president, but she voted for her.
"I was a Bernie Sanders supporter, but I still think she would make a better president than Trump because she has more political experience," Grace said.
Las Vegas resident Rosita Castillo called Clinton "the best option we have."
"Trump doesn't respect women, immigrants and our overall rights," she said. "He's against everything that I stand for. Women worked hard to be able to vote, and now we have a chance at electing a woman as the next president. It's a historic event. "
Aoki, 38, who has a residency at the Jewel at Aria nightclub on the Strip and is a familiar name on Forbes' annual World's Highest-Paid DJs list, is no stranger to the national political scene.
Aoki campaigned for President Barack Obama in a 2012 re-election program called DJs for Obama. Earlier this year, he used social media to show his support for Bernie Sanders, but he also said he would campaign for Clinton if she clinched the nomination.
Contact Michael Scott Davidson at sdavidson@reviewjournal.com or 702-477-3861. Follow @davidsonlvrj on Twitter. Contact Sandy Lopez at slopez@reviewjournal.com or 702-383-4686. Follow @JournalismSandy on Twitter.