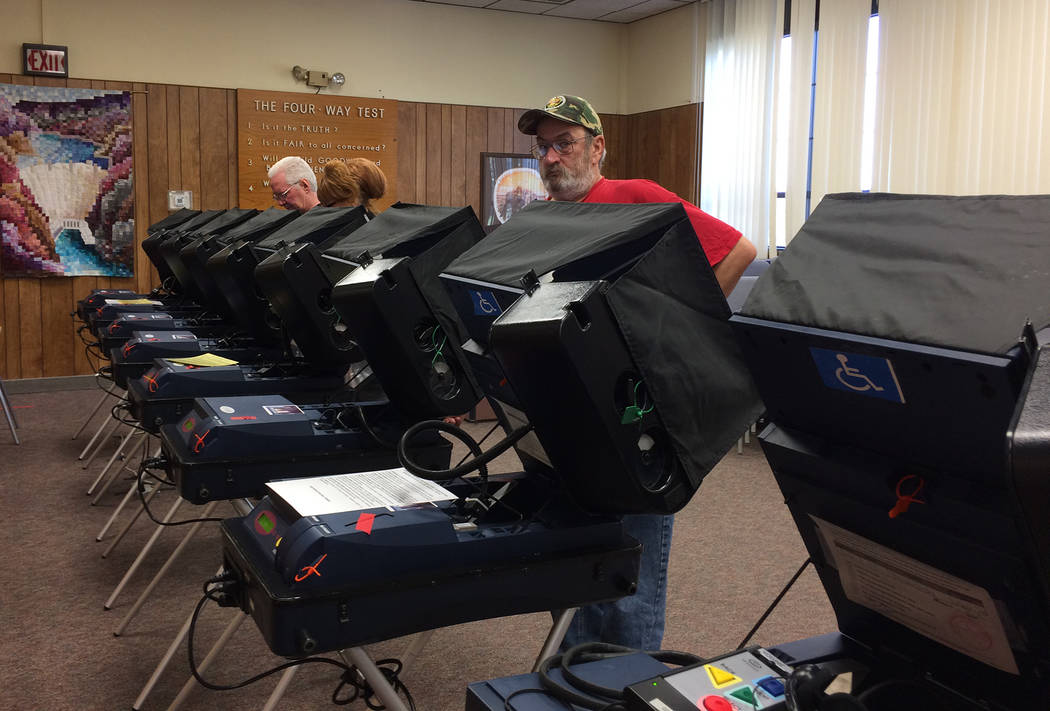 Two political newcomers look to be on their way to joining the Boulder City Council.
As of 9:21 p.m. Tuesday, Warren Harhay led the four-way race for two at-large seats with 27.9 percent of the vote.
The 73-year-old, who never mailed a campaign flyer during his first run for office, remained cautiously optimistic as he waited for further results to be tallied.
"I'm flabbergasted by the results because I know I have spent the least of all the candidates on my candidacy," said Harhay, a past director of the Boulder City Chamber of Commerce. "I haven't done anything the professionals say to do to win, but I stuck to my guns, and it looks like it's paying off."
Harhay said he wants to increase the public's confidence in the council.
Kiernan McManus, a Boulder City Historic Preservation Committee member, was second with 26.3 percent of the vote.
McManus, 60, said he didn't plan to celebrate until the final unofficial results were posted. At one point during the primary election he was in fifth place but ascended to second by the time it was over.
"I'm not offering any predictions at this point," he said.
If elected, McManus said he wanted to redirect revenue the city receives for leasing its land.
"I want to see that revenue used more appropriately for special projects and some of the repairs we need here in Boulder City," he said. "Our utility infrastructure system has been neglected here for a long time."
John Milburn, a retired Boulder City High School math and science teacher, has 23.5 percent of the vote.
Mayor pro tem Cam Walker trails with 22.3 percent of the vote. Walker, 50, has served on the council since 2009.
Ballot questions
Two ballot measures presented to Boulder City voters appeared doomed to fail. As of 9:21 p.m., about 71.2 percent of votes were cast against Question 1, which would change home development caps.
About 58.2 percent of voters had voted against Question 2, which deals with ramp interchange to connect Buchanan Boulevard to Interstate 11.
Contact Michael Scott Davidson at sdavidson@reviewjournal.com or 702-477-3861. Follow @davidsonlvrj on Twitter.