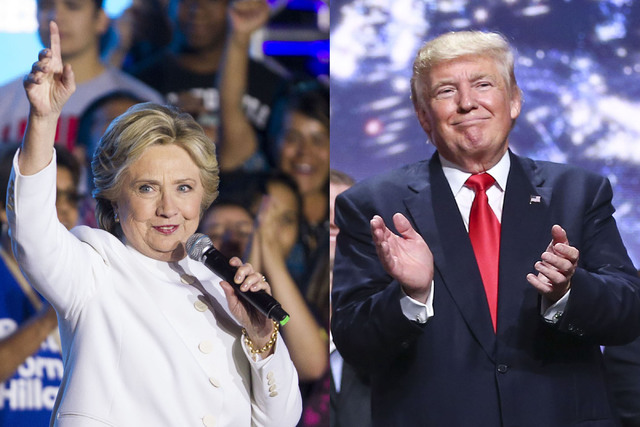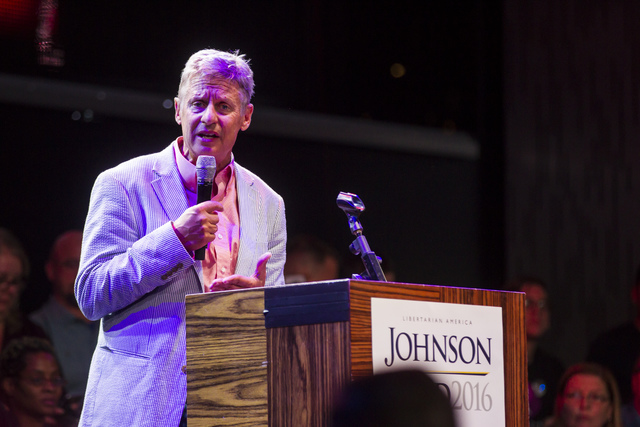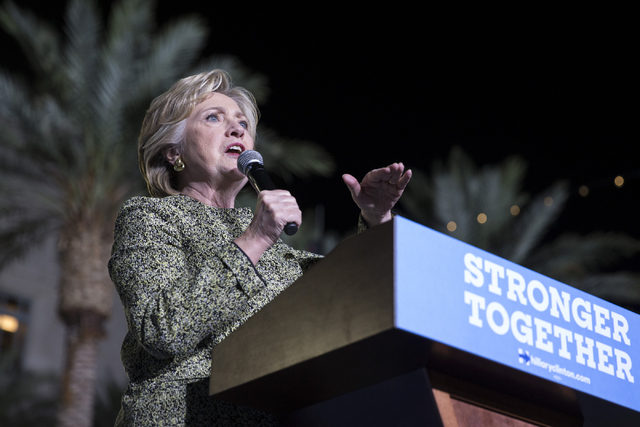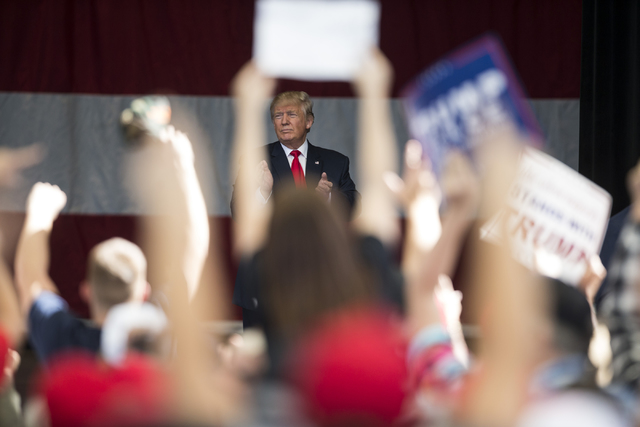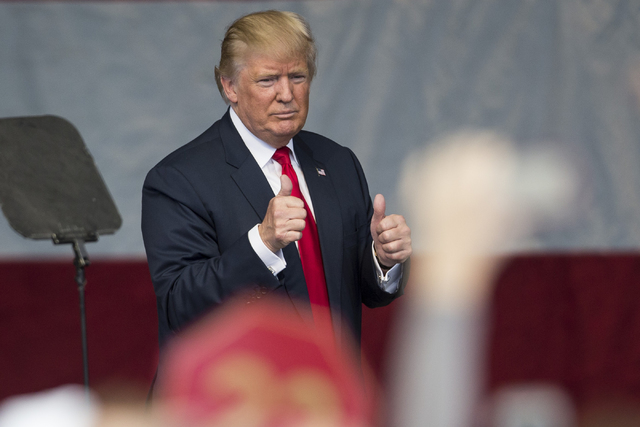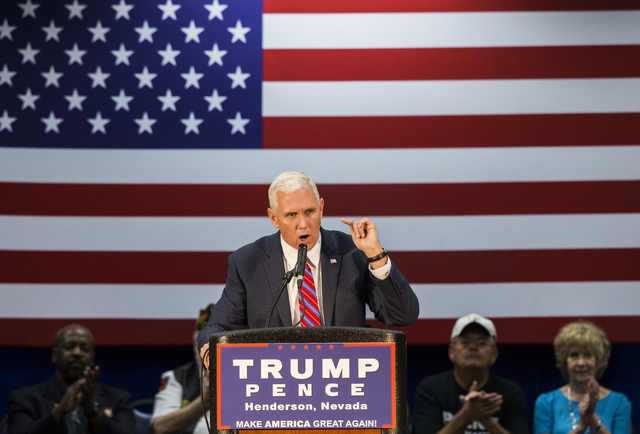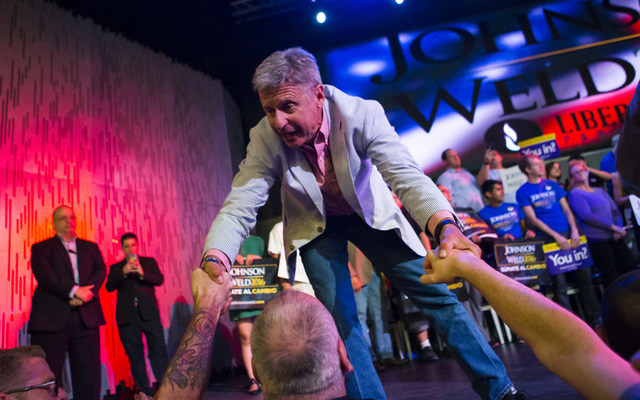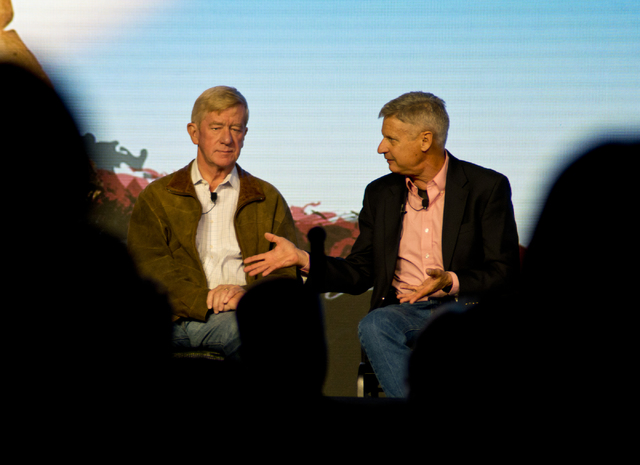 The presidential election is a race for the ages.
Nevada voters have a lineup of candidates who are breaking barriers or proving to be untraditional candidates who break the mold of what Americans have come to expect of a president.
The choices include the first female nominee of a major political party, a billionaire businessman without experience as an elected official, and a Libertarian hoping to gain votes from those who are unhappy with seeing either Hillary Clinton or Donald Trump in the White House.
The state's six electoral votes will play an important role in the presidential election. Because Nevada is a swing state that could go red or blue, presidential candidates make frequent trips here on the campaign trail.
A Review-Journal poll conducted from Sept. 27 to 29 found that the race is a dead heat. It showed that 45 percent of likely voters support Clinton and 44 percent support Trump. Five percent support Libertarian candidate Gary Johnson; 5 percent are undecided and 1 percent say they would support a different choice. That was within a margin of error of plus or minus 3.5 percentage points.
Much has happened since then, including the release of a damaging audiotape from 2005 of Trump talking about groping women and allegations from women, which Trump has flatly called lies, that he's inappropriately touched them.
Trump's standing in national polls has dipped amid the fallout and he faces an increasingly narrow path to a White House victory.
Also, WikiLeaks has been releasing emails from Clinton officials that have cast shadows on her campaign.
Democratic voters have the registration edge over Republicans in Nevada, although unaffiliated voters and people who cross party lines make the state a tossup.
Here's a look at who's on the ticket:
DEMOCRATIC TICKET
Hillary Clinton is no stranger to the White House.
The former first lady and former secretary of state is running a campaign based on the theme that she's the most qualified and better prepared than anyone else on the ballot.
It's an election year in which immigration has become a central issue. Clinton favors a pathway to citizenship for immigrants who are in the country illegally.
Clinton's policy goals include investing in and rebuilding the nation's aging infrastructure and boosting economic growth. She also supports adding more renewable energy to the electric grid as part of a long-term plan to wean the U.S. off fossil fuels and fight climate change.
Nevada would play a large role in that goal because Clinton wants to see increased renewable energy projects on public lands. Federal lands make up more than 80 percent of Nevada, which is the seventh largest state in the nation.
Her plans also call for opening up inaccessible areas of public lands to more recreational activities such as hunting and fishing.
On education, Clinton wants to make public colleges tuition-free for families making less than $125,000 a year.
She has frequently campaigned in Nevada, championing such issues as immigration and job training.
In Nevada, Clinton's supporters include labor unions and immigration advocacy groups.
She has frequently criticized Trump for what he has said about topics ranging from immigration to women. At the same time, she has stressed the need for unity on the campaign trail.
"The only thing standing between Donald Trump and the Oval Office is all of us," Clinton said at a Las Vegas union rally in May.
For her running mate, she picked U.S. Sen. Tim Kaine, a former governor of Virginia.
REPUBLICAN TICKET
The pundits predicted he'd never get this far.
Trump burst onto the political stage in the summer of 2015, promising to build a wall along the U.S. border with Mexico and deport undocumented immigrants.
Predictions mounted that he would lose, but Trump won the GOP nomination anyway.
The billionaire businessman and real estate developer was already a familiar face to many Americans, primarily as the star of the NBC reality show "The Apprentice."
His business dealings include Las Vegas, where Trump International hotel near the Strip bears his surname.
Trump has made a variety campaign promises and pledges beyond immigration. He's a frequent critic of U.S. companies outsourcing jobs abroad, typically targeting China and Mexico.
Trump has said the U.S. would have better trade deals under his administration that would bring back manufacturing jobs.
He has never before held an elected office and is trying to sell voters on his business and deal-making experience as a much needed alternative in Washington. He frequently blasts elected officials and the federal government as inept.
"I just want to make better deals because they're made by incompetent people," Trump said at an August fundraiser in Stateline.
His background isn't the only thing that makes Trump different. His comments are often headline-generating in a way that would make traditional politicians cringe.
At the second presidential debate earlier this month, Trump told Clinton he would appoint a special prosecutor to investigate her if he's elected, suggesting she'd end up in jail.
For his running mate, Trump tapped Indiana Gov. Mike Pence.
LIBERTARIAN TICKET
Former New Mexico Gov. Gary Johnson is running on the Libertarian ticket. His running mate is William "Bill" Weld, a former governor of Massachusetts.
Johnson has cast himself as a suitable, qualified alternative to voters unhappy with Trump and Clinton. But his campaign has failed to attract a following big enough to make any of the three debate stages, even as Clinton and Trump's race increases in rhetoric.
"How crazy is it?" Johnson said of the election at a Las Vegas forum in August. "I might be the next president of the United States."
Johnson had pinned his hopes on making it to the debate stage for his campaign to gain traction.
The Presidential Debate Commission decides who's qualified to be on the debate stage based on a candidate's standing in the polls and Johnson hasn't measured up.
While governor in New Mexico, Johnson was a Republican. Weld was a Republican while governor in Massachusetts.
Still, Johnson's run in Nevada appeals to some voters in a state known for libertarian leanings and avoiding government overreach.
His platform includes a variety of goals, including simplifying the federal income and payroll tax system and replacing it with a "consumption tax" that taxes citizens based on their spending, not their earnings.
Johnson also supports balancing the federal budget, calling the nation's debt a problem caused by both Republicans and Democrats. He points out the national debt has grown under the administrations of both President George W. Bush and President Barack Obama.
On social issues, Johnson supports allowing states to set their own policies on medical and recreational marijuana without interference from the federal government.
Green Party candidate Jill Stein, while on the ballot in other states, didn't qualify for placement in Nevada.
Contact Ben Botkin at bbotkin@reviewjournal.com or 702-387-2904. Find @BenBotkin1 on Twitter.