A look inside new pump station under construction at Lake Mead
Updated April 15, 2018 - 12:28 am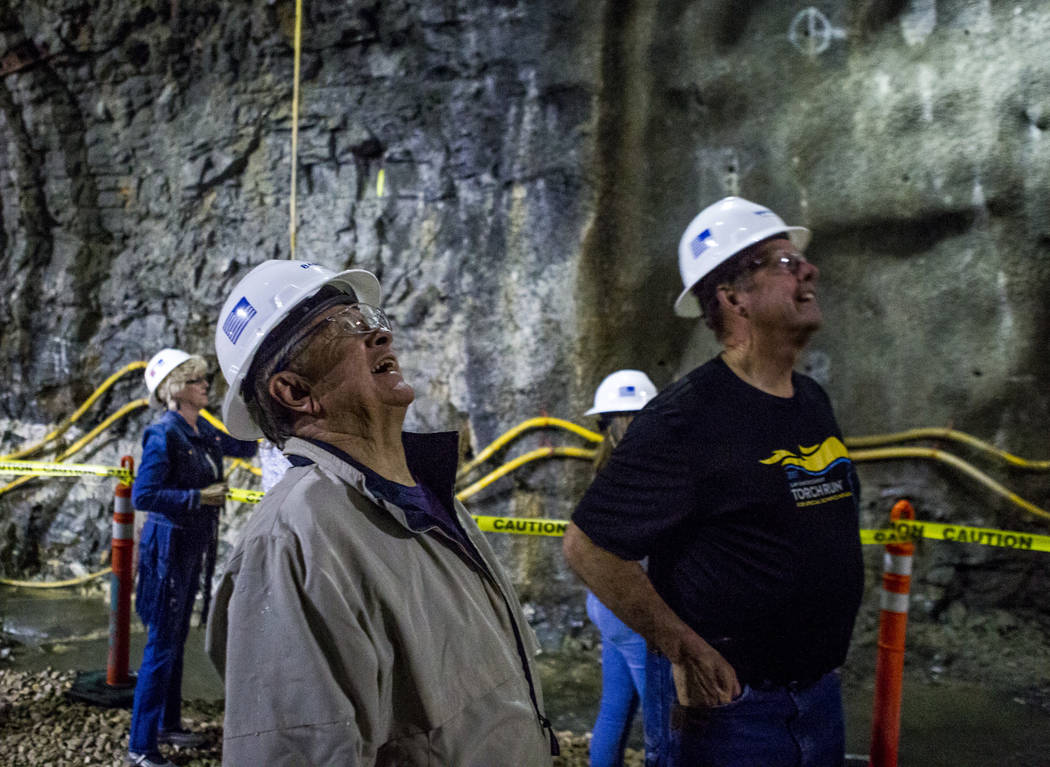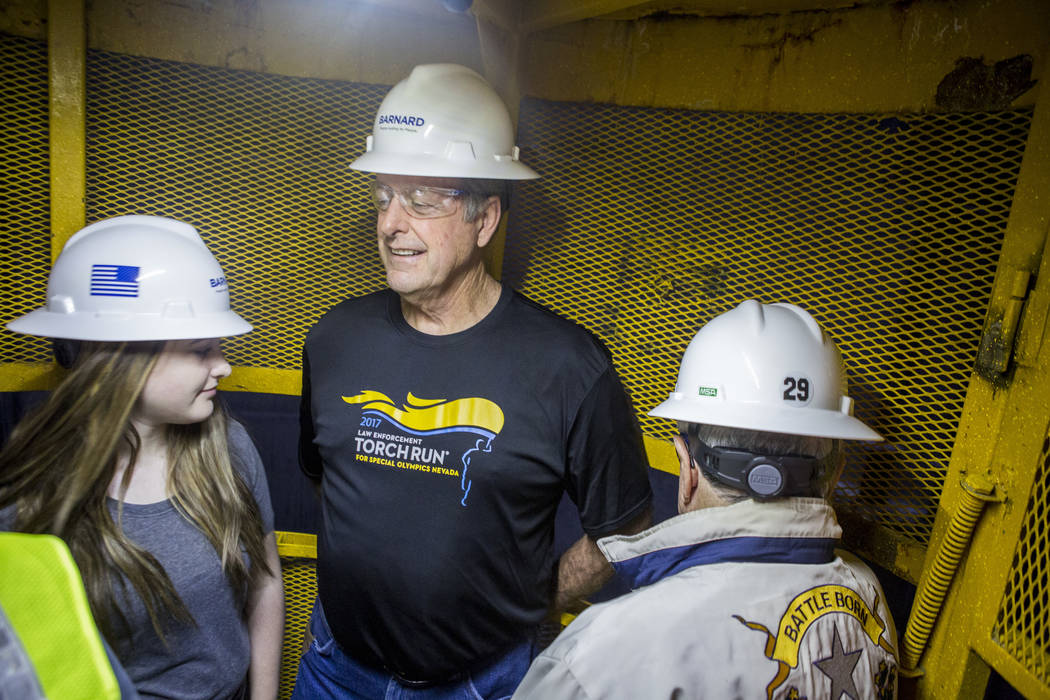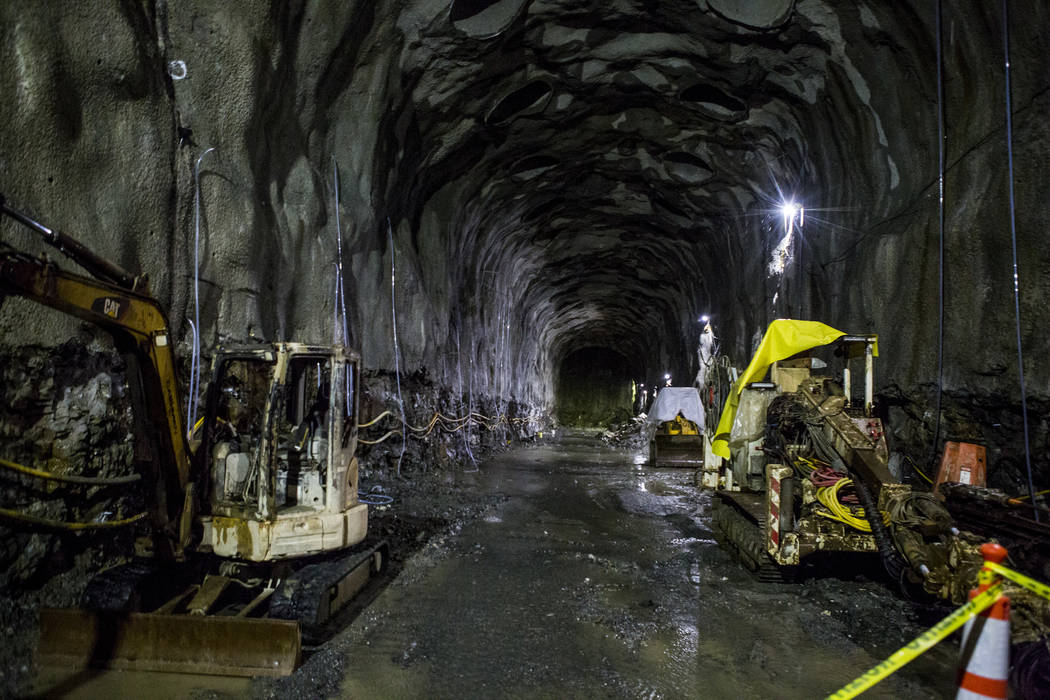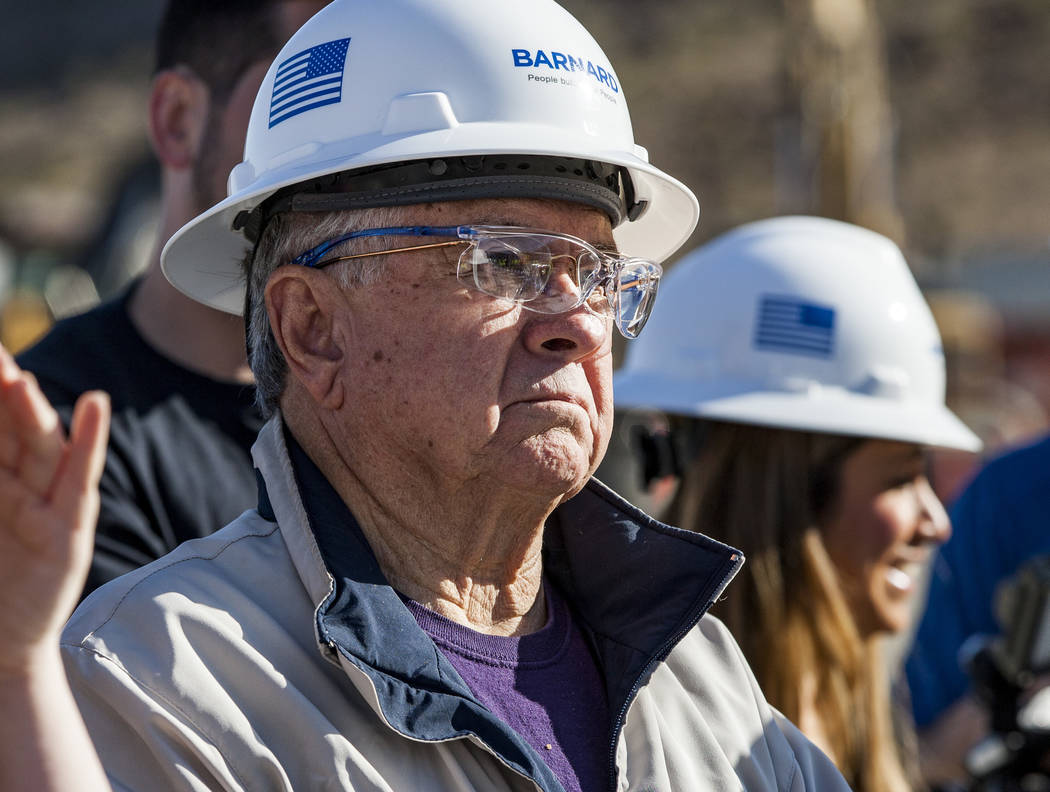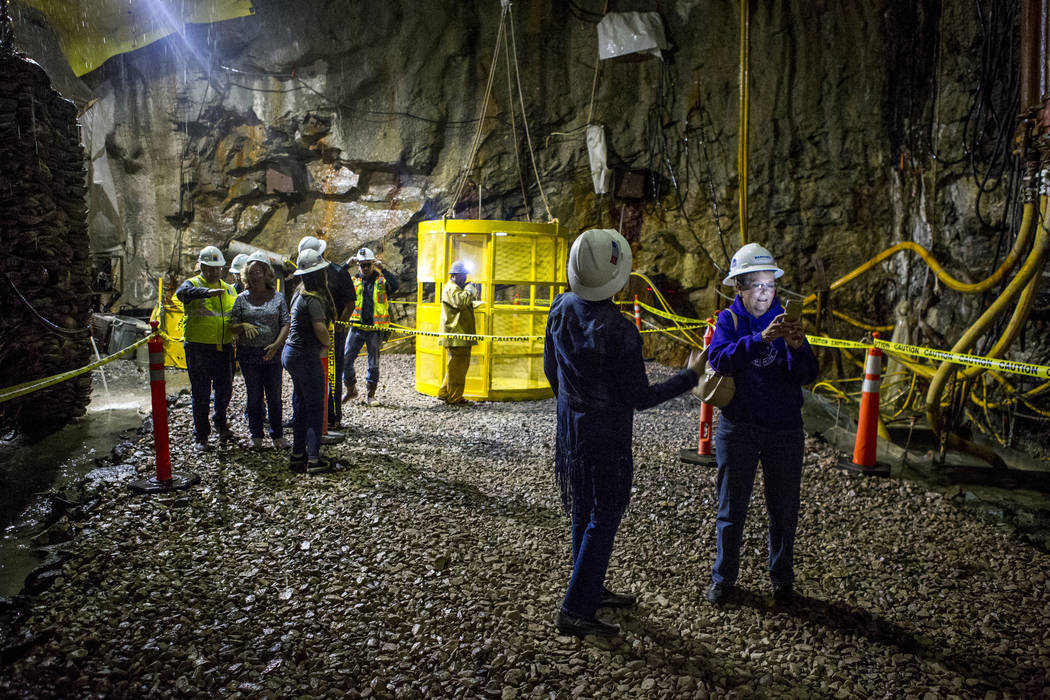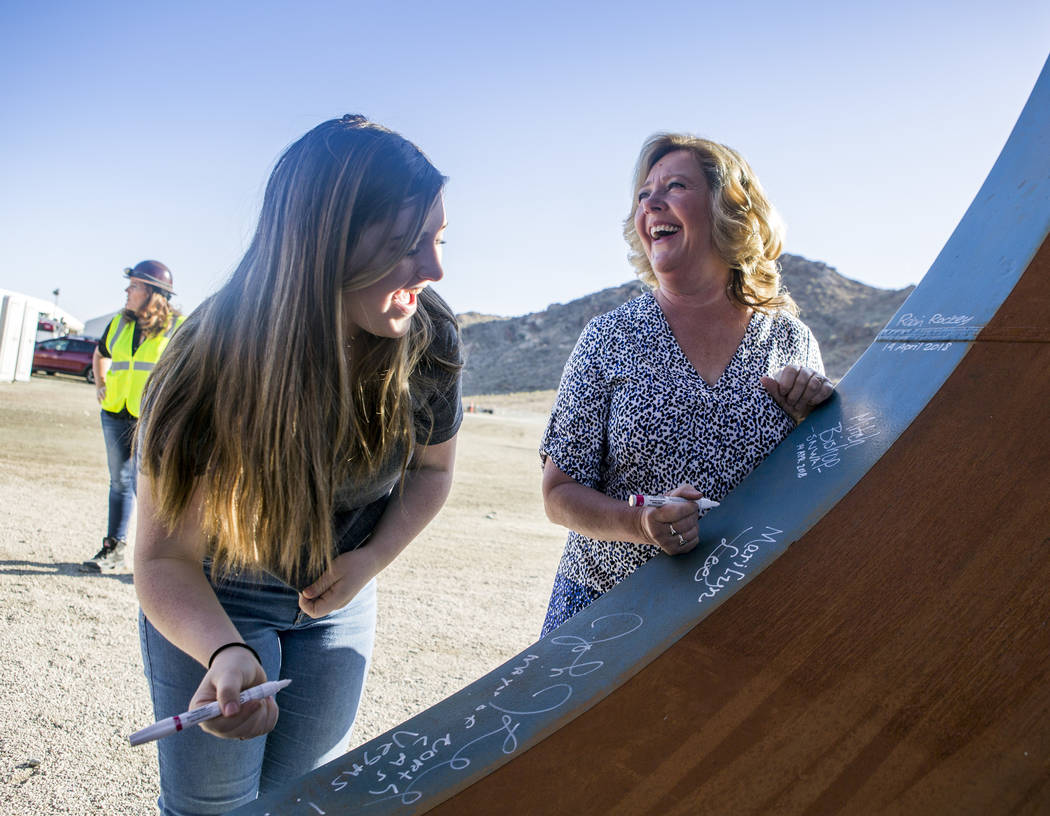 Elected officials and Southern Nevada Water Authority employees got a rare glimpse inside the community's water supply safety net at Lake Mead on Saturday.
For several hours in the morning, during a lull in construction activity, the authority opened its low-lake-level pumping station to tours.
"Pumping water from the (nation's) largest man-made reservoir is an enormous effort. It takes a lot of detailed infrastructure," said Erika Moonin, project manager for the authority.
On track for completion in 2020, the $650 million pumping station will allow the authority to keep drawing water from the bottom of the lake even if the reservoir shrinks another 200 feet to "dead pool," the point at which Hoover Dam no longer can release water downstream.
Such access is crucial for a community that relies on Lake Mead for 90 percent of its water supply.
A hard-hat tour
Las Vegas City Councilman Bob Coffin, North Las Vegas Mayor John Lee and Boulder City Councilwoman Peggy Leavitt were among those who visited the pump station work site near the shore of the lake on Saturday.
Authority spokesman Bronson Mack said roughly 300 agency employees, from custodial workers to water quality technicians, also signed up to take the tour.
Participants donned hard hats and crowded into a metal cage known as a "man basket" to be lowered by crane down a 520-foot vertical shaft. At the bottom, they posed for pictures and chatted with project officials in the pump station's forebay, a 400-foot-long, 40-foot-tall cavern that was excavated using drills and explosives.
And here's another time-lapse looking up the vertical access shaft from the bottom of @SNWA_H2O's pumping station, 525 feet underground. #Water #ColoradoRiver pic.twitter.com/7LHwXaSbk0

— Henry Brean (@RefriedBrean) April 14, 2018
The forebay is on schedule to be finished and filled with water in September. "We had our last blast yesterday," said Matt Jackson, project engineer for Montana-based Barnard Construction Co., the general contractor for the project.
Right now, construction crews are doing what they can to keep water out of their job site. Underground superintendent Jeff Porter said two 140-horsepower pumps operate around the clock to clear roughly 500 gallons of water a minute from the cavern, but it continues to seep in through cracks in the surrounding rock. In places, it flows from the walls in small water falls or drips from the ceiling like rain.
Porter said some of what's seeping in has been thermally heated. He said you can stand with your arms out and catch cool drops in one hand and "bathwater warm" drops in the other.
As a result, the weather underground tends to be humid and mild, with temperatures in the mid 70s. Porter said it can get 10 to 15 degrees hotter in the middle of the summer or if there is a lot of construction equipment operating in the cavern.
Room to grow
Work on the new facility began in 2015 with the excavation of the vertical access shaft, which took about a year. Workers also had to drill 34 vertical well shafts, each about 500 feet deep and built to house a submersible pump specially designed for the project.
Once it's finished, the new pumping station will work in conjunction with a 3-mile, $817 million intake pipe that began drawing water from deep in the lake in the fall of 2015.
Moonin said the station's submersible pumps are "the largest in the world in combination of size and flow."
They will be able to lift up to 900 million gallons of water a day from hundreds of feet below the surface and push it through pipes up to 12 feet in diameter to the two water treatment plants that serve the Las Vegas Valley.
600 feet in 19 seconds: Take a ride up and out of @SNWA_H2O's new pumping station at @lakemeadnps in this time-lapse video. And read all about it in Sunday's @reviewjournal. #Water pic.twitter.com/XH8aNoCO2c

— Henry Brean (@RefriedBrean) April 14, 2018
That's about 300 million gallons more than the authority needs to supply when demand peaks in the middle of summer.
Should the community outgrow even that level of pumping capacity, the new station includes a stub tunnel from which a second forebay and more well shafts could be added some day.
Moonin said she doesn't expect any sort of expansion to be necessary for a very long time.
Contact Henry Brean at hbrean @reviewjournal.com or 702-383-0350. Follow @RefriedBrean on Twitter.
By the numbers
900 million gallons
How much water a day the new pumping station will be able to pull from Lake Mead.
875 feet above sea level
The lake level from which the authority will be able to draw water using the new station. The surface of the lake currently sits at about 1,086 feet above sea level. The authority's two exisitng pump stations can't pull water from below the 1,000 foot mark.
$650 million
The cost of the new station, which is on schedule for completion in 2020.