Clark County manager appoints Darin Imlay public defender
Updated November 23, 2018 - 7:31 pm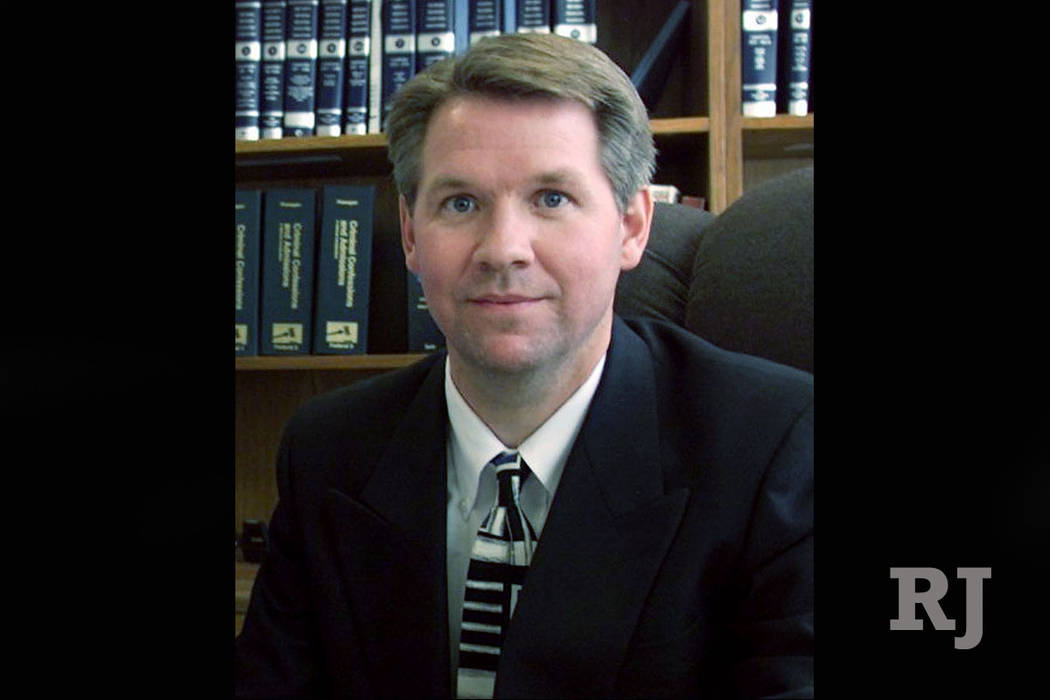 Darin Imlay, a 22-year public defense attorney, has been tapped to lead the Clark County public defender's office.
County Manager Yolanda King confirmed Friday that she has chosen Imlay to oversee the government office of 120 attorneys tasked with representing criminal defendants who cannot afford to hire a lawyer.
Imlay was one of four longtime attorneys in the public defender's office who were finalists for the job.
"My managerial style can help the office move forward," he said in an interview Friday. "I think I encourage the attorneys to push the envelope when needed, take risk when needed, feeling like they have the support of leadership."
Imlay will start his new role on Jan. 12, so long as the Clark County Commission ratifies his appointment. A vote is scheduled for the commission's Dec. 4 meeting.
He will replace Public Defender Phil Kohn, who has served in the role since 2004. Kohn announced his retirement in August amid an internal investigation that found he behaved inappropriately with women working in his office.
Imlay, 52, joined the office in 1996. He has headed its juvenile division since January 2017. Prior to that he spent more than three years supervising the office's first domestic violence team.
Status quo?
Imlay's appointment already is facing scrutiny from defense attorneys who question whether he will use his position to push for criminal justice reform.
Franny Forsman, a former federal public defender for Nevada, was on a committee that interviewed candidates and selected finalists for the county job. She worries that Imlay will "maintain the status quo," because during his interview, he did not specify how he would improve the representation of indigent clients.
"The job of Clark County public defender can change or not change the quality of the whole justice system in Clark County," Forsman said. "There were two candidates that were head and shoulders above the rest, and neither was chosen by the county manager."
Forsman declined to name her favored candidates, but she said the public defender should challenge how bail is set, take more cases to trial and force the district attorney's office to provide full access to discovery material.
"It isn't just a management job," Forsman said. "The next public defender must have the demonstrated willingness and ability to stand up to courts, prosecutors and funding sources when necessary to protect the client."
But another committee member, Nevada Supreme Court Justice Michael Cherry, said Imlay is a fine choice.
"He gave an impressive interview. He seems like a scholarly person," Cherry said. "I think if there is change to be made, he can make it."
Imlay on Friday did not provide any sweeping reforms that he would back. However, he pointed out improvements he hopes to implement within the office.
Those included a better line of communication between administration and staff, and the selection of hands-on leaders who prioritize the mentoring of young attorneys.
"The people I would put in as team chiefs are going to be in court, going to be working with the attorneys on their team, going to be preparing cases for trial," Imlay said. "I expect them to be in the trenches with the attorneys on their team."
Local candidates
The county's process of choosing its next public defender also has come under fire.
Longtime defense attorney Robert Langford, who ran an unsuccessful campaign for Clark County district attorney this year, criticized what he described as a "weirdly secretive" selection process, suggesting that the county should have conducted a nationwide search. One requirement of the job, however, is a Nevada Bar license.
Langford said he considered applying for the job but ultimately did not, because "the process lends itself too much to being a popularity contest."
Gary Peck, a longtime Nevada civil rights activist, said he is disturbed that the finalists all work in the public defender's office. He said the county should have sought more input from criminal justice reform advocates, low-income communities and communities of color.
"There was no effort to conduct either a national search or even a regional search to find the very best person to help lead an effort to reform the office and remediate the problems that exist there," Peck said.
County spokesman Erik Pappa said the county posted the job listing on national websites, but only one of the 13 applicants was not a county employee.
Mixed reaction
Imlay's appointment was met with mixed reaction from other finalists for the position.
"As long as he has the indigent defense cause in his heart, we'll support the selection," said Chief Public Defender Scott Coffee, who serves on the office's homicide team.
Coffee added that there are "fundamental flaws" in the way the office does business that need to be addressed by the next administration.
"The emphasis has got to be on the representation of our indigent defendants, rather than expediency or comfort," he said.
Daren Richards, who serves as Kohn's second in command, noted that Imlay has years of supervision experience in the office's juvenile division.
"I thought the county's selection was fair, and I support Mr. Imlay 100 percent," Richards said.
Christy Craig, who has worked 20 years in the office, declined to comment on Imlay's selection, except to say that she was "disappointed" and hopes "things go well for the office."
Contact Michael Scott Davidson at sdavidson@reviewjournal.com or 702-477-3861. Follow @davidsonlvrj on Twitter. Contact David Ferrara at dferrara@reviewjournal.com or 702-380-1039. Follow @randompoker on Twitter.