Clark County OKs cannabis lounge rules; Lounges could open in 2023
Updated December 20, 2022 - 8:07 pm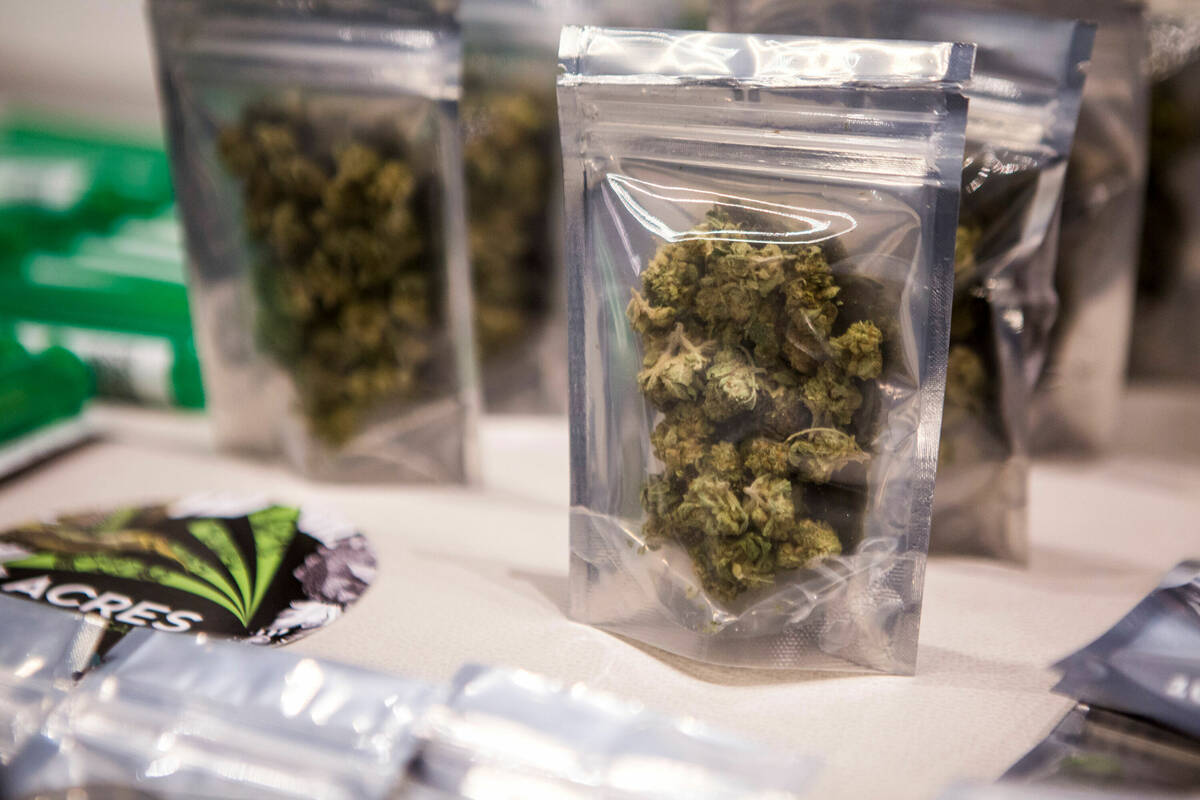 Clark County commissioners on Tuesday approved regulations for cannabis consumption lounges expected to begin opening as early as 2023.
Commissioners voted to establish business license requirements and rules for the establishments. Commissioner Marilyn Kirkpatrick was the lone dissenting vote.
About half of the 40 applicants granted provisional licenses by the Nevada Cannabis Compliance Board chose unincorporated Clark County to open the lounges, which could resemble taverns with no alcohol services.
Another 15 licenses went to applicants in the city of Las Vegas, which has not voted on its own rules and regulations. The four remaining state provisional licenses were granted in Washoe, Storey and Nye counties.
In Southern Nevada, Henderson, North Las Vegas, Boulder City and Mesquite opted out of the process.
The establishments will allow the legal public consumption of the drug since voters legalized its recreational use in 2016.
The 2021 Nevada Legislature took it a step forward by approving the lounges.
Industry insiders have recently told the Las Vegas Review-Journal that it's too early to know what the establishments and their business models might look like. Yoga studios and "puff and paint" businesses have been floated as possibilities.
"This has been a long time coming," Commissioner Tick Segerblom said Tuesday before motioning a vote. "So, thanks to the staff, thanks to the Legislature, thanks to everyone … I can't wait."
As Nevada state senator, Segerblom spearheaded some of the legalization efforts.
Most lounges to be located in Clark County, Las Vegas
Nevada granted 20 licenses to dispensary owners who will operate the lounges attached to or adjacent to their establishments.
State law did not set a limit to how many dispensaries would be licensed, but did so for independent operators.
Those 20 independent business owners, half of which are "social equity" applicants negatively affected by marijuana laws before legalization, were licensed to open standalone locales.
The Clark County lounges will sell "single-use cannabis products" that will need to be consumed in the businesses by those ages 21 and older, according to an ordinance draft.
Applicants for the business licenses will need to present plans that outline safety protocols, including what they will do to prevent impaired driving and the ventilation of the marijuana smoke.
They will also need to provide their menu items, which will be inspected by authorities.
The parking lots will be temporary no-tow zones for 24 hours, and businesses must stop serving products two hours before they close.
The lounges will be allowed to sell food and nonalcoholic drinks and host entertainment, albeit with proper permits.
Cannabis consumption must be out of view from the outside public, and the purchased products cannot be taken home.
The dispensaries will be allowed to sell their own marijuana, while the independent operators will have to enter contracts with outside retail stores.
Regulations subject to change
Layke Martin, executive director of the Nevada Cannabis Association, "raised concerns" over two of the provisions: the no-tow zones and last-call orders.
She said that while the organization — which represents most of the marijuana-related businesses — strongly supports preventing impaired driving, the section of the regulations segregates the industry. Taverns and restaurants that serve alcohol, for example, aren't subject to the same restrictions, she added.
"This is a one-size fits all approach for very different types of businesses," Martin said.
Cars left in parking lots for prolonged periods of time make them susceptible to theft, particularly if they're marked for no towing, she said. Likewise, the provision would require lounges to obtain permission from property owners, likely shrinking options of where tenants can rent.
Furthermore, she said, the last call for lounges — such as yoga studios — that decide to close could only hamper business during the busiest times.
Two hours is too long to remain open and staffed with no revenue to offset labor and operational expenses, she said. Customers would still be able to leave and potentially drive away, she added.
The DUI-prevention plans under the ordinance dispensaries have to submit to the Clark County Office of Public Safety would be more efficient at averting impaired driving, she said.
Commissioner Michael Naft said the county would assess the impact but rejected the notion that there would be no opportunity for revenue during two-hour last calls.
"(They) just can't sell cannabis," he said.
Commissioner William McCurdy II said there was "merit" to the concerns and suggested revisiting the regulations after they're in place.
Segerblom agreed, noting that the commission can amend the regulations.
Possible business license fees and specific requirements for the safety plans haven't been publicly discussed.
Contact Ricardo Torres-Cortez at rtorres@reviewjournal.com. Follow him on Twitter @rickytwrites.