Clark County population approaching 2.25M
Updated February 27, 2018 - 7:47 pm
Nevada's most-populous county has gotten a little more crowded, according to statistics released Tuesday.
Clark County reports that from 2016 to 2017, its population grew to a record high of almost 2.25 million people, reflecting an annual increase of about 43,000 people.
"A lot of that is natural increase. There's more births over death because we have a relatively young population," said Robert Lang, an expert in population dynamics and director of Brookings Mountain West at UNLV. "But more of it is (due to) migration. The biggest sending state is California, and the biggest sending county is Los Angeles County."
Unincorporated areas of Clark County surpassed a combined population of 1 million for the first time. About 648,000 people live in Las Vegas city proper.
The figures show population levels as of August. This marks the sixth consecutive year the county's population has increased, but historical data show that recent growth remains below pre-recession levels.
For example, the county's population grew by nearly 110,000 in 2006, still the highest year-over-year increase since at least 1990.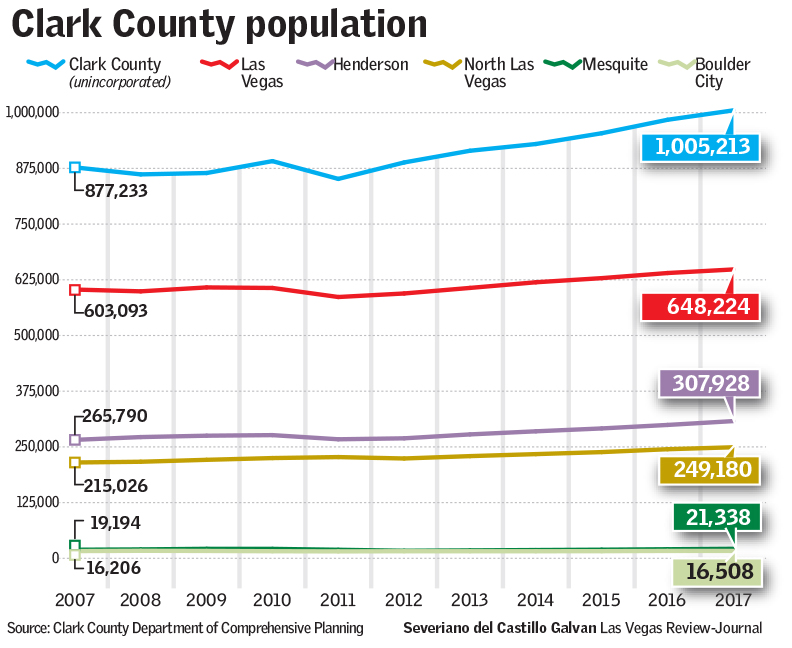 A handful of Las Vegas Valley townships — Enterprise, Paradise, Spring Valley and Sunrise Manor — have accumulated populations near or more than 200,000, making them large enough to rival the cities of North Las Vegas and Henderson.
In recent years, growth has been most explosive in Spring Valley and Enterprise, which lie in the Valley's southwest quadrant. Enterprise's population has increased more than ninefold since the turn of the century.
"The linchpin to that was the area was unspoiled 20 years ago, and it was the only area of (metropolitan) Clark County to grow," American West Homes founder Larry Canarelli said. "It was the last quadrant to be developed in the Valley."
That's not to say that growth has eluded the county's more rural areas.
The small city of Mesquite continued a trend of strong population growth it has seen in recent years. An additional 1,000 people made the city home in 2017, representing an annual growth of about 5 percent.
Contact Michael Scott Davidson at sdavidson@reviewjournal.com or 702-477-3861. Follow @davidsonlvrj on Twitter.