Clark County sees small drop in homeless count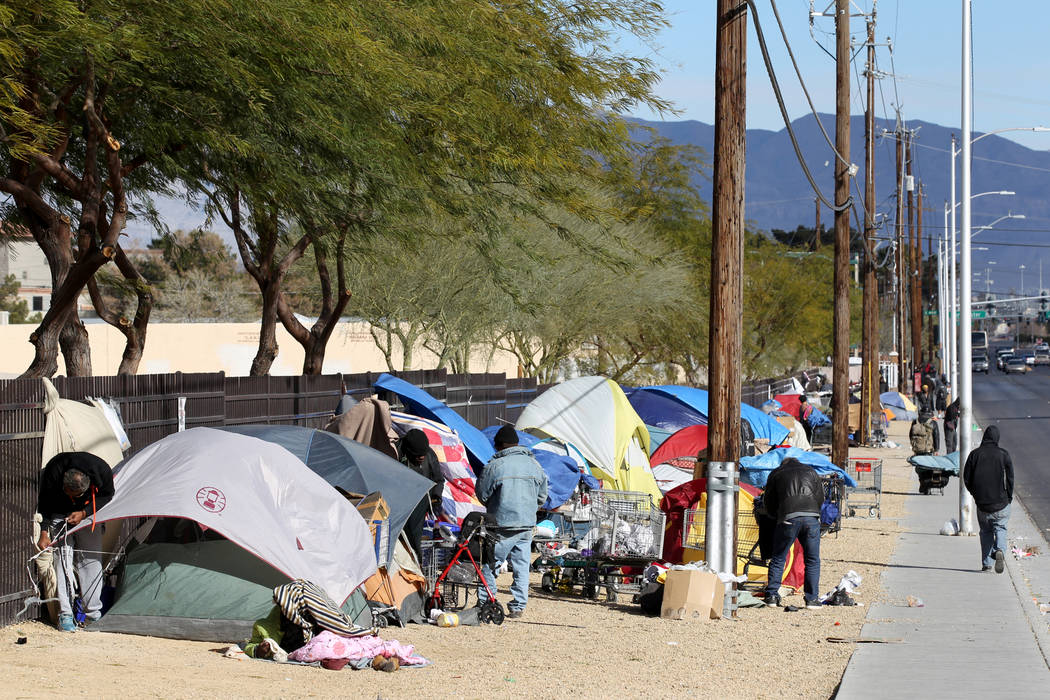 The annual Southern Nevada Homeless Census counted 6,083 people living inside Clark County's shelters and on local streets this year, according to information released Thursday by county spokesman Dan Kulin.
A little under two-thirds of the homeless counted were living without shelter.
"Through our regional efforts and strong collaboration with our partners in the community, we continue to work to prevent homelessness and bring those who are homeless into assistance programs," county Social Service Director Michael Pawlak said. "As the count shows, there is still a lot more work to do."
Volunteers conduct the search over two days and nights each January. This year they counted about 400 fewer people than in 2017.
However, it is unclear how much the 2018 count was affected by changes in federal guidelines used to estimate the number of homeless people who live in abandoned buildings, tents and other locations considered too dangerous to enter.
For example, in prior years officials estimated 3.13 people were in each tent volunteers counted. This year a tent was estimated to hold 1.21 people.
Kulin said 669 tents were counted in this year's census. That equates to nearly 1,300 fewer people counted this year than would have been counted last year.
"In future years, field observations could support changing that figure again," Kulin wrote in an email.
Kulin said the homeless census estimates that throughout this year nearly 16,650 people will be homeless in Clark County for some period of time. The estimate last year was nearly 25,000 people.
A comprehensive report detailing the findings of the census likely won't be released for several more months.
Contact Michael Scott Davidson at sdavidson@reviewjournal.com or 702-477-3861. Follow @davidsonlvrj on Twitter.