Climb in rent ceiling alarms Las Vegas Valley tenants
November 4, 2017 - 11:18 pm
Rhonda Collins appreciates her family's government-provided housing, but after 11 years she can recite its shortcomings.
To name a few: Her four-bedroom apartment at Jones Garden has no dishwasher. The other appliances are dated and often need repairs. Collins won't let her children play outside because of violent crime in the neighborhood.
"I wouldn't imagine ever paying $1,200 (a month) to live here," she said of the 30-year-old apartment complex near the intersection of Marion Drive and East Owens Avenue.
But that's approximately how much Jones Garden's highest-income residents will begin paying in 2018. The rent ceiling for the complex's four-bedroom apartments will increase by more than $200 per month come Jan. 1.
At five more public housing developments across the Las Vegas Valley, the rent ceiling for three-bedroom and four-bedroom apartments will see larger rent increases, the most being $302 more a month.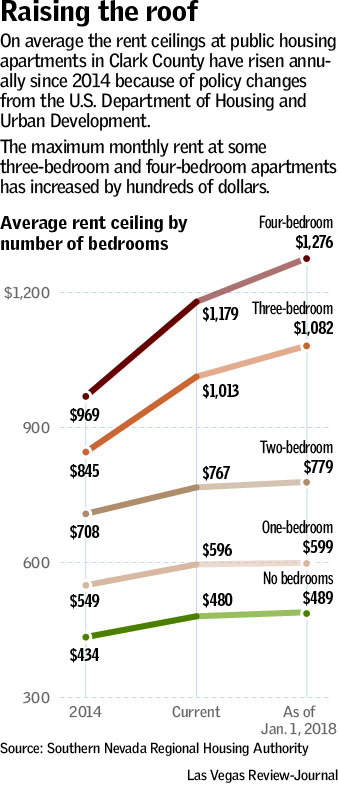 Federal policy, local effects
The surges in rent are part of a nationwide, three-year-old federal law aimed at stretching the budget of the U.S. Department of Housing and Urban Development.
HUD previously allowed local pubic housing agencies to decide the maximum rent that tenants of government-owned apartments should pay, but since June 2014 the rent ceiling has been based on "fair market rent."
Generally, fair market rent is an average of rental prices across an entire metropolitan area for an apartment based on its number of bedrooms. Federal law states the rent ceiling for public housing must be no less than 80 percent of the area's fair market rent.
This has caused a sudden rise in rent ceilings for some Southern Nevada Regional Housing Authority apartments as they catch up to the fair market rent.
Typically, apartments with fewer bedrooms are seeing smaller increases in rent ceilings. But at some three- and four-bedroom apartments the rent ceiling is increasing by as much as 35 percent a year, the maximum the law allows.
HUD spokesman Ed Cabrera said the rent ceilings are a safeguard for public housing residents. Most residents pay 30 percent of their income for rent, but the ceiling eventually caps that at a flat rate.
"The last thing we want to do is disincentivize someone from taking a higher-paying job or becoming employed if they're worried their new income levels would cause a large increase in rent," he said. "A flat rent rate affords them some stability."
Rent almost doubling
The Southern Nevada Regional Housing Authority told the Review-Journal that about 1 percent of families currently living in public housing in Clark County will be affected by the rent ceiling increase in 2018.
Still, for those affected the rent increases have added up quickly.
Before rent ceilings were tied to fair market rent in 2014, renting a four-bedroom apartment at Marble Manor in historic west Las Vegas cost $655 a month. Next year it will be nearly $1,275, and it will likely increase again in 2019.
This kind of rapid rent increase drew criticism from Deborah Thrope, supervising attorney at the National Housing Law Project.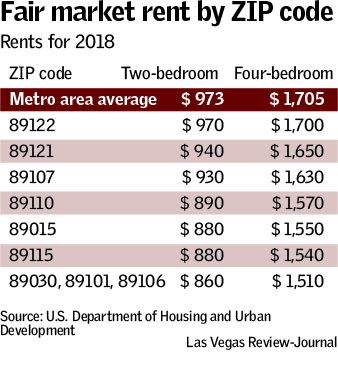 "I can't imagine a scenario where someone's rent is doubling could have a positive impact on a family," she said. "Generally they'll be spending more money on rent and less money on other life necessities. It will come out of their food budget, transportation budget or their kids' school supply budget. That's the bottom line."
And it appears likely that the fair market rent for the Las Vegas Valley will continue climbing for some time.
Apartment-complex broker Spencer Ballif of CBRE Group said he expects rates for privately owned apartments to continue increasing for years to come as Las Vegas bounces back from the Great Recession.
"From an overall market perspective we just passed the peak rents of 2007 in the first quarter of this year. That's far slower than the majority of the country," he said. "We feel the market itself has a lot of runway left."
Contact Michael Scott Davidson at sdavidson@reviewjournal.com or 702-477-3861. Follow @davidsonlvrj on Twitter.
Lower rent ceilings available
The U.S. Department of Housing and Urban Development has provided public housing agencies a way to better correlate rent ceilings to hyperlocal markets, HUD spokesman Ed Cabrera said.
Instead of setting a rent ceiling at 80 percent of the average "fair market rent" for an entire metropolitan area, Cabrera said public housing agencies can set them at 80 percent of "small area fair market rents" that establish rates by ZIP code.
Ed Gramlich, a senior advisor at the National Low Income Housing Coalition, said using small area fair market rents would "help mitigate some of the sting of those increases in flat rents."
"It's common sense to establish a base flat rent on what comparable unassisted units in the vicinity of where the public housing development is as opposed to having an inflated base that reflects the rents for an entire metropolitan area."
An analysis by the Review-Journal showed that using the ZIP code-based method would create lower rent ceilings at every public housing development in Clark County.
But the Southern Nevada Regional Housing Authority does not use this method. Executive administrative assistant Laure Raposa wrote in an email that it would be "more difficult" for SNRHA to manage the small area fair market rents.
"If clients have enough income to pay the flat rent, based on the current (fair market rent) schedule, it is our hope that they have gained sufficient stability to move out of public housing and make room for others who need assistance," Raposa wrote.