Commission enacts taxes, financing for Raiders stadium, convention center expansion
November 15, 2016 - 8:23 pm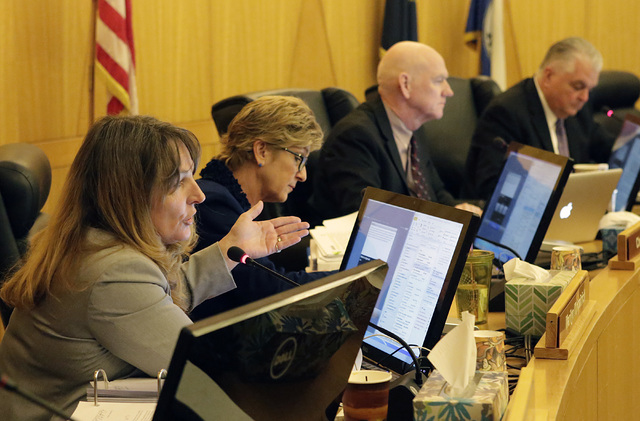 Clark County commissioners voted Tuesday for a pair of hotel room tax increases and officially enacted financing for a 65,000-seat stadium and upgrade of the Las Vegas Convention Center.
Both tax hikes were approved in a single 6-1 vote and followed the Nevada Legislature's passage of public funding for a $1.9 billion domed stadium and $1.4 billion expansion to the convention center.
Commissioners also unanimously approved raising the county's sales tax rate next year to fund the hiring of more than 300 police officers across Southern Nevada.
The mandate from the Legislature to pass the room tax increases without modification made some commissioners uncomfortable, but only Chris Giunchigliani voted against the measure.
"I feel that I'm not able to respond to my constituents as I want because I'm bound by the state with what we can do," Commissioner Mary Beth Scow said during the meeting. "By the spirit of the law, I do vote for this, but I do have many concerns."
Combined, the hotel tax increases mean an additional $1.35 for every $100 on a room rate.
One tax increase will finance $750 million in bonds for the stadium, which could become home to the National Football League's Oakland Raiders and the UNLV football team. The stadium's financing plan also calls for $500 million from the Raiders and $650 million from the family of Las Vegas Sands Corp. Chairman and CEO Sheldon Adelson.
There will be a 0.88 percentage-point room tax increase to fund the stadium and the half-point increase for improvements to the convention center. The new hotel room taxes take effect March 1.
Raising the room tax to publicly finance the stadium has routinely drawn the ire of Giunchigliani, who again criticized the stadium project during Tuesday's meeting. His criticisms included concerns that the county's other tax dollars would be on the hook if room tax revenue is insufficient to pay off the 33-year bonds.
"So much of this action was premature and rushed through," Giunchigliani said after the meeting. "It's bad public policy to take public tax dollars, especially the largest subsidy (for a stadium project) in the United States, and claim it's going to benefit economic development."
MORE METRO OFFICERS
Clark County's sales tax will increase by one-tenth of a percentage point beginning April 1. That comes to about a penny for every $10 of sales and is expected to generate about $39 million in revenue, with $7.9 million going to the Las Vegas resort corridor for 66 new officers; $31.3 million would be budgeted countywide for 245 new officers.
Clark County Sheriff Joe Lombardo told commissioners that Metro expects to hold quarterly police academies with 80 recruits each once the tax is being collected.
However "that will not curtail us from starting the hiring process (now)," Lombardo said.
In 2015, commissioners approved a 10-year-long 0.05 percentage point increase on the county's sales tax to hire more police officers.
But even more funding is necessary to reach Metro's target ratio of two uniformed officers per 1,000 county residents, Lombardo said. The ratio is just above 1.7 this year, and Metro currently has about 2,580 police officers.
The county's municipal police departments will receive some of the sales tax revenue, too. Henderson is expected to hire 26 officers, North Las Vegas will get 18, Mesquite and Boulder City will get two each.
Immediately after approving the sales tax increase, commissioners unanimously voted to rescind their bill draft request that called for state lawmakers to order a study of the Metropolitan Police Department's funding formula at the 2017 legislative session.
CORRECTION: An earlier version of this story incorrectly stated the date that increase in the hotel room tax takes effect in Clark County. The correct date is March 1, 2017.
The Review-Journal is owned by the family of Las Vegas Sands Corp. Chairman and CEO Sheldon Adelson.
Contact Michael Scott Davidson at sdavidson@reviewjournal.com or 702-477-3861. Follow @davidsonlvrj on Twitter.
The headline on this story was updated Dec. 21, 2017, for clarification.