Coroner sees rise in firearm, suicide deaths in 2022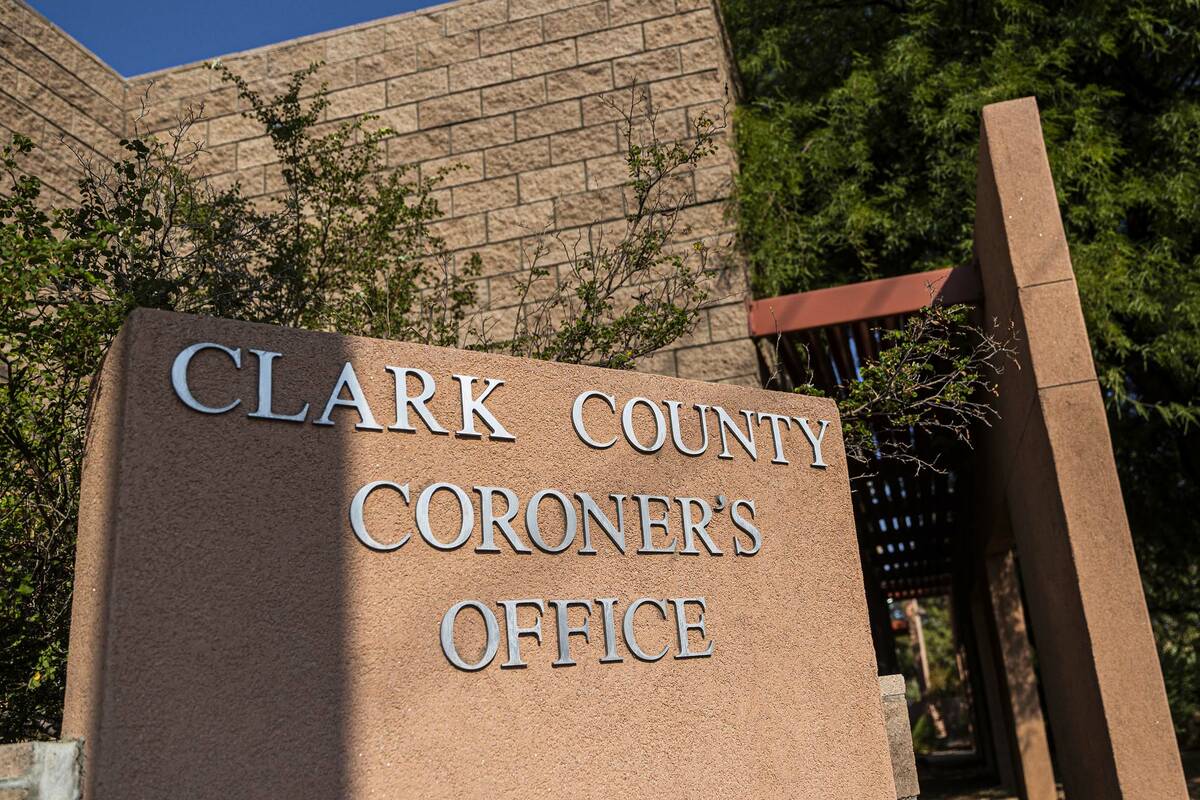 Gunfire killed 43-year-old Christine Morton as she stood in the doorway of her northeast valley home, one of 435 people slain with a firearm in Clark County last year.
Morton was a mother and a Dallas Cowboys fan who worked in medical billing, her older brother Thomas Tu'uu wrote in a message to the Las Vegas Review-Journal.
Data from the Clark County coroner's office showed that medical examiners investigated 3,186 deaths in 2022, an increase of 300 cases from the year before. The three highest causes of death were alcohol and drugs, cardiovascular issues and firearms.
"My sister would break her back to help those she loved and was genuine to a fault," Tu'uu wrote. "She was a teen mother who made it on the streets when her surroundings weren't for the faint at heart."
Tu'uu said his little sister was proud of their Samoan heritage, and her laugh was infectious. Morton was fatally shot around 5 a.m. on Aug. 27 in her doorway on the 3700 block of Melbourne Circle.
Police said Hector Camacho, 23, was firing a gun in the air and toward people while riding in the backseat of a car as several men rode through Morton's neighborhood. Camacho said he did not know Morton personally.
"He stole from us," Tu'uu wrote. "He threw his life away and hurt his own family and mine."
The coroner's office investigated the deaths of 133 children last year, including 27 babies who died from unsafe sleeping conditions, eight children who suffered a drug overdose, 10 who died by suicide and 16 killed in a homicide.
Guns were involved in the death of 12 children, and as of Friday, the coroner's office was still trying to determine how 23 children died in 2022.
"Allowing minors to access guns drastically increases the likelihood that they will use a gun in a suicide, homicide or unintentional shooting," said Allison Anderman, senior counsel and director of local policy for Giffords.
National data released by the Centers for Disease Control in May showed firearms deaths, including homicide and suicides, rose steadily from 2011 to 2020 among all age groups.
Giffords, a gun control group named for the former Arizona Congresswoman Gabby Giffords, who survived an assassination attempt in 2011, works in most states across the nation to pass legislation related to gun safety. In their last study, Nevada ranked 16th in the nation when it comes to gun laws, with state background checks, ghost gun laws and child access prevention laws. The political action committee is hoping to see a stronger concealed carry law and more gun restrictions against those convicted of domestic battery.
"Those are policies that have been shown to be effective at keeping guns out of the hands of people who are at a high risk of committing violence with guns," Anderman said. "We have abysmally weak gun laws at the federal level, and even so at the state level in a lot of states. Even a state like Nevada, which on our last scorecard ranked 16 out of 50 in gun law strength, it still has far to go in making its laws truly comprehensive and effective."
Nevada law enacted in 2019 made it a gross misdemeanor to leave a gun out where a child may be harmed, but Las Vegas attorney and former state Assemblyman Ozzie Fumo said he is frustrated with how few people face criminal charges after a child's death involves a gun.
"Its frustrating and an arbitrary decision by the district attorney whether to file charges," Fumo said. "I need the DA to follow the law. Treat everybody the same, equal justice under the law."
Fumo, who championed the bill that made improper gun storage a gross misdemeanor, was inspired by a 13-year-old named Brooklynn Mohler, who was shot and killed by her best friend on the last day of school in 2013.
The other girl's father left the gun in a cabinet for when the girl was home alone, and she shot Brooklyn in the back.
"People are dying and the statistics are staggering, heartbreaking," Fumo said. "The way to drop suicide and homicide number significantly would be just to lock it up. … It just takes a millisecond and someone's life is over."
Suicides rise
More people died of alcohol and drug overdoses over than any other cause of death last year, the coroner's office found. The 2022 total of 814 overdoses was down 114 from 2021.
Last year, 481 people died by suicide, up from 451 the year before.
College of Southern Nevada sociology professor Flora Rudacille said many people who have a substance abuse problem do not intend to die by suicide, but depression and substance abuse are often correlated.
"We went through quite a global trauma with the pandemic and a lot of other things that are happening in this last couple of years that I think have increased the level of what sociologists call normlessness, or a disconnection from the norm system," Rudacille said.
Rudacille said many people have felt more anxiety and depression in an economic downturn, coupled with the isolation that comes with virtual communication replacing social outings.
"Psychologists would probably say it's very difficult for many people to just quit drinking," she said. "Alcohol is complicated. You don't become an alcohol overnight. Some people drink for years before someone notices they've got a problem."
The coroner generally investigates deaths only if people died outside of a doctor's care or if the cause of death was not immediately clear. They rule on one of five manners of death: accident, homicide, suicide, natural or undetermined.
In 2022, more cases were ruled accidents than anything else.
Alexander Clifton, 36, died on Oct. 2 from blunt force injuries from a paramotor collision, the coroner's office ruled. His death was ruled accidental.
Clifton was preparing for his first paragliding competition in Boulder City when he crashed into a dry lake bed and died at the scene.
Clifton was an air traffic controller at Harry Reid International Airport after he retired from the U.S. Air Force, where he served for four years. His mother, Christine Morgan, said he moved to Henderson from Chicago in 2020 after she had a kidney removed.
"He knew from 10th grade he wanted to be an air traffic controller,' she said. "He was fascinated with aviation, any form or fashion. He was just over the moon."
Clifton, who also volunteered at the North Las Vegas VA Medical Center, was buried in Beaufort National Cemetery in his native state of South Carolina.
"He always said, 'Mom. I don't care what it is, if you need help in the middle of the night, I'll take care of it'," Morgan said through tears.
Contact Sabrina Schnur at sschnur@reviewjournal.com or 702-383-0278. Follow @sabrina_schnur on Twitter.