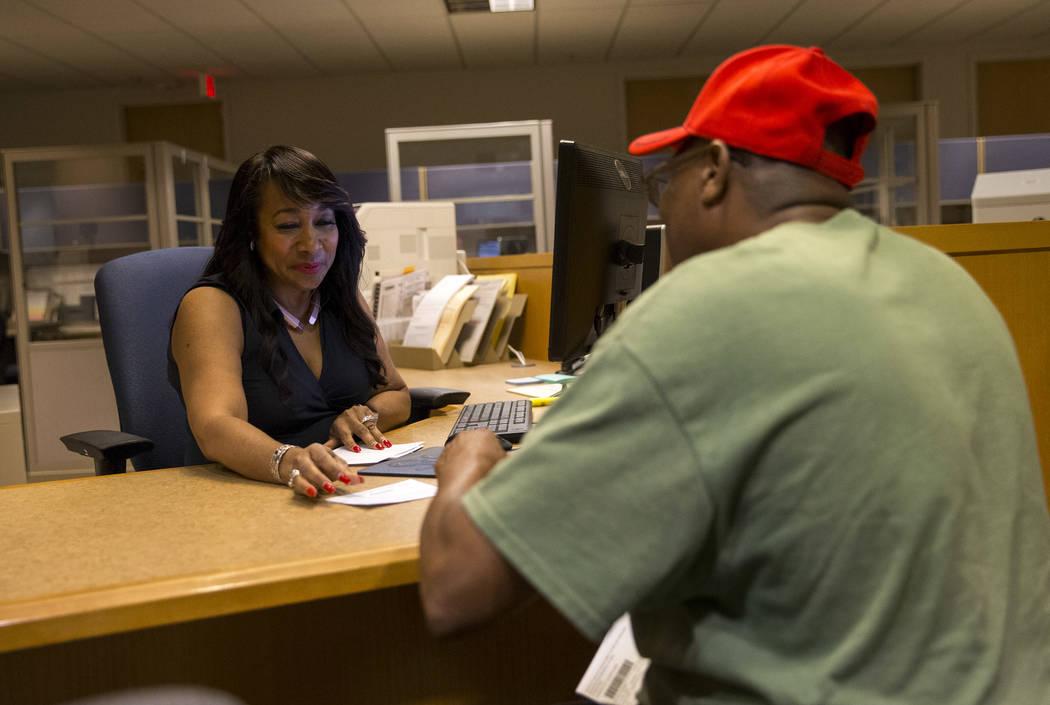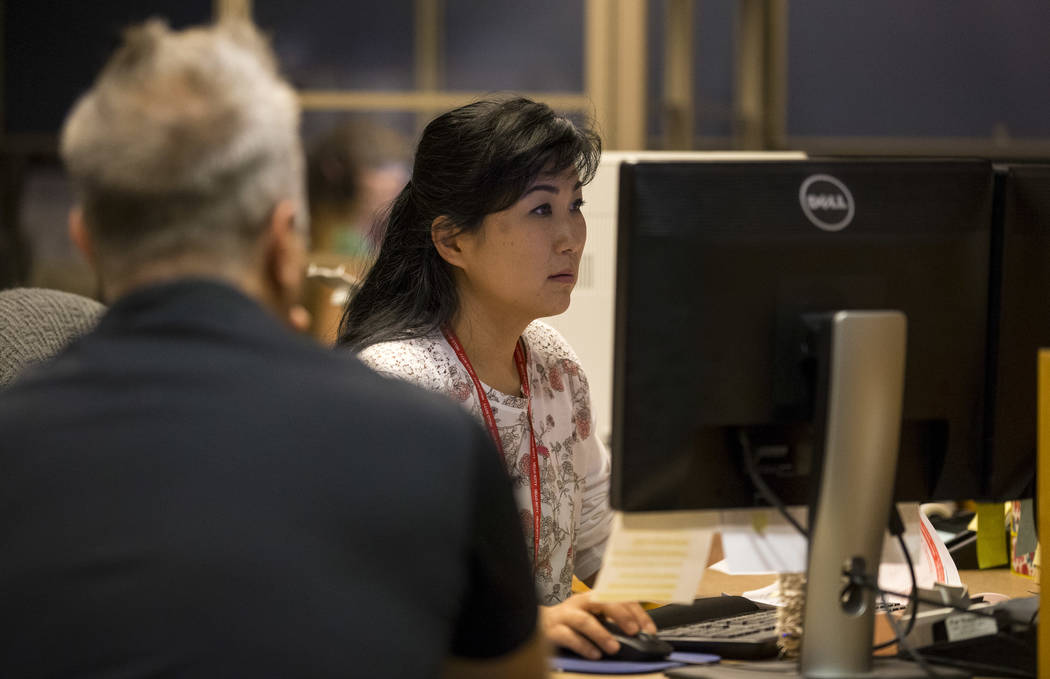 Obtaining public records from Henderson comes at a small price.
To recoup its printing costs, the city charges 10 cents for each page copied in black-and-white.
In nearby Las Vegas, the same request costs 10 times more to fulfill.
The difference, a dime versus a dollar, highlights what some call a glaring flaw of the Nevada Public Records Act.
The law allows governments to charge only the "actual cost" of reproducing a record, but a Review-Journal survey of more than 20 government entities in Clark County found that fees for records requests vary widely.
"If it's costing them $1 to copy a piece of paper, then they need a new copier. Anybody who is charging more than 10 or 20 cents per page is out of line," Nevada Press Association Executive Director Barry Smith said. "The biggest barrier to (public) records is high fees."
Regardless, 15 government entities surveyed by the Las Vegas Review-Journal charge more than 25 cents per page, nine of which charge $1 per page.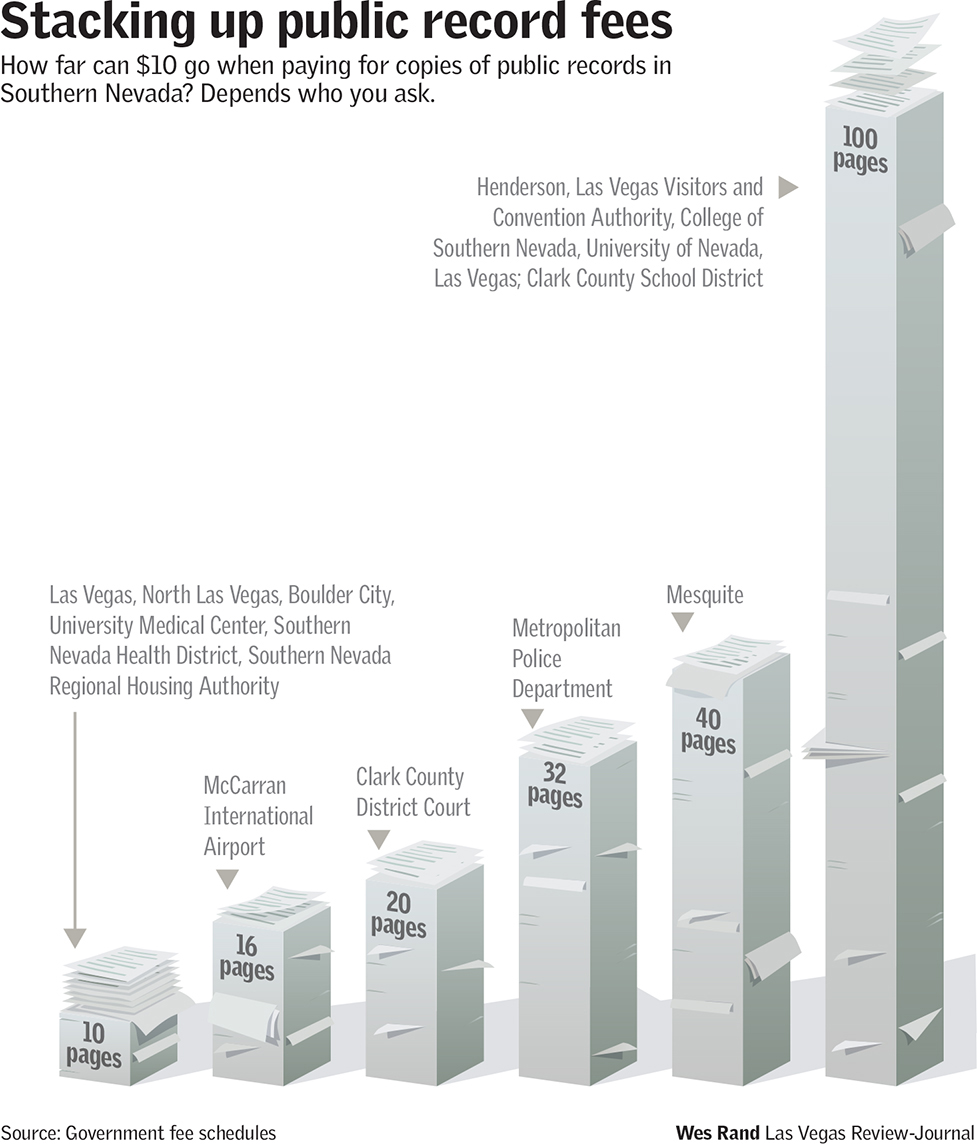 To determine the disparities in the cost of records, the newspaper requested fee schedules from courts, cities, education providers, health care providers and law enforcement departments.
Among the findings:
— More than half the surveyed governments charge more for printed black-and-white copies of public records than printing services at nearby private businesses and public libraries.
— Public education systems consistently charge only 10 cents per page.
— Many governments provide electronic copies of documents, when possible, at no charge, but at least two charge by the page.
— Several departments within Clark County set their own fees, ranging from 10 cents to $1 a page.
ACLU of Nevada Executive Director Tod Story said higher costs for public records can deter citizens from exercising their right to access the documents. The findings of the newspaper's survey, he said, was troubling.
"It reveals either a reluctance to comply with the public records law and using a fee schedule to discourage people from making requests … or that agencies' compliance with public records law is so disparate that there is no common standard between agencies in Nevada and what we would view as their transparency and responsiveness to the public," he said.
'Not their records'
The Review-Journal found 15 local government entities that charge more than 25 cents per page, nine of which charge $1 per page.
"These fees aren't supposed to be a profit center for the city. They're supposed to cover some of our costs," said Henderson city attorney Josh Reid, whose city filled almost 7,500 record requests last year and collected less than $2,100 in fees.
In North Las Vegas, the cost is $1 per page. City code states that the rate is to "offset costs of research, retrieval and reproduction" of public records.
"The fact is it's part of their job," Smith said of providing public records. "They generate paperwork for the public, paid for by the public, on publicly paid salaries. It's not their records; it's public records."
Going digital
Government entities across Nevada and the U.S. are uploading more public records to their websites. For electronic records not posted online, many governments will email copies of public records for free.
However, the Southern Nevada Regional Housing Authority and the Las Vegas Convention and Visitors Authority both buck this trend.
The convention authority charges 10 cents per page for electronic records.
The housing authority wanted nearly $1,000 this year to provide the Review-Journal with two months of emails and attachments between a former employee and a U.S. Department of Housing and Urban Development staff member.
Nevada law allows government entities to charge up to 50 cents per page for requests that require an "extraordinary use of (their) personnel or technological resources." The housing authority won't release an electronic file for any less than $1 per page.
Complying with the public records law, the housing authority did allow a reporter to review the emails and attachments on site free of charge.
Interim Executive Director Amparo Gamazo said her agency has charged $1 per page for electronic and printed copies for as long as she could remember. No one had questioned the fees in the past, she said.
"The information has to be compiled into a report," she said. "How do you account for the time and effort in putting (it in) the format you're asking for?"
Smith said a $1 per-page fee for electronic copies of records is both absurd and illegal.
"They're trying to turn it into a revenue stream, which is improper," he said. "Or they're trying to use the fees to discourage people from getting public records. Which is absolutely against the public record laws."
All over the place
Clark County has a wide range in fees.
The public communications office charges 10 cents a page. McCarran International Airport charges 60 cents. Development services charges $1.
County spokesman Erik Pappa said the county plans to revisit how much it charges for public records after the Review-Journal's survey brought the disparity to light.
"We recognize we can create greater consistency across the departments, and we're going to endeavor to do that," Pappa said.
Contact Michael Scott Davidson at sdavidson@reviewjournal.com or 702-477-3861. Follow @davidsonlvrj on Twitter.
Working for reform
The ACLU of Nevada, along with a state senator, tried to overhaul the state's public record laws earlier this year.
State Sen. Tick Segerblom, D-Las Vegas, wanted to require government entities to provide free electronic copies of documents as the default whenever possible. A request made "for the public benefit" would also not be subjected to standard fees.
Senate Bill 170 died in committee.
Segerblom has announced that he's running for the Clark County Commission in 2018, but ACLU Executive Director Tod Story said his organization will keep fighting to change the law.
"We'll come back in 2019 with a bill to do it again until we get it and bring Nevada's public record law into the 21st century," Story said. "Agencies can save money, can save staff time by moving their policies and programs into compliance with the digital capabilities we have now."