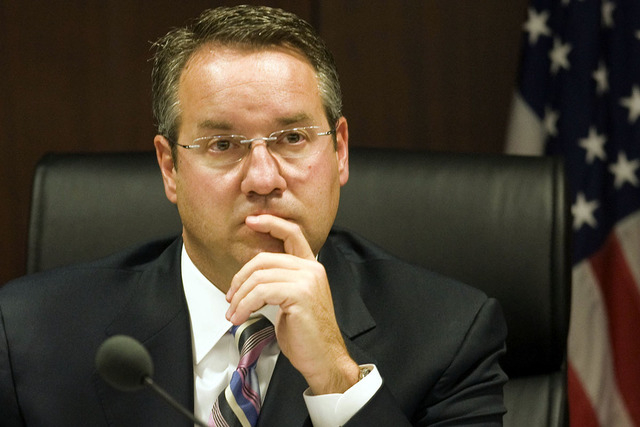 Clark County commissioners today will pick a Republican to fill a vacancy in the Nevada Senate, which will have an 11-10 GOP majority in the 2015 session.
Mark Hutchison, R-Las Vegas, resigned Monday from his Senate District 6 seat after being elected lieutenant governor in November. He submitted his letter of resignation to Gov. Brian Sandoval.
Nearly a dozen applicants are seeking the position. The one with the highest public profile is Mark Lipparelli, former chairman of the State Gaming Control Board.
Others include Charles Harvey, a former administrator of the Nevada Taxicab Authority, and Jearld "Jerry" Hafen, a former director of Nevada's Department of Public Safety under former Gov. Jim Gibbons.
Other applicants include Linda Hildebrant, a senior business manager; William Cimo, a tax lien investor and gaming expert; Donald Hotchkiss Jr., a civil engineer; Rick Welte, an insurance agent and manager; Glenn Trowbridge, a retired director of Clark County Parks and Recreation; Brian Hardy, an attorney; Donald Graham, a Las Vegas police sergeant; and David Marlon, president of Solutions Recovery, which provides clinical treatment for addictions.
"I was very, very impressed with the quality of the applications," said County Commissioner Larry Brown, whose district includes the Senate district. "Some of the candidates have over 30 years of service in the community."
The commission will meet shortly after 9 a.m. today at the Clark County Government Center, 500 S. Grand Central Parkway.
The applicant who is selected will serve out the remainder of Hutchison's term and can decide to run in the November 2016 election.
Because Hutchison is a Republican, applicants are required to be members of the same party.
In his announcement, Hutchison, who is in the middle of a four-year term in the state Senate, said his resignation will allow the Clark County Commission to move forward in a smooth and transparent manner to appoint a replacement.
Hutchison will be sworn in as the new lieutenant governor in January.
Sean Whaley contributed to this report. Contact Ben Botkin at bbotkin@reviewjournal.com or 702-405-9781. Find him on Twitter: @BenBotkin1.