COVID-19 cases continue to skyrocket in Clark County
Updated December 23, 2021 - 5:44 pm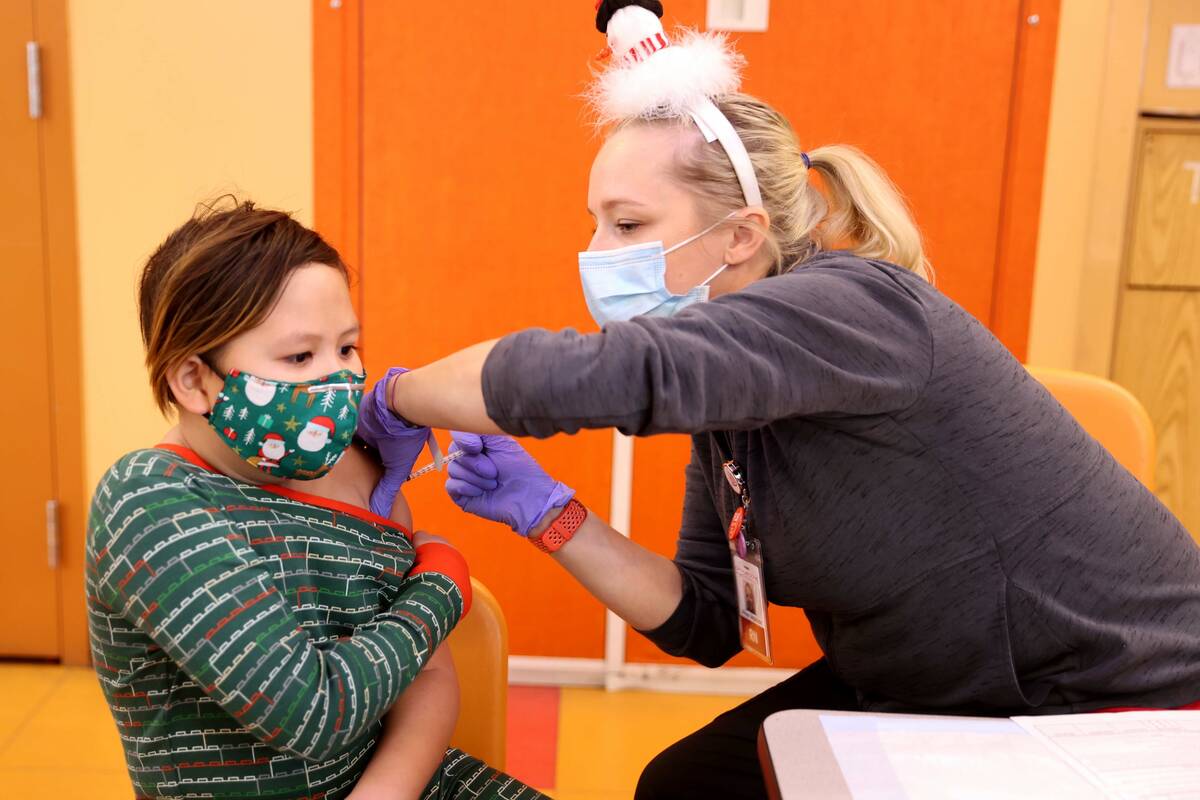 Clark County on Thursday reported 1,107 new COVID-19 cases, the highest single-day increase in nearly five months, suggesting the omicron variant is rapidly spreading.
The last time the Southern Nevada Health District reported more coronavirus cases in the county was on July 28, when it logged 1,160. That occurred just one day after Gov. Steve Sisolak imposed a face mask mandate in indoor public spaces to curb the surge of cases during the summer.
The role of omicron in the sudden spike is not entirely clear, Dr. Mark Pandori, director of the Nevada State Public Health Laboratory, said Thursday. Delta is still believed to be the dominant variant in the state, though omicron has been spreading rapidly nationally.
But while early evidence suggests omicron does not lead to as many serious cases as the delta variant, officials around the country have warned that continued growth of the new mutant COVID-19 strain could quickly strain local hospitals already facing staffing shortages and relatively high caseloads.
Pandori is among them.
"I'm concerned, because I'm always concerned when cases increase," he said. "Even if the lethality of this virus or the virulence of the virus omicron is lower, when cases increase you still will have a statistical increase in severe mortality and death. And that's a concern for me. It's a serious concern."
And for now, the data indicates that either omicron, delta or both are spreading quickly in Southern Nevada.
New COVID-19 cases in Thursday's update were more than double the two-week moving average of 429 per day, which increased by 30 from 399 on Wednesday, according to state data.
Data from the Centers for Disease Control and Prevention gives another view of how quickly cases have been growing locally in recent days.
Clark County's case rate per 100,000 people, measured as a seven-day moving average by the CDC, stood at 203.69 on Thursday afternoon. That was nearly 37 percent higher than a week earlier.
The county's test positivity rate was 11.49 percent Thursday, up a little over 24 percent from a week ago, according to the CDC.
Other metrics rising, but not as fast
Most of the county's other COVID-19 metrics have risen as well in recent weeks, though not to the same degree as new cases.
On Thursday, for example, the health district reported just two deaths during the previous day, below the two-week moving average of five per day, which was unchanged from Wednesday. Deaths have been relatively flat since late October, the lone county metric to resist the upward trend.
The update pushed county totals to 356,965 cases and 6,415 deaths.
The number of people hospitalized with confirmed or suspected cases of COVID-19 in the county increased by three, to 592, the state data showed. Hospitalizations have registered an 11.70 percent gain since Dec. 3, but the current figure is slightly over half of the peak of the summer surge.
The county's 14-day test positivity rate, which tracks the percentage of people tested for COVID-19 who are found to be infected, increased 0.1 percentage point to 8.1 percent for the day. The rate is up just over 19 percent since Dec. 3.
The four key metrics for the disease caused by the new coronavirus began to retreat in Southern Nevada within weeks of the mask mandate and continued to fall until the beginning of November, when they began to slowly rise.
That pace remained relatively steady until this week, when new cases suddenly spiked to levels not seen since the height of the summer surge.
That followed closely last week's detection of the state's first case of the more-contagious omicron variant. As of Wednesday, 11 omicron cases had been detected in the state, nine of them in Clark County. That figure likely represents only the tip of the iceberg since relatively few test samples are genetically sequenced to identify the virus strain.
State and local public health agencies were closed early for the Christmas holiday on Thursday and, apart from Pandori, officials did not respond to inquiries about the role omicron is playing in the current spike in cases.
But Washoe County district health officer Kevin Dick said Wednesday that he was anticipating a "rapid surge" there as a result of omicron soon.
The rise of omicron across the nation has already impacted multiple events in Las Vegas. A college basketball game between UCLA and Ohio State set for Dec. 18 at T-Mobile Arena was called off, and several major tech companies announced this week they would not attend or would scale back participation in next month's CES conference.
State numbers also increase
The state, meanwhile, reported 1,284 new COVID-19 cases and 10 deaths during the preceding day. It was the highest single-day number of new cases reported by the Department of Health and Human Services since early October.
Updated figures posted by the department raised Nevada's totals to 474,023 cases and 8,364 deaths.
Nevada's 14-day moving average of new cases increased to 533 per day from 504 on Wednesday. The two-week average for fatalities held steady at six per day.
State and county health agencies often redistribute daily data after it is reported to better reflect the date of death or onset of symptoms, which is why the moving-average trend lines frequently differ from daily reports and are considered better indicators of the direction of the outbreak.
County numbers are included in the statewide totals.
Of the state's other closely watched metrics, the state's two-week test positivity rate held at 7.6 percent, while the number of people in Nevada hospitalized with confirmed or suspected COVID-19 cases rose to 678, four more than on Wednesday.
As of Thursday's report, state data show that 54.06 percent of eligible Nevadans 5 and older had been fully vaccinated, compared with 53.35 percent in Clark County.
Due to the holiday, state officials are not expected to update COVID-19 data on Friday.
Contact Jonah Dylan at jdylan@reviewjournal.com. Follow @TheJonahDylan on Twitter.
Nevada vaccinations
— 5+ population: 3 million.
— Doses administered: 3.89 million.
— Vaccinations initiated: 1.92 million.
— Vaccinations completed: 1.63 million.
— Eligible fully vaccinated: 54.06 percent.
Sources: Department of Health and Human Services; U.S. Census Bureau