'Cowboy commissioner' Tom Collins files for North Las Vegas council seat
January 24, 2017 - 6:15 pm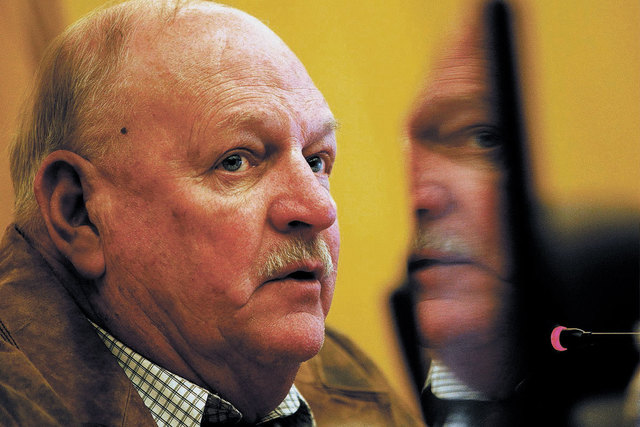 Former Clark County Commissioner Tom Collins on Tuesday filed to run for a City Council seat in North Las Vegas, rather than running for mayor as he previously stated.
Collins, whose legal name is Clarence Weldon Collins Jr., served on the County Commission from 2005 until his resignation in August 2015. In a letter to Gov. Brian Sandoval, Collins said at the time that he was leaving due to "family matters," and was eventually replaced on the commission by Marilyn Kirkpatrick.
Since then, Collins had repeatedly told various news outlets that he planned to run for mayor, in hopes of replacing John Lee. Instead, he will likely face Ward 3 incumbent Anita Wood, who said she plans to file her candidacy paperwork before the Feb. 3 deadline.
Collins could not immediately be reached for comment Tuesday.
Collins, the self-proclaimed "cowboy commissioner," has faced several legal problems in recent years. In January 2016, he pleaded no contest to driving under the influence in connection with a car crash one month earlier near Flamingo Road and Koval Lane in Las Vegas.
In 1991, Collins was charged with reckless driving after crashing a truck he was driving, injuring himself and two other men. He pleaded guilty to a misdemeanor charge.
In July 2012, his neighbors called North Las Vegas police after hearing at least seven shots fired on his property. He did not face criminal charges.
In August 2012, he pleaded no contest to charges of disturbing the peace and livestock at large after a bull escaped from his property and injured a 42-year-old woman.
Scott Black, owner of the company Logo Zoo, also filed for the Ward 3 council seat on Tuesday, according to city filings.
Lee filed paperwork on Tuesday to run for a second term as mayor. So far, his only challenger is Gary Bouchard, a regular commenter during council meetings.
Bouchard was charged in 2011 with one misdemeanor count of stalking toward Councilwoman Pamela Goynes-Brown, who represents Ward 2. The case was later dismissed.
Contact Art Marroquin at amarroquin@reviewjournal.com or 702-383-0336. Find @AMarroquin_LV on Twitter.