Early voting centers in Clark County will be open late if people are in line
Updated November 2, 2018 - 11:25 am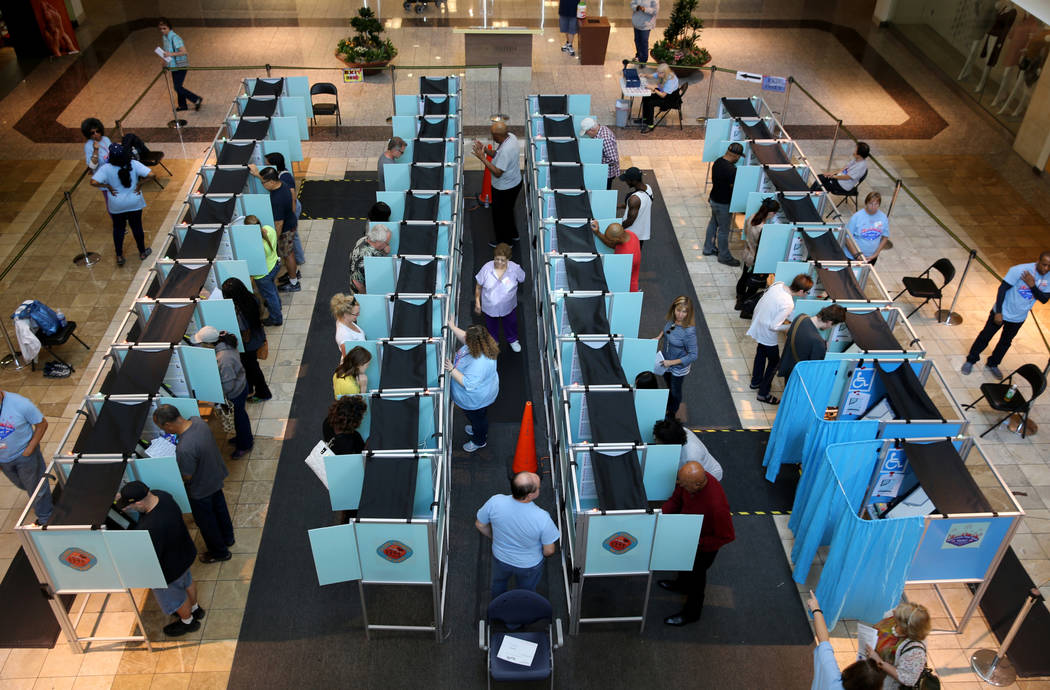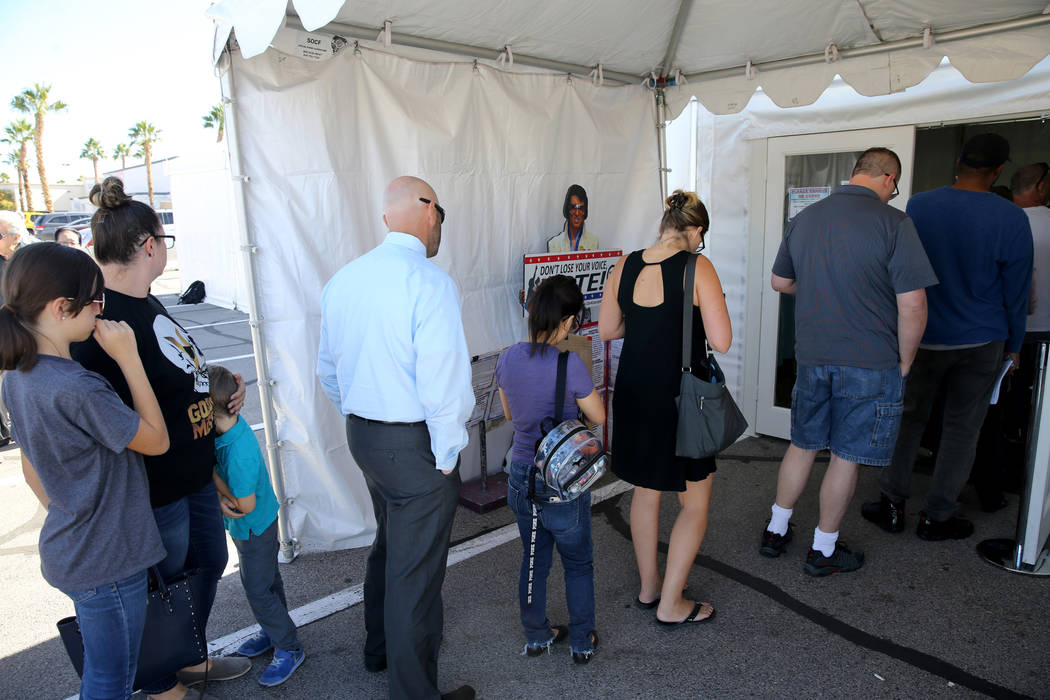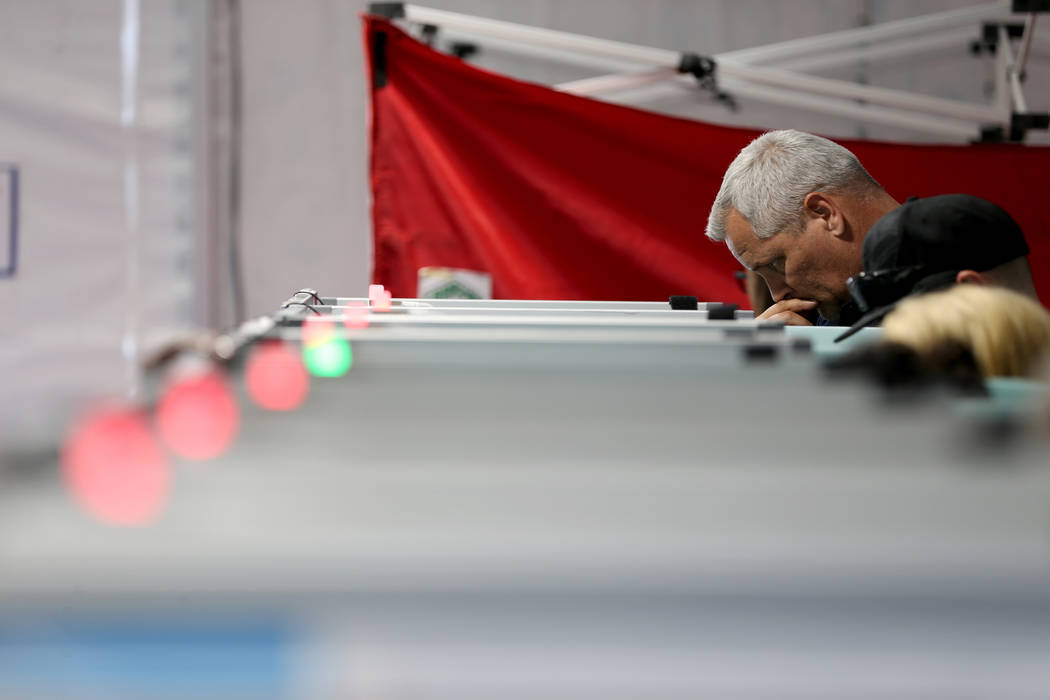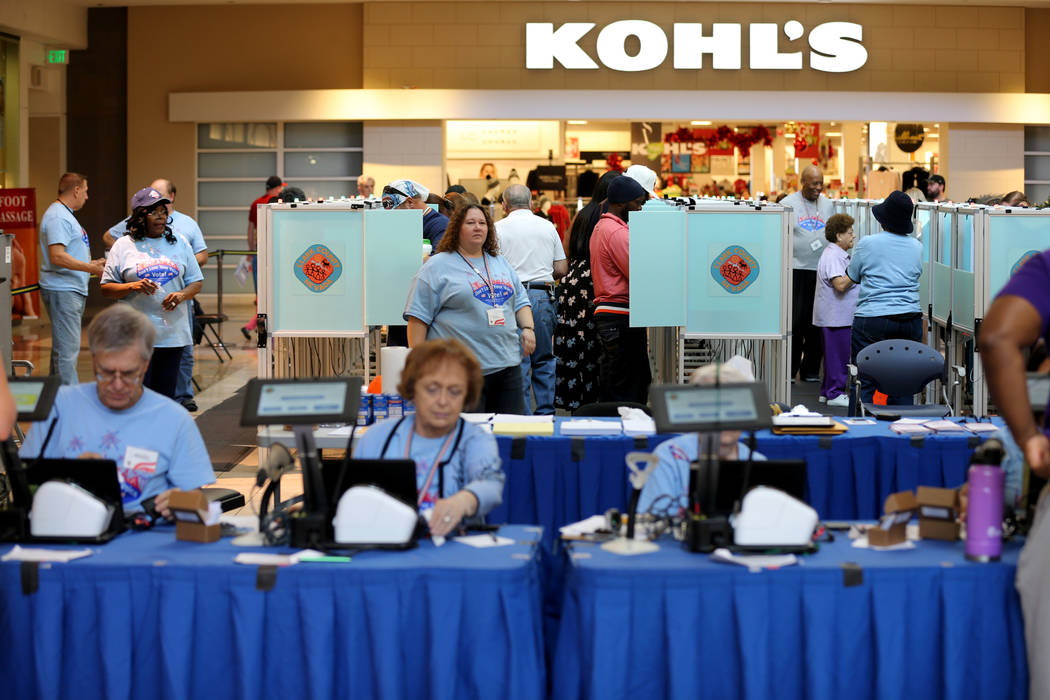 Editor's note: Some Friday print editions had a headline that incorrectly said early voting sites would be open Friday until midnight. Only polling stations with a line at closing time will remain open late. Those stations will close when no one is in line. No one will be allowed to get line after after midnight.
Clark County will continue to leave early voting locations open past their scheduled closing time so long as people are waiting in line to cast ballots.
While voting centers are scheduled to close between 5 and 9 p.m., the county will keep centers open as long as anyone is in line before midnight Friday, the final day of early voting, county spokesman Dan Kulin said. Any newcomers after that will be turned away and asked to vote on Election Day, which is Tuesday. (See the full list of early voting locations and hours below).
The county expects polling locations to close at their posted closing time. Only polling stations with a line at closing time will remain open and only until there is no line, Kulin said.
County Registrar of Voters Joe Gloria said the hard cutoff is midnight because Nevada law states there may be no more than 14 days of early voting. However, the law doesn't limit how many hours polls can be open each day of early voting.
"Them showing up to vote early on the last day tells us more than likely they can't make it on Election Day," Gloria said. "There would be no reason for us to deny a voter from casting a ballot."
The county's practice drew the ire of Republicans during early voting in 2016.
Nevada Republican Party chairman Michael McDonald said polling sites were kept open "so a certain group could vote." Donald Trump's presidential campaign sued Gloria in 2016, claiming four polling locations improperly stayed open late. Clark County District Judge Gloria Sturman struck down the lawsuit days after it was filed.
The county's policy to keep early voting locations open late is not outlined in election materials given to voters.
"It would not be appropriate to encourage voters to go to a polling place at a time when we expect it will be closed," Gloria said.
State law is much more explicit, however, on when votes can be cast on Election Day. Polls open at 7 a.m., and no one can get in line to vote after 7 p.m.
Watching the polls
More than 320,000 ballots had been cast in Clark County as of 3 p.m. Thursday, Kulin said.
Local branches of civic engagement organizations are working to elevate those numbers Friday.
Mi Familia Vota is knocking on doors to drum up the Latino and immigrant vote and offering free rides to the polls.
Cecia Alvarado, the group's Nevada director, said ride-hailing company Uber has received more than 200 ride requests from voters using a code distributed by Mi Familia Vota. An unknown number of other voters had been driven to voting locations by volunteers with Souls to the Polls, a faith-based group.
"We're dealing with a community that at times lacks resources, so offering transportation to the polls, for a lot of people this is the obstacle between them and voting," Alvarado said.
Other groups are working to prevent voter suppression.
The American Civil Liberties Union of Nevada on Friday will dispatch attorneys and other volunteers to monitor voting locations.
Legal Director Amy Rose said about 100 volunteers wearing black shirts will keep an eye out for long lines, malfunctioning voting machines and anyone trying to intimidate voters. Anyone who has a problem is encouraged to report it to a volunteer or call 866-OUR-VOTE, or 888-VE-Y-VOTA for Spanish speakers.
"Our goal is to make sure there are no impediments to people voting on Election Day," Rose said. "We'll have volunteers standing outside to ask about how their voting experience was."
The Nevada Democratic Party has a poll observer program underway, spokeswoman Helen Kalla said. Keelie Broom, spokeswoman for the Republican National Committee's Nevada operation, did not return a request for comment.
Students get out to vote
On Thursday morning a line of more than 50 students and faculty stretched outside a Lied Library study room at UNLV.
For many students, it was an exciting moment: their first opportunity to vote.
Samah Ghosn, a freshman computer science major, said he is fired up to elect Democrats after witnessing the confirmations of Secretary of Education Betsy DeVos and Supreme Court Justice Brett Kavanaugh.
"I think having a Congress that would be more of a check on Trump is important," said Ghosn, 18.
Derrick DeLuca, a senior history major, said he is a registered Democrat but voted Republican because he wants to open his own music studio.
"From a lot of owners I talk to, they are burdened from taxation," said DeLuca, 28. "So one of the main reasons I've decided to change my vote is a fiscal standpoint."
Other voters weren't so sure-footed.
Sophomore computer science major Jessica Lin said she was confident in voting for Democratic congressional candidates because the party is more aligned with her on social issues like abortion and the environment. But the 19-year-old said she was not sure if she had enough information to vote in down-ballot races or on Nevada's ballot questions.
"You want to make a right choice to benefit everyone, but in reality there's no choice that will benefit everyone," she said.
Contact Michael Scott Davidson at sdavidson@reviewjournal.com or 702-477-3861. Follow @davidsonlvrj on Twitter.
Early Voting sites open Friday
— Boulevard Mall, near east mall entrance — 3528 S. Maryland Parkway, Las Vegas — 10 a.m.-9 p.m.
— Galleria at Sunset, Kohl's court on first floor — 1300 W. Sunset Road, Henderson — 10 a.m.-9 p.m.
— Meadows Mall, Sears court on first floor — 4300 Meadows Lane — 10 a.m.-9 p.m.
— Arroyo Market Square — Clark County 215 Beltway at S. Rainbow Boulevard — 9 a.m.-8 p.m.
— Blue Diamond Crossing — Blue Diamond Road a3 Arville Street — 9 a.m.-8 p.m.
— Centennial Center — W. Tropical Pkwy. at Centennial Center Blvd. — 9 a.m.-8 p.m.
— Deer Springs Town Center — N. 5th Street at W. Dorrell Lane — 9 a.m.-8 p.m.
— Downtown Summerlin, near Dillard's — Sahara Avenue at the 215 Beltway — 9 a.m.-8 p.m.
— The Gramercy — 9265 W. Russell Road — 9 a.m.-8 p.m.
— Silverado Ranch Plaza, near PetSmart — Eastern Avenue at E. Silverado Ranch Boulevard — 9 a.m.-8 p.m.
— Albertsons — Blue Diamond @ Buffalo — 8 a.m.-7 p.m.
— Albertsons — Farm @ Durango — 8 a.m.-7 p.m.
— Albertsons — Village Center Circle @ Trails Center — 9 a.m.-8 p.m.
— Alexander Library — 1755 W. Alexander Road — 9 a.m.-6 p.m.
— Canyon Ridge Church — 6200 W. Lone Mountain Road — 9 a.m.-8 p.m.
— College of Southern Nevada, Building B — 6375 W. Charleston Boulevard — 8 a.m.-6 p.m.
— Desert Breeze Community Center — 8275 Spring Mountain Road — 8 a.m.-7 p.m.
— Green Valley Town Center — 4500 E. Sunset Road — 9 a.m.-8 p.m.
— Hollywood Recreation Center — 1650 S. Hollywood Boulevard — 8 a.m.-7 p.m.
— Nellis Crossing Shopping Center — Nellis/Charleston — 9 a.m.-8 p.m.
— Paradise Park Community Center — 4775 S. McLeod Drive — 9 a.m.-8 p.m.
— Paseo Verde Library — 280 S. Green Valley Parkway — 9 a.m.-5 p.m.
— Rainbow Library — 3150 N. Buffalo Dr./Cheyenne — 10 a.m.-6 p.m.
— Southern Highlands Marketplace — Southern Highlands Pkwy./Cactus — 9 a.m.-8 p.m.
— UNLV Lied Library — Harmon St., East of E. Swenson — 8 a.m.-5 p.m.
— Vons Horizon / Horizon Ridge 9 a.m.-8 p.m.