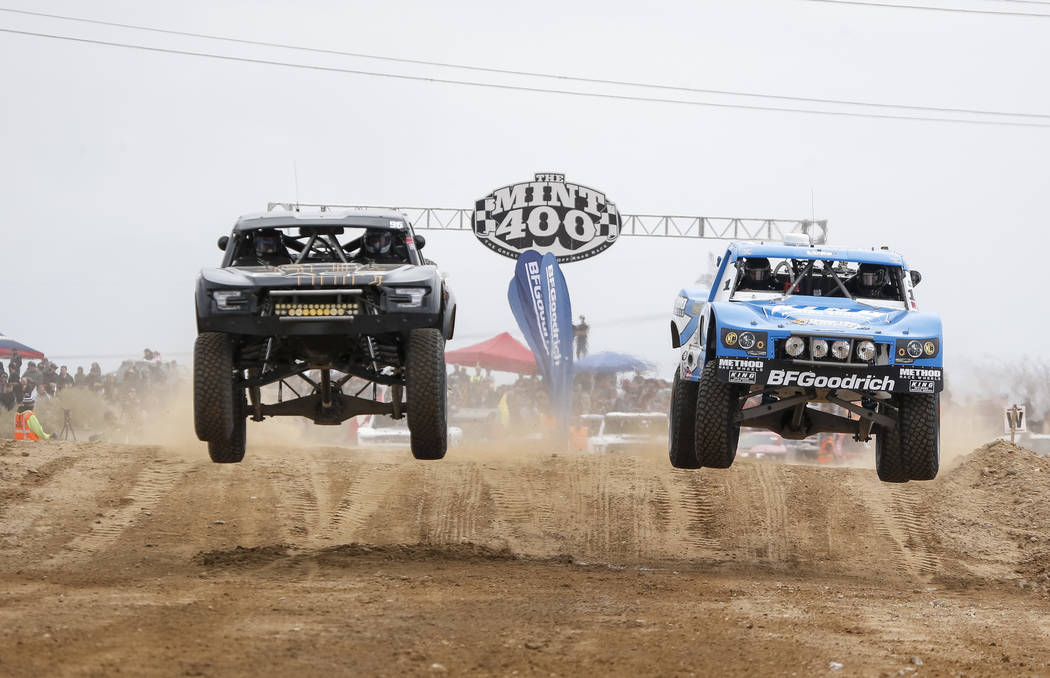 Since its creation 50 years ago, the Mint 400 off-road race has become local legend.
The 120-mile-long desert loop that runs east of Interstate 15 between Las Vegas and Primm is known for its unforgiving difficulty. About half the trucks and dune buggies that start the race are unable to finish.
The event was immortalized in 1972 in journalist Hunter S. Thompson's novel "Fear and Loathing in Las Vegas."
This year's iteration of the event, held in March, drew an estimated 35,000 attendees from around the world and created $40 million in economic impact for the state, according to Josh Martelli, who co-owns the race with his brother, Matt.
"It is our Indy 500," Martelli said.
But the race's future in Southern Nevada is being threatened by federal legislation that would open nearly 39,000 acres of federal land for development, including land south of the Las Vegas Valley. Clark County commissioners are scheduled to vote Tuesday whether to sign a resolution supporting the legislation.
Martelli said the northern half of the Mint 400 course crosses that land. Moving the route would cause the race to lose some of its difficulty and accompanying prestige. And finding a new route would be difficult because of protections for animals such as the desert tortoise.
"This proposal eliminates at least 40 to 50 miles of our racecourse, and we don't really have a lot of good alternatives," he said. "We're essentially being sandwiched between new commercial development and preservation of natural resources."
Martelli said county staffers have assured him they will support preservation of the racecourse through 2023 and help identify an alternative route. But the race organizer said the next best place to hold the race would be near Phoenix.
"That would be a huge economic loss for Clark County and Las Vegas," Martelli said.
The land proposal has also drawn the ire of other off-road organizations.
"Not only will it affect competitive events, (but) it will also affect people that go out and ride on the weekend," said Kenny Thatcher, president of Southern Nevada Off Road Enthusiasts. "There's probably over 300,000 off-highway vehicles in Clark County."
Thatcher said those vehicles are owned by people spending money on gas, car parts and auto repairs. They often stop in Primm for lunch when they go riding.
"Primm Valley stands to lose a lot from it," Thatcher said. "We're blue-collar people. We have disposable income, and this is how we use it. It's a big industry."
At their Tuesday meeting, commissioners also will discuss the formation of a committee focused on preserving local off-road recreation. Additionally, they will decide whether to sign an agreement with Nellis Air Force Base that would give the county ownership of almost one-tenth of the 10,000 acre Nellis Dunes off-road recreation area north of Las Vegas
Martelli said he views the committee idea as an olive branch from the County Commission to the off-road community, but both he and Thatcher remain wary of what effect such a committee could have.
Regardless, Thatcher said he hopes to bring at least 300 people to the commission meeting to oppose the lands bill.
"If they think they're going to send everyone out to the Nellis Dunes, you can't put 300,000 people in 10,000 acres. It's not going to work," Thatcher said. "We'll have to go outside of Clark County to do anything."
Contact Michael Scott Davidson at sdavidson@reviewjournal.com or 702-477-3861. Follow @davidsonlvrj on Twitter.
Resolution up for approval
Clark County Commission is slated to vote Tuesday on a resolution seeking federal legislation to open almost 39,000 acres of public land for development and set aside more than 370,000 acres of new wilderness and protected areas for the desert tortoise and other threatened species.
The four-page resolution outlines 15 separate transactions, including a 41,000-acre expansion of the Moapa River Indian Reservation, several new or expanded wilderness areas totaling almost 83,000 acres and nine areas of "critical environmental concern" totaling almost 293,000 acres.
The document and related maps are available for review on the county's website at https://bit.ly/2JHlh1d.
County officials gave the general public its first look at the proposal during a June 5 open house, then accepted written input for a week.
Those wishing to provide further input will have to do so during public comment Tuesday.
The commission meeting is slated to start at 9 a.m. The resolution is item No. 97 on the agenda.